What Are the Common Causes of Flaky Scrotum Skin?
The presence of flaky skin on one's scrotum can prove alarming, but it's often caused by something relatively minor. For instance, some people may develop this symptom because of a yeast infection that affects the skin in this area or because the skin has been in contact with an irritant. Sometimes skin conditions such as eczema are at fault. Additionally, some men are simply prone to skin that becomes overly dry and flaky.
One of the possible causes of flaky scrotum skin is a yeast infection. Often, when a man has a genital yeast infection, it causes redness, flaking, and even a bumpy sort of rash on his penis. Sometimes this spreads to affect the scrotum as well. Yeast infections are typically caused by an infection with a fungus called Candida that thrives in areas that are dark and moist, such as the area inside a person's underwear. Treatment of this condition often involves using topical antifungal ointments.
Another possible cause of flaky scrotum skin is contact dermatitis. This is basically inflammation and irritation of the skin that develops because of contact with some type or irritant. Often, soaps and laundry detergents are at fault when a man develops contact dermatitis in this area. Products that have a lot of fragrance and added coloring frequently are the culprits, though some men prove more sensitive than others, so a reaction can happen with any product. Additionally, lotions and some types of absorbent powders may irritate this sensitive skin as well.
A man who has a skin condition called eczema may also deal with flaky scrotum skin from time to time. Eczema is a skin condition marked by inflamed, roughened skin that can flake and peel. The skin in the area affected by this condition is typically very dry looking, and normal moisturizers often fail to help. Eczema is not contagious, however, and often seems to run in families. Some of the treatment options for eczema include topical creams, oral allergy medications, and sometimes antibiotics if an infection develops.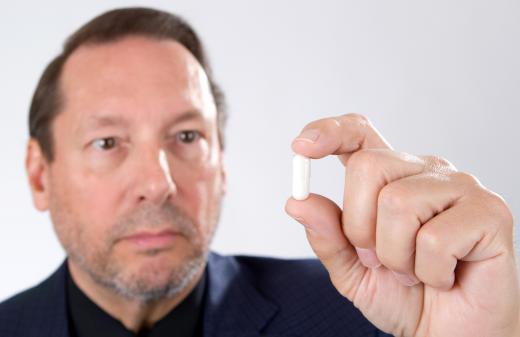 It is important to note that some people develop flaky scrotum skin not because they have a skin condition or an infection but because they are prone to extreme skin dryness. For such individuals, increasing fluid intake and avoiding hot baths, which can further dry the skin, may help. Some people may also find applying a topical treatment called hydrocortisone cream helpful for dealing with very dry skin and the accompanying irritation.


By: milkovasa

Flaky scrotum skin is typically caused by something relatively minor and not cause for alarm.

By: picsfive

A topical application of hydrocortisone cream may help with itchy, flaky scrotum skin.

By: Kitch Bain

Some laundry detergents can cause skin reactions.

By: Lsantilli

Using certain soaps can cause flaky scrotum skin.

By: sframe

A man is more likely to develop a yeast infection if he has recently finished a course of antibiotics.