What are the Different Types of Rehabilitation Therapy?
There are many types of rehabilitation therapy, each designed to address certain issues. The most well-known types of rehabilitation therapy are physical and occupational rehab therapy, drug and alcohol rehab therapy, and speech therapy. Additional types of rehab therapy include recreational, vocational, respiratory and cognitive/psychological rehabilitation therapy. All of these share a common goal — to help the patient recover from an illness, injury or surgical procedure with the goal of increasing independence, self-care and quality of life. Therapy continues as long as the patient needs its help to regain an independent lifestyle.
Physical rehabilitation therapy is often necessary after a serious injury or surgery when the affected joints or muscles cause immobility issues. Physical therapists work with the patient to restore movement and strength through range-of-motion exercises. Similarly, occupational therapy is necessary when a person requires adaptive devices to perform daily work and home activities. Such devices might include wheelchairs, walkers, artificial limbs and other devices. Occupational therapists work with the patient in adapting to the equipment, as well as maximizing independent functioning.
Drug and alcohol rehabilitation, also known as substance abuse rehabilitation, is designed to help addicts recover from substance abuse. Inpatient and outpatient rehab centers provide education, support and counseling. Patients learn ways to avoid their temptations, change their lifestyle and adapt to an addiction-free life. Some rehab centers take a traditional, 12-step approach, while others offer a more holistic approach to recovery. Many programs offer on-going support to ensure the patients succeed.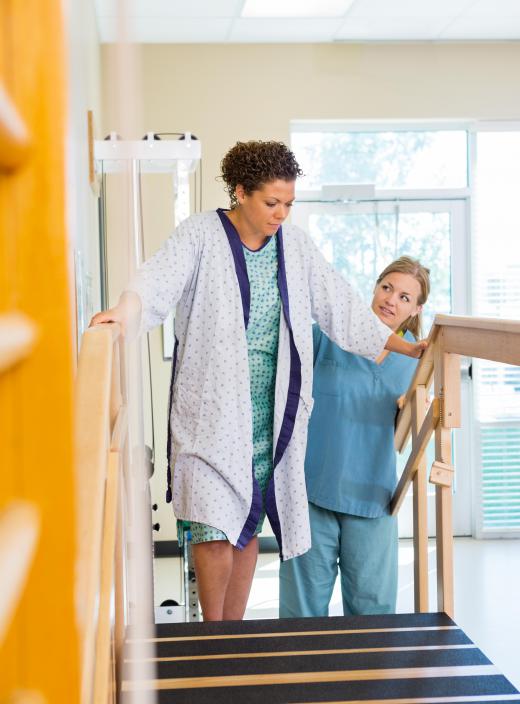 Speech and respiratory therapy are often necessary after an illness such as a stroke, brain injury or respiratory disease. Speech therapy focuses on improving speech and voice skills, thinking skills and swallowing through mouth and throat exercises. Respiratory rehabilitation therapists work with patients to decrease respiratory distress and maintain an open airway. Therapists also work with patients on the proper use of inhalers and oxygen tanks, if they are necessary.
Recreational and vocational rehabilitation have different names but are similar in their treatment and therapy goals. Quite often, these types of therapy are necessary because of mental illness or as a result of a serious physical disability. Recreational rehabilitation therapists, often in collaboration with psychologists and psychiatrists, work with patients on socialization issues. They work with patients to gain the skills needed to function in the community. Vocational rehabilitation helps prepare patients for going back to work, particularly when they are no longer able to perform their previous job duties as a result of the disability.
Cognitive/psychological rehabilitation, also known as cognitive-behavior rehabilitation, is often necessary after a serious head injury or as the result of neurological condition that causes problems with the person's thinking, reasoning and memory skills. Therapists work with patients on memory skills and mental exercises. Depending on the nature of the injury or illness, patients may be referred to more than one type of rehabilitation therapy at the same time. The duration of therapy is also determined by the nature of the problem, as well as how quickly the patient adapts and responds to treatment.
AS FEATURED ON:
AS FEATURED ON:

By: Beth Van Trees

Oxygen tanks for respiratory rehabilitation therapy.

By: Tyler Olson

Physical rehabilitation may help a patient recover basic skills after an injury or illness.

By: Photobank

Some intensive outpatient programs are designed for addicts and alcoholics.

By: belahoche

Patients getting adjusted to a prosthetic limb may undergo treatment from a rehabilitation therapist.

By: iceteastock

The goal of occupational therapy is to address any issues that limit the patient's daily functionality.

By: Warren Goldswain

Rehabilitation therapy may be used by people overcoming emotional trauma from abuse.

By: Jaren Wicklund

An occupational therapist may choose to work with young children.

By: joyb0218

Rehabilitation therapy can benefit injured veterans.

By: Jenifoto

Painkillers might be part of a rehabilitation therapy program.