What is Subacute Rehabilitation?
Physical therapy is a health care service that helps to develop, maintain or restore movement and function to a patient. Many patients find themselves undergoing physical therapy after a serious illness or procedures, such as a stroke or an amputation. Subacute rehabilitation is physical therapy that is less intensive than acute physical therapy. It is reserved for those patients that may have reached a plateau in their progress, but still possess substantial potential.
Acute rehabilitation is designed for patients whose primary goal is a basic functioning, such as walking or sitting upright unassisted. These patients must be in a position to complete a whole day of physical therapy, and be able to meet the physical demands required to progress in the program. While the purpose of acute rehabilitation may be to increase mobility, some patients use it to increase their overall stamina or reduce pain performing certain actions.
On the other hand, subacute rehabilitation is suited to patients who cannot tolerate more than three hours of physical therapy each day. For example, a doctor would prescribe this type of rehabilitation for patients who are currently in a coma, or have recently emerged from one. That patient's muscles may not have the strength to endure traditional physical rehabilitation, and need a modified treatment in order to make any significant progress.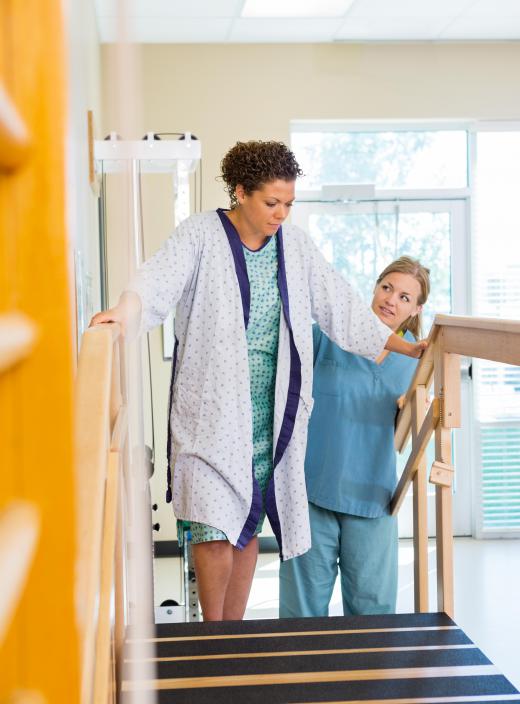 Often, patients that have undergone traditional or acute rehabilitation may then move on to subacute rehabilitation after they have met their main goals, but still need to master a particularly difficult task. For example, a hip replacement patient may have accomplished their primary goal of walking unassisted, but need subacute rehab to master climbing stairs regularly. Those who have suffered from orthopedic or bone injuries, but aren't yet able to bear weight on that injury would also benefit from this type of rehabilitation.
While subacute rehabilitation may be found in many hospitals and clinics, elderly care institutions often have a rehab program on the premises. The reason is that the elderly are prime candidates for this type of low intensity rehabilitation. While they may be nearly completely mobile, most senior citizens have some sort of reduced mobility in at least one area. Integrating subacute rehabs with elderly care initiations, makes the ongoing physical therapy more efficient.
AS FEATURED ON:
AS FEATURED ON:

By: Andres Rodriguez

Subacute rehabilitation may be prescribed for patients who have recently emerged from a coma.

By: Tyler Olson

Subacute rehabilitation may be prescribed for patients who need to master climbing stairs.

By: Monkey Business

Subacute rehabilitation may be prescribed for a patient who is in a coma.

By: WavebreakmediaMicro

Subacute rehabilitation is often used to teach seniors how to use a wheelchair or walker.