What Are the Different Types of Strengthening Exercises?
Straightening exercises are designed to reinforce muscle and improve joint flexibility in the upper and lower body. Common strengthening exercises include those designed for the legs and calf muscles. Many people with rotator cuff injuries require rehabilitation exercises for the shoulder. The shoulder press is one common exercise. Wrist strengthening exercises, such as wrist curls, are often recommended for repetitive-motion injuries or carpal tunnel syndrome.
Many professional athletes and those who participate in sports often perform exercises for various parts of the body. These strengthening exercises are also designed to help athletes achieve a higher level of fitness and better performance. Runners often perform various leg exercises such as hamstring push-ups and leg curls.
Lower body strength training may be performed with the use of special fitness equipment. Elliptical machines and stair climbers can help runners strengthen their legs. Strengthening exercises for the lower body may also include lunges. Lunging exercises are an effective way to improve muscular strength in the quadriceps and calves. Exercise balls may also be used to strengthen the leg muscles.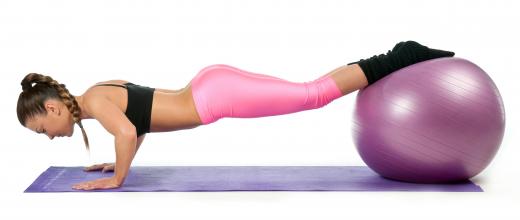 People who have been injured from accidents or from degenerative disease may benefit from core strengthening exercises. Patients recovering from hip surgery may perform various exercises, such as leg raises, to help strengthen the hip joints and relieve pain. These exercises are typically performed under the supervision of a trained physical therapist.
Upper body exercises may target the pectoral muscles of the chest, as well as biceps and triceps. These strength training exercises are favored by swimmers and weight lifters. Push-ups are designed for strengthening the shoulders and pectoral muscles. Many upper body strength training exercises are performed with the use of a bench press. Barbells of various weights may also be used.
Various exercises and techniques are designed for strengthening the abdominal muscles. Abdominal crunches are one type of strength training exercise that can help achieve tight, firm abs.
To strengthen the shoulder muscles, an exercise known as bent-arm lateral raises may be performed using a large stability ball and a pair of dumbbells. Keeping the back straight while performing the exercise can help avoid injury and back strain. More advanced exercisers may strengthen their shoulders by performing an overhead barbell press. People with impairment or shoulder injury should always consult with a physician before attempting any type of strengthening exercise.
AS FEATURED ON:
AS FEATURED ON:

Rugby players often use strengthening exercises.

By: bertys30

Doing push-ups can help strengthen the upper body.

By: Rido

Weight lifting builds muscle strength.

By: solovyova

Yoga is one form of low-impact muscle strengthening exercise.

By: Mat Hayward

Dumbbell curls are an effective way to build stronger biceps.

By: Photographee.eu

Those with injuries like carpal tunnel syndrome should do wrist exercises to strengthen the wrist and hand.

By: Mat Hayward

Chest presses with dumbbells can be used to strengthen the pectoral muscles.

By: Dirima

Abdominal crunches are one type of strength training exercise that can help achieve firm abs.

By: Аrtranq

The dumbbell lateral raise is a weightlifting move that works the shoulder muscles.

By: vgstudio

Incline bench presses, a variation of flat bench presses, primarily work the upper pectoral and shoulder muscles.

By: Jasminko Ibrakovic

Leg extension machines allow users to strengthen their quadriceps, or thigh muscles.

By: z3zo

Push-ups can strengthen and tone the chest, arms and shoulders.

By: pressmaster

Curls help strengthen the biceps and other muscles of the arms.

By: Helder Almeida

Jogging is a popular way to strengthen leg muscles.