What Are the Most Common MRI Side Effects?
The most common MRI side effects are those related to lying in a small space for a long period of time and may include dizziness, backaches, and fatigue. More serious side effects may occur as a reaction to any contrast medium used for the MRI. In very rare circumstances, if a piece of metal is in the body, the MRI machine may force the object to move within the body, causing serious damage. This is a very rare side effect, as there are stringent precautions in place to protect against this kind of accident.
Commonly, people experience MRI side effects that seem to be caused by the effects of magnetic resonance imaging but are in fact caused by lying very still for long periods of time. The dizziness and backaches reported by some patients are almost certainly caused by lying still on a hard surface for an hour or more. Fatigue after an MRI is often caused by the stress related to the taking of the images, which can be more tiring than is apparent during the procedure. MRI side effects such as headaches are often related to the loud noises one hears during an MRI and are more common for people who also experience migraines.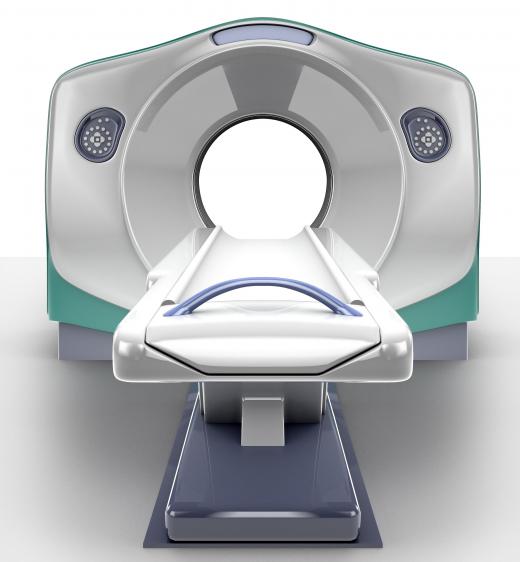 Some people experience mild MRI side effects usually resembling an allergic reaction when a contrast medium is used. Very serious MRI side effects can occur when a patient has severe kidney failure and is exposed to a contrast medium containing gadolinium. This side effect is a disease called nephrogenic systemic fibrosis, which is incurable and sometimes fatal. It is relatively unlikely that one will experience this side effect, as renal failure is usually identified prior to an MRI involving gadolinium.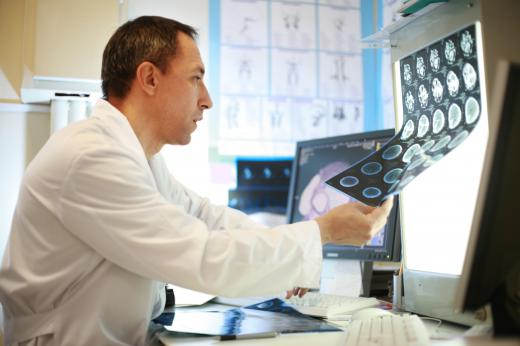 Very rarely, iron in the body will cause painful MRI side effects. Ferromagnetic objects can move forcefully from any position near an MRI machine. If they are inside the body, they can cause major harm to internal organs. A person with metal fillings in his or her teeth may feel slight tingling, but minor dental fixtures are usually not problematic for the procedure.
The most common side effect of an MRI appears to be an elevated sensitivity to possible health problems. An MRI machine is a stressful and often unfamiliar piece of technology, and many people become very concerned about sensations that would normally not be considered worrisome. Perceived tingling or dizziness that normally goes unnoticed or any sensation of pain becomes a source of major concern. The perceived possibility that there have been major side effects causes symptoms of panic as well. These side effects can be avoided by talking with a trusted doctor and recognizing that an MRI is a very safe procedure.
Experiencing a Headache After an MRI Scan
Some people experience headaches after receiving an MRI scan. There is no exact cause, and every situation is different, but various factors come into play.
If the patient develops a headache after the scan, it is not necessarily a direct side effect from the procedure itself but of the overall environment. During an MRI scan, the patient lies stationary on a table that moves and takes you into the machine. The narrowness of the machine and being closed in can make a person feel claustrophobic. Once the scan beings, you must stay as still as possible. So, between the worry of a possible health condition, focusing on staying still, and any discomfort you may feel are a recipe for a stress-induced headache coming your way.
The length of the scan can also affect how you feel afterward. Scans are typically 15 to 90 minutes long; it depends on the region of the body and the purpose of the scan. Therefore, a patient getting up after being on their back for an extended period can result in a headache when first standing up.
Another factor is the noise level in these machines, as they are loud while operating. The patient will hear a repetitive high-pitched clicking sound every time the MRI machine takes a picture. It can also sound like banging vibrations. For some, the noises along the way can stimulate a headache, too.
Headaches can develop from reasons directly involved with the procedure, and the contrast dye is the culprit.
Can Contrast From MRI Make You Sick?
Some patients do experience illness from the contrast dye used for MRI scans. Most of the side effects do not last long and are minor. The most common side effects are:
Headache
Nausea
Dizziness
Some people can also have an allergic reaction to the dye. Symptoms of an allergic reaction include:
Swelling
Throat tightness
Shortness of breath
Hives and itching
In some cases, if the patient has an underlying disease, the contrast dye can be more threatening as it will cause further damage to tissues or organs. The patient's care team would manage this and perform a blood test to determine what is or is not safe and how to proceed with a scan.
Why do MRI Side Effects Like Dizziness Occur?
Dizziness is one of the most commonly felt side effects of MRIs. As previously mentioned, the symptom can develop from the overall process, but studies show that the strong magnetic field used for the scan could also be responsible. The magnet can affect the inner ear's balance; it causes the same effect as what patients diagnosed with vertigo experience. In addition, if the patient leaves the table too soon, the dizziness enhances. The brain also needs to adjust to being back outside of the machine. Fortunately, the dizzy spell is short-term and does not cause future complications. Some patients may feel tired after their dizziness, but nothing some well-deserved rest can't fix.
AS FEATURED ON:
AS FEATURED ON:

By: Andrey Navrotskiy

There are relatively few side effects of an MRI.

By: Konstantin Sutyagin

Medical professionals use MRI machines to diagnose internal maladies.

By: Marcin Sadlowski

An MRI scan of the brain.

By: sudok1

The brain is relatively unaffected by an MRI.

By: EPSTOCK

MRI side effects are typically minor, and the diagnostics benefits far outweigh the risks.