What Is the Difference between an MRI with and without Contrast?
Magnetic resonance imaging (MRI) with contrast involves the use of a tracer agent to enhance MRI results, while tests without contrast do not use such agents. For some tests, contrast may be necessary or recommended because of the nature of the patient's condition. A doctor can evaluate the patient to determine whether an MRI with or without contrast is more suitable, based on why the patient needs imaging and the patient's history. Patients should be aware that a test without contrast is not necessarily inferior; in some cases tracers are not necessary or may expose the patient to needless risk.
Imaging studies provide important information about what is going on inside a patient's body. MRI technology can offer extremely high resolution to help care providers differentiate between normal and diseased tissue. Such scans can also be used to look at internal organs for signs of structural or functional abnormalities, or other health issues, such as damage caused during a car accident.
One of the key differences between MRI with and without contrast is the level of resolution provided. Some kinds of tissue are difficult to differentiate on a routine MRI. It can be especially difficult to see some types of lesions, areas of abnormal tissue, in which case a doctor could miss a diagnosis or might underestimate the size of a lesion. In these cases, an MRI with contrast may offer superior imaging ability, and reduces the risk that the test might need to be repeated.
Doctors can request both an MRI with and without contrast in some cases. They may want to see the results of both tests to collect as much information as possible about a patient before making a diagnostic decision. When a patient gets an MRI with and without contrast, it can take several hours to complete the testing. In some cases, patients may be allowed to leave and come back for repeat scans rather than having to wait in the imaging center.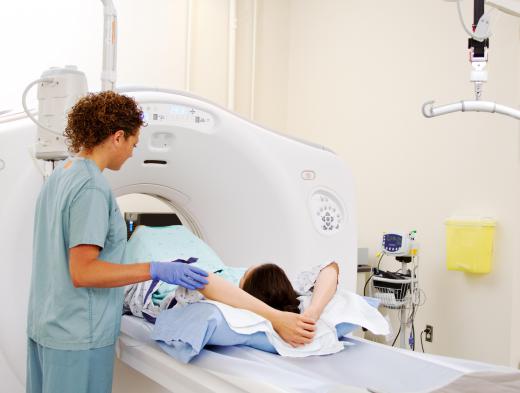 Contrast agents used in magnetic resonance imaging are different from those used in other types of medical imaging studies. They tend to be less likely to cause allergic reactions, because they do not include iodine. The risks of an MRI with contrast can depend on the contrast agent used. Some are potentially dangerous, particularly for patients with poor kidney health who may have trouble processing them. Others are quite safe, and can be used in patients of all ages and at all levels of health.


By: Hakan Kızıltan

An MRI with contrast may reduce the likelihood of needing to repeat the test.

By: Marcin Sadlowski

A MRI scan of the brain, without contrast.

By: EPSTOCK

An MRI is done with contrast in order to make the images clearer and easier to interpret.

By: Mikhail Basov

MRIs without contrast are often used to get an accurate picture of the brain or spinal cord.

By: Trish23

An MRI with contrast may help doctors measure a tumor to determine if treatments are working properly.