What Are the Most Common Spinal Fusion Complications?
There are many spinal fusion complications a patient may experience after surgery, including nerve damage, chronic back pain, and infection. A spinal fusion is a complex medical procedure that fuses vertebrae together. As the healing process can take up to one year, the risk of complications is higher than other medical procedures. Though medical advances and better patient care have reduced the likelihood of major complications, minor ones such as backaches are still common after recovery.
A spinal fusion is a medical procedure where two or more vertebrae become fused together. This can be necessary for a number of reasons, but the most common is for the correction of scoliosis. Surgeons straighten the spine and insert cadaver bone between the vertebrae. The cadaver bone acts as a bridge that fuses the vertebrae together. Once healed, the spine will remain straight, the fused bone preventing the further progression of scoliosis.
Spinal fusion complications include varying degrees of nerve damage that occur due to surgery. As a spinal fusion involves the entire back, surgery can sever many peripheral nerves. During recovery, patients may experience any number of symptoms as the nerves heal; loss of feeling or oversensitivity to touch are not uncommon. Many months or years may pass until a patient experiences more normal sensations. Even then, a diminished sense of touch may linger for the rest of a patient's life.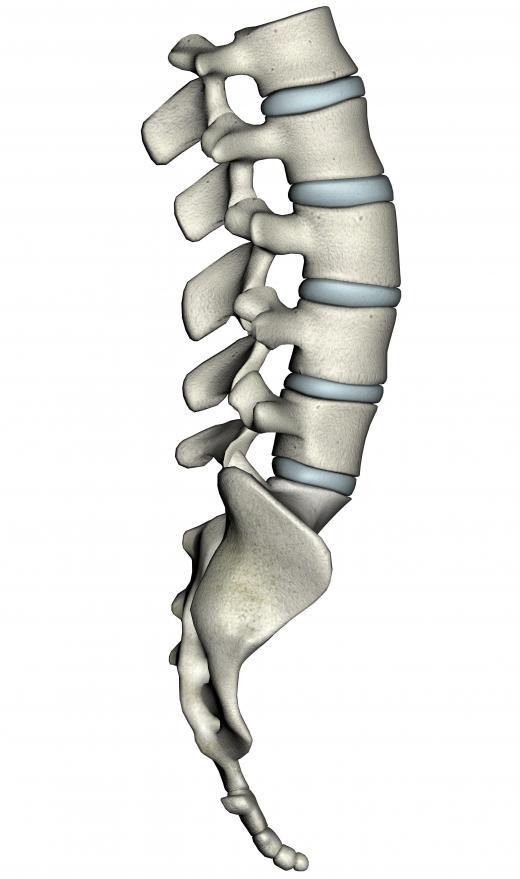 Depending on the location and extent of a spinal fusion, chronic back pain can become a part of a patient's spinal fusion complications. A spinal fusion to correct scoliosis, for example, involves the cutting of much muscle tissue. Even after the muscle is fully healed, a patient may experience more occurrences of backaches than before the surgery.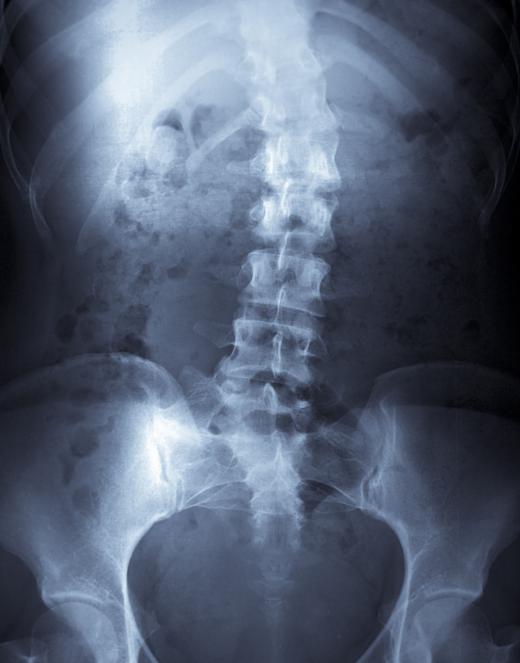 Another of the spinal fusion complications is post-surgical infection. Antibiotic-resistant bacteria such as MRSA pose a risk to all hospital patients. Those with suppressed immune systems or those recovering from any type of surgery are at a greater risk. These bacteria are extremely dangerous, and can greatly complicate recovery from a spinal fusion.
Historically, the most common spinal fusion complications involved incorrect or a failed fusion. Starting in the early 20th century, patients would be immobilized within a cast for up to one year after surgery. The introduction of the Harrington rod in the 1950s reduced the overall chances of complications, though patients still had to spend many months in a series of casts and braces. Advances in Harrington rod technology have eliminated the need for post-operative braces. Today, it is very unlikely that a patient's fusion will fail or set incorrectly.
AS FEATURED ON:
AS FEATURED ON:

By: Alexandr Mitiuc

Sections of the spine.

By: Anatomical Design

Patients who undergo a spinal fusion could experience nerve damage, chronic back pain, or infection.

By: laurent dambies

Spinal fusion may be performed to treat scoliosis, which is an abnormal curvature of the spine.

By: James Steidl

A spinal fusion is a medical procedure in which two or more vertebrae become fused together.