What Are the Most Common Trazodone Side Effects?
Trazodone side effects are not experienced by everyone who takes this medication, and when side effects do occur, they are usually mild. The most frequently reported trazodone side effects include gastrointestinal disturbances, dizziness, or headaches. More serious side effects may include personality changes, shortness of breath, or swelling of the feet or hands. A potentially fatal allergic reaction known as anaphylaxis may sometimes occur, even if this medication has been well tolerated in the past. Any questions or concerns about trazodone side effects on an individual basis should be discussed with a doctor or other medical professional.
Most trazodone side effects are mild and temporary, as they tend to lessen or disappear once the body has had a chance to adjust to the new medication. Any symptoms that are persistent or particularly bothersome should be reported to a doctor. Dizziness and drowsiness are among the most common trazodone side effects, so caution should be used when performing any task that requires a significant amount of focus or concentration. Headaches and blurred vision are relatively common but tend to last for only the first few days of taking the medication.
While trazodone is used to treat conditions such as depression, the opposite may sometimes be true. Psychological disturbances may occur as potential trazodone side effects, especially when this drug is used by adolescents or young adults. Any personality changes, especially aggression or suicidal behavior, should be reported to a doctor immediately. In most cases, the patient will be prescribed a different type of medication.
Shortness of breath or swelling involving the extremities may indicate the presence of serious complications and should be evaluated by a doctor. Damage to the heart, liver, or kidneys may sometimes occur while taking this medication. Due to the possible risks, many doctors order periodic blood tests to make sure all of the organs are working the way they should.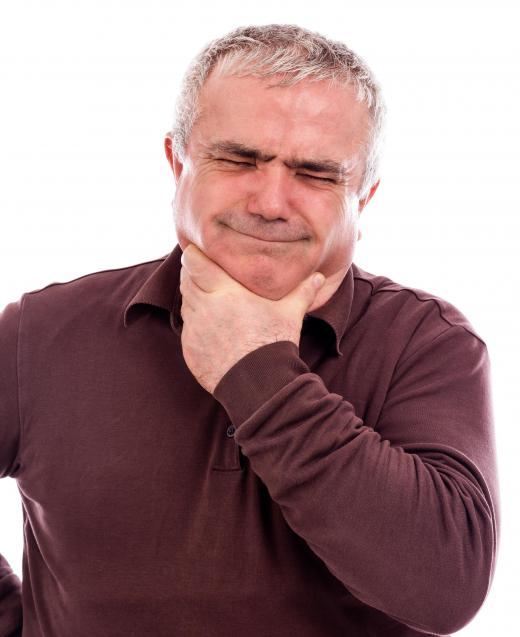 Anaphylaxis is a type of severe allergic reaction and may occur when taking any medication. Some of the more common symptoms include itching; hives; and swelling of the face, tongue, or throat. Breathing may become difficult or impossible, and death may occur within a matter of minutes if not treated. Anaphylaxis symptoms should always be treated as a medical emergency, and hospitalization for this condition is almost always necessary. A special injectible medication will usually have to be carried on the person of any individual who has ever experienced anaphylaxis in case there is a recurrence of symptoms.
AS FEATURED ON:
AS FEATURED ON:

By: Alliance

Potential side effects of trazodone include headache, nausea, and drowsiness.

By: themalni

Trazodone can be prescribed to combat depression and insomnia.

By: jinga80

Although rare, an allergic reaction to trazodone could lead to anaphylaxis.

By: DURIS Guillaume

Serious side effects of trazodone can include shortness of breath.

By: blondsteve

Those who experience symptoms of anaphylaxis after taking trazodone require immediate medical attention.

By: gdvcom

Drowsiness is a common side effect of trazodone.