What are the Most Common Vancomycin Side Effects?
Vancomycin is an antibiotic that is commonly used in the treatment of bacterial infections. While this medication is very effective at treating this condition, its side effects can be very dangerous. Some of the most common side effects associated with vancomycin use include the development of an unusual taste in the mouth, stomach problems such as nausea and vomiting, allergic reactions, and even hearing or kidney damage. Individuals who develop the more serious side effects are typically encouraged to seek medical help as soon as possible.
One of the most common vancomycin side effects is an unusual taste in the mouth. This taste is most often bitter, though in some cases other unpleasant flavors may occur. It usually occurs in the morning upon waking, or at other times in which there has been an absence of foods or liquids in the mouth for an extended period.
For some, vancomycin side effects may include stomach problems. The most common stomach problems that occur with vancomycin use include nausea and vomiting. In some cases, however, indigestion or stomach cramps may occur. These more serious side effects require medical attention as soon as possible in order to prevent ongoing problems.
Vancomycin side effects also include allergic reactions. Symptoms of an allergic reaction brought on by vancomycin use include a skin rash, hives, and scaly-looking skin that does not go away after a few days. In addition, some individuals who have been prescribed vancomycin may develop skin welts and discoloration. In the most serious cases, anaphylaxis may occur. Failure to seek medical help can be life-threatening for those with these more serious side effects.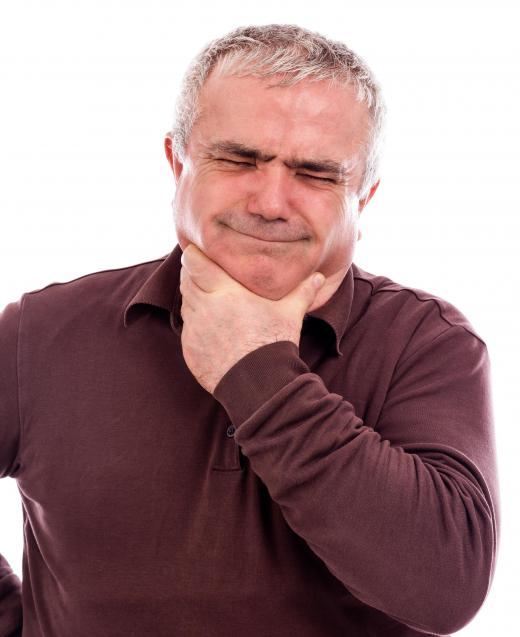 Red man's syndrome is another of the list of vancomycin side effects. This is a specific type of allergic reaction which may result in breathing difficulty, wheezing, and other similar respiratory conditions. In addition, those who develop red man's syndrome often experience chest pain and muscle spasms, and upper body flushing. As with the symptoms of a traditional allergic reaction, those who develop red man's syndrome are typically encouraged to seek medical help immediately.
In some cases, vancomycin use has been linked to hearing and kidney damage. Vancomycin has also been found to be detrimental to the formation of the blood cells that are required to fight off infection and aid in blood clotting. This can be especially dangerous for those who have a weakened immune system or who are currently on blood thinners.
AS FEATURED ON:
AS FEATURED ON:

By: Photo_Ma

Stomach problems are a common side effect of vancomycin.

By: jinga80

Allergic reactions to vancomycin can cause a contraction of the smooth muscles of the airway known as anaphylaxis.

By: Aleksandar Todorovic

Breathing difficulty and chest pain are apart of red man's syndrome, which is a side effect of taking vancomycin.

By: 3drenderings

Kidney damage is one possible side effect of vancomycin.

By: Alliance

Most antibiotic drugs can cause side effects that are at best unpleasant.