What Is Red Man Syndrome?
Erythroderma, also known as red man syndrome, is a condition that typically results in inflamed, red, flaking skin. It can be a symptom of a larger problem, such as a drug allergy, lymphoma, or psoriasis. Occasionally, doctors are not able to find a cause for the syndrome. Treatment for the condition can fluctuate depending on the underlying cause.
The most common symptom is the reddening of the skin. Affected areas will typically become dry and flaky, sometimes peeling off. Inflammation and skin thickening are common during erythroderma. Fever and chills might also accompany the rash-like symptoms. Unlike many other skin conditions, erythroderma usually becomes extremely painful and can sometimes result in death.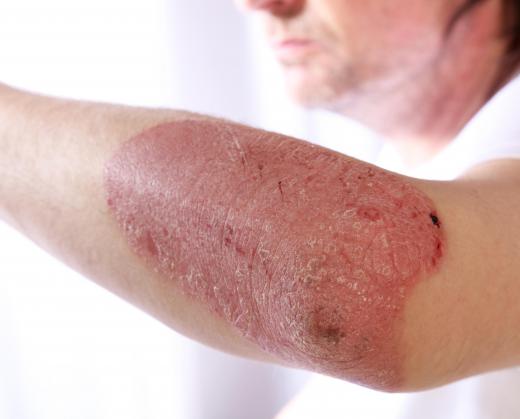 In most cases, the infected skin will spread over almost the entire body. Depending on the cause, erythroderma will come on suddenly or the symptoms can arrive gradually. Typically, the skin will begin to scale after other symptoms have presented for two to six days. As the disease spreads, hair often begins to fall out, and nails might thicken or weaken.
One third of erythroderma cases have no known cause, but the rest can be attributed to an underlying medical problem. Sometimes this can be an advanced case of psoriasis. Although most cases of psoriasis are not serious, erythroderma psoriasis often becomes dangerous. It can raise the heart beat to an unhealthy rate, and deplete vital fluids or proteins that the body needs to survive. Those who already have psoriasis might trigger erythroderma by switching or stopping medications, or by getting a serious sunburn.
Red man syndrome can also be a sign of life-threatening conditions such as Hodgkin's disease or leukemia. Roughly 74 percent of patient deaths involving this syndrome begin with another serious disease. For this reason, a doctor might wish to schedule a variety of tests, including a lymph node biopsy, if symptoms for erythroderma appear and no obvious cause can be found.
Corticosteroids are often prescribed to treat red man syndrome. This medication is applied topically to the affected skin areas. Many times, corticosteriods are only a temporary fix until the doctor can diagnose the cause of erythroderma. Eliminating the cause is the most effective method for beating red man syndrome. Sometimes treatment can be as simple as switching a medication. Red man syndrome resulting from a drug reaction has the quickest turn around and the highest likelihood for recovery.
Although erythroderma is a rare condition, some patients are more likely than others to experience this condition. Men are diagnosed twice as often as women, and most cases occur after age 40. Those with a family history of skin disease are also more susceptible to erythroderma.
Frequently Asked Questions
What is Red Man Syndrome?
An adverse reaction to some antibiotics, most frequently vancomycin, is known as red man syndrome (RMS), which is characterized by a sudden onset of flushing, itching, and hives. Histamine, a substance that the body releases in response to an allergy, is thought to be the culprit behind it. The signs and symptoms typically appear minutes after taking the medication, but they might linger for several hours. RMS is usually not life-threatening and resolves with the discontinuation of the drug.
What are the symptoms of Red Man Syndrome?
Flushing, itching, and hives are the Red Man Syndrome's three most prevalent symptoms. Other signs may include chest pain, breathing difficulties, face puffiness, and an irregular heartbeat. Abdominal pain, nausea, and vomiting might also occur. Symptoms often appear minutes after taking the medicine, and they might last several hours.
Who is most at risk for Red Man Syndrome?
Patients using vancomycin, a common antibiotic used to treat a range of infections, are most likely to experience red man syndrome. Men are more likely to experience it than women, and people with a history of allergies or asthma are more likely to have a negative medication reaction. Red Man Syndrome is more likely to affect elderly patients and those who have kidney illness. 
How is Red Man Syndrome treated?
Treatment for Red Man Syndrome typically involves stopping the offending medication. To lessen the symptoms, other therapies, including corticosteroids and antihistamines, may be used. The medicine may occasionally be restarted at a reduced dose. If the patient's symptoms are severe, they can require hospitalization. 
Is Red Man Syndrome dangerous?
Red Man Syndrome rarely poses a threat to life. Although the symptoms can be unpleasant, they typically go away when the medicine is stopped. But occasionally, the reaction might be severe, including breathing problems and irregular heartbeats. In these situations, prompt medical assistance should be sought.
AS FEATURED ON:
AS FEATURED ON:

By: Farina3000

Erythroderma can be a symptom of psoriasis.

By: JackF

A fever and chills may accompany the rash-like symptoms of red man syndrome.

By: paulandlara

Psoriasis typically appears as scaly, reddish colored patches of skin.

By: joshya

Red man syndrome may be symptomatic of lymphoma.

By: Leah-Anne Thompson

A lymph node biopsy may be conducted if symptoms for erythroderma are present with no obvious cause.

By: CLIPAREA.com

Ertythroderma may cause the heart to beat at an unhealthy rate.

By: Glamy

Someone with psoriasis may trigger red man syndrome by getting a serious sunburn.