What Are the Signs of a Clindamycin Allergy?
Clindamycin is a powerful antibiotic used in the treatment of stubborn anaerobic bacterial infections, some protozoal infestations and some methicillin-resistant Staphylococcus aureus (MRSA) infections. This antibiotic is also used for suspected toxic shock syndrome and is kept on reserve for widespread treatment of the US population in the event of a terrorist incident involving anthrax. It is used to treat infections in the body tissues, bone and those secondary to dental work, as well being employed as a topical treatment for acne. As with all antibiotics, a clindamycin allergy can be an immediate response to the substance or may develop after administration. Symptoms of an immediate anaphylactic clindamycin allergy include hives, swelling of the face and upper airway and difficulty breathing, which can be distinguished from various longer-term allergic reactions and side effects.
In addition to the emergency situation of an anaphylactic reaction, there are other signs of an allergy to clindamycin that may take longer to develop. Rashes, itching and pin-sized spots beneath the skin may indicate an allergic reaction or the development of a serious blood clotting disorder. If clindamycin is used topically, or on the skin, contact dermatitis may develop. A previous allergic reaction to lincomycin will almost always positively predict a clindamycin allergy. Also, a suspected allergy may actually be an allergy to the oral capsule binding agents which may include tartrazine — a yellow dye — and aspirin.
This drug has several serious side effects that require immediate medical attention and discontinuation of the medication. While not a symptom of a clindamycin allergy per se, pseudomembraneous colitis or an infection of the large intestine is strongly linked to this medication. In pseudomembraneous colitis, the large intestine becomes infected with bacteria resistant to clindamycin and normally kept in check by the body's usual intestinal flora. The culprit is usually toxin producing Clostridium difficile. Symptoms of this very serious side effect include watery or bloody diarrhea, fever and abdominal pain and may occur at the onset of treatment or up to several months after treatment has been successfully discontinued.
Clindamycin is metabolized by the liver. In patients with decreased liver function or in rare unexplained instances, the drug can cause liver damage. Symptoms of this side effect would include elevated liver enzymes, jaundice, yellowing of the eyes or unexplained bleeding disorders.
This medication also has a number of other side effects, including pain in the joints. It can cause vaginal yeast infections or oral thrush due to its action on usual gastrointestinal and vaginal flora. Heartburn and nausea are also common side effects of clindamycin and some other antibiotics. Taking the oral medication with a glass of water and remaining upright for approximately 30 minutes after each medication administration can minimize heartburn and nausea.
How To Take Clindamycin
Clindamycin is available only with your doctor's prescription. You and your doctor should consider the benefits and dangers of clindamycin before using it. You should consider the risks and benefits of clindamycin for various demographics, including children, geriatrics, and those with preexisting health conditions. 
Before Taking
Before taking clindamycin, talk to your doctor about potential side effects and adverse reactions. You should not take clindamycin with a range of other medications, so make sure to share your medication history with your doctor and tell your doctor about any of the following conditions:
If you are having surgery, tell the doctor you are taking clindamycin. Clindamycin may cause some vaccines—especially live bacterial ones—not to work as well. Talk to your doctor about previous vaccines. 
If any side effects occur, tell your doctor. Clindamycin is most likely to cause an adverse reaction in those with a history of gastrointestinal disease (such as colitis). 
Methods of Taking Clindamycin
Because it's an anti-bacterial, you'll take clindamycin frequently, and it's vital to take all the medication prescribed. Always follow your doctor's directions regarding daily doses and how long the prescription should last. Do not take more or less of the medication than your doctor prescribed. It is essential to continue using clindamycin for the entire treatment length, even if you feel better within the first few days. 
The length of the treatment depends on the individual and the severity of the infection. 
The length of your treatment depends on how severe the infection is, but generally, clindamycin is taken three to four times a day around the same time. Therefore, it is crucial not to miss a dose.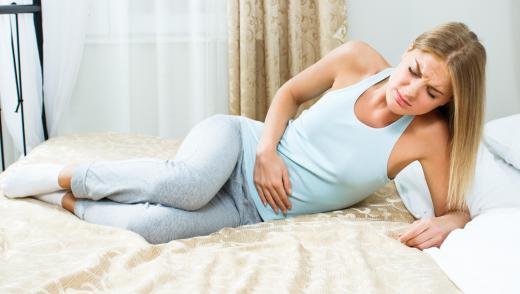 There are several ways clindamycin can be administered: via a vaginal route, an oral route, and a topical route. Proper administration of these three different types varies, so follow your doctor's instructions on how to take the medication properly. For instance, topical clindamycin is used for acne and cannot be used in place of medicine intended for the vaginal route. 
What Is a Bad Reaction to Clindamycin?
In addition to an outbreak of Clostridium difficile, there are other serious reactions to clindamycin that must be addressed immediately. Tell your doctor immediately if any of these reactions happen and get emergency medical help.
Decreased urination
Jaundice
Swelling around the face, hands, throat, or legs
Rash, hives, or blistering skin
Other reactions that are not listed may occur in some individuals. 
Diarrhea may occur for up to two months after finishing your treatment with clindamycin through the oral route. This side effect is normal, but consult your doctor if the condition stays or gets worse. 
What To Do If a Bad Reaction Occurs
If you have a serious reaction to clindamycin, get emergency medical help immediately. In case of an overdose or bad reaction, call the poison control helpline at 800-222-1222.
Once the emergency has passed, you or your doctor may report the reaction to the Food and Drug Administration (FDA) via the MedWatch program online.
How To Store Clindamycin
Store clindamycin in an environment away from excess heat and moisture; do not store it in your bathroom. Keep this medication at room temperature and away from children. Clindamycin should be kept closed in the container it came in. Prevent it from freezing. 
Do not share your prescription of clindamycin with others. Keep a list of all the medications you take and bring it to your doctor each time you visit. 
How To Dispose of Clindamycin
You need to take clindamycin until the medication is gone, so ideally, there will not be any to dispose of. However, if there is any left, here is a general guide to disposing medication.
Some medicine may be disposed of via a community "take-back" program. Call your city garbage disposal organization and ask about the medication take-back program in your community. 
If there isn't a disposal program in your community, follow the disposal directions on the bottle. Most non-narcotic medications can be safely thrown in the trash or flushed down the toilet or sink. 
AS FEATURED ON:
AS FEATURED ON:

By: Tobias Arhelger

Clindamycin is an antibiotic used to treat patients with methicillin-resistant Staphylococcus aureus (MRSA) infections.

By: alejandro dans

Stockpiles of clindamycin are kept in the event of an anthrax attack.

By: decade3d

Clindamycin has been shown to cause an infection of the large intestine known as pseudomembraneous colitis.

By: Gina Sanders

Skin rashes and itching are two symptoms of an allergic reaction to clindamycin.

By: inesbazdar

The use of clindamycin has been known to cause infection of the large intestine.