What are the Signs of Colic in Adults?
Adult colic is a broad range of gastrointestinal disorders in which the main symptom is abdominal pain. This common symptom is used as a platform to make a more specific diagnosis as the patient and healthcare practitioner discover and connect more symptoms to it. While the more commonly known version of this condition seen in babies is generally continuously painful, adult colic comes and goes throughout the day and night. While colic in adults can be associated with serious conditions, like kidney stones, colic in babies generally clears up by the child's first birthday, and may not have a clear cause.
Classification of Pain
A healthcare practitioner generally diagnoses colic in adults is when a person comes in complaining of varying degrees of gastrointestinal pain. The pain may last anywhere from a few minutes to several hours; or in some cases, several days. The level of pain varies as well. Some people may feel like they're having muscle cramps, while others have so much pain that their daily life is interrupted. Healthcare practitioners usually try to observe and classify patients' pain to make a full diagnosis.
For example, if the pain is in the lower part of the stomach and goes out towards the groin area, healthcare practitioners may test for biliary colic, a condition commonly caused by gallstones. Appendicitis may also cause gastrointestinal discomfort, especially if the person feels pain around his or her belly button that gets worse with pressure.
Presence of Other Symptoms
Healthcare practitioners also look for other symptoms to try to determine what's causing the colic. For instance, if a person has a fever along with abdominal discomfort, he or she may have appendicitis or diverticulitis. Likewise, if a pregnant woman has stomach pain, she may have an ectopic pregnancy. If a healthcare practitioner can feel a mass around the lower stomach, a person might have an instestinal blockage. Other symptoms that often come along with colic in adults are vomiting, anorexia, loose stools and constipation.
Eating Habits and Medication
Colic may remain the primary diagnosis if things like kidney stones, appendicitis, abdominal aortic aneurisms, or ectopic pregnancy are ruled out. In these cases, a person's eating habits may be to blame. Eating mostly processed foods can lead to poor digestion, which in turn can lead to intermittent pain. Mild food allergies can also cause stomach discomfort, while constipation can cause pain lower down in the abdomen. Sometimes certain medications, particularly antibiotics, can disrupt the bacteria in the intestines and lead to colic as well.
Treatment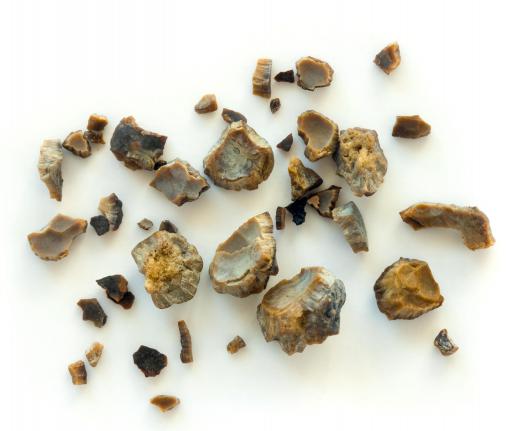 The home remedies that are often used for infant colic usually aren't recommended for colic in adults, since it usually has an underlying cause. Changes in eating habits can often help with this condition, though surgery may be required for things like a bowel obstruction or an ectopic pregnancy. In cases where the underlying cause isn't clear, the pain may clear up on its own in time, especially if the person exercises regularly and maintains a healthy diet. There are also treatments available for this condition in Ayurvedic and traditional Chinese medicine.
AS FEATURED ON:
AS FEATURED ON:

By: Alila

Gallstones are a common cause of colic in adults.

By: Sergey Lavrentev

Some antibiotics may cause stomach pain.

By: Piotr Marcinski

A person with colic.".

By: Africa Studio

Abdominal pain is a common symptom of colic in adults.

By: airborne77

Colic in adults can be associated with serious conditions, like kidney stones.

By: 9nong

Adult colic consists of a broad range of gastrointestinal disorders.

By: joshya

Appendicitis often causes abdominal pain.