What Causes a High Lymphocyte Count?
Lymphocytes are a type of white blood cell that is made by the immune system to fight disease. A high lymphocyte count usually means that a person has a viral infection, although it can also indicate some autoimmune disorders or certain forms of cancer. Some of the specific illnesses that may cause this symptom include hepatitis, mononucleosis, and Crohn's disease. Whooping cough, influenza, and leukemia may also lead to it. There is no specific treatment for this symptom, and management is dependent upon the underlying cause. Any specific questions or concerns about a high lymphocyte count in an individual situation should be discussed with a doctor or other medical professional.
Hepatitis is a medical term used to describe inflammation of the liver and is one potential cause of a high lymphocyte count. This illness can cause symptoms such as a yellowing of the skin and eyes, fatigue, and abdominal pain or swelling. Treatment options may include lifestyle changes, the use of prescription medications, or surgical intervention.
Mononucleosis is a viral illness that causes extreme fatigue and is most frequently seen in adolescents and young adults. Blood tests often reveal the presence of a high number of lymphocytes, medically known as lymphocytosis. Treatment involves rest and the use of over-the-counter medications to treat additional symptoms such as headache or sore throat.
Crohn's disease is a type of autoimmune disease that leads to chronic inflammation of the digestive tract. In addition to a high lymphocyte count, symptoms may include abdominal pain, diarrhea, and weight loss. Treatment for this condition can be complicated and may include nutritional therapy, the use of over-the-counter and prescription medications, or surgery.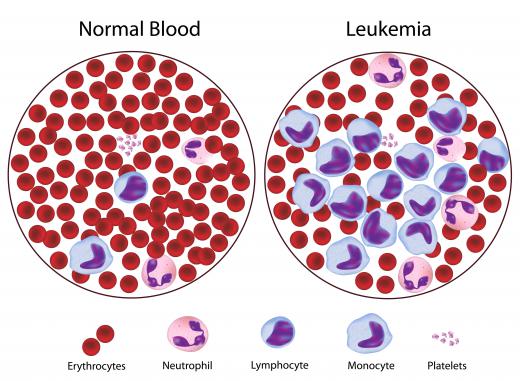 Whooping cough and influenza are respiratory illnesses that may cause a high lymphocyte count. Also known as pertussis, whooping cough involves severe bouts of coughing followed by a whooping sound and may be prevented by the use of routine vaccinations. Treatment normally consists of prescription antibiotics, and cough medications are not usually helpful. Influenza, more commonly referred to as the flu, causes fatigue, fever, and respiratory distress and can be deadly in extreme cases. Increased fluids and rest are the usual treatment recommendations, although prescription antiviral medications may sometimes be needed.
Leukemia is a form of blood cancer and is known to lead to a high lymphocyte count. Fatigue, increased infections, and pain in the joints or muscles are common symptoms. Chemotherapy or radiation treatments may be helpful in battling this potentially fatal disease. In some cases, a bone marrow transplant may be needed in an effort to preserve the life of the patient.
AS FEATURED ON:
AS FEATURED ON:

By: Starpics

Whooping cough may cause a high lymphocyte count.

By: CLIPAREA.com

Hepatitis may cause a high lymphocyte count.

By: Alila

A diagram of the effects of leukemia, showing a high lymphocyte count.

By: apple1

A diagram showing different types of white blood cells, including lymphocytes.

By: kmiragaya

Virus infections may cause a high number of lymphocytes in the blood.

By: Ocskay Bence

Influenza can cause a high lymphocyte count.

By: sframe

A high lymphocyte count may cause abdominal pain and swelling.