What is a Bone Contusion?
A bone contusion is a deep bruise that affects a section of bone tissue. Most contusions result from direct injuries, such as falls or sudden impacts during sports. Bone bruises are typically very painful and lingering symptoms may last for several months following injuries, especially when they occur near the ends of joints where ligaments and cartilage are also damaged. Treatment for a bone contusion depends on the location and the severity of symptoms, but most patients are given pain medications and instructed to get plenty of rest to promote faster healing.
There are several different classifications of bone contusions, but all involve direct damage to a bone that does not actually cause a fracture. A bone contusion can be just as painful as a fracture, however, and take about the same amount of time to heal. Most contusions occur at joints, and bruising is especially common in the knee, hip, elbow, ankle, and wrist. A fall, hit, or a sudden stop or twist can put enough pressure on a joint to tear cartilage tissue and mar the underlying bone. Athletes who play contact sports and elderly people with bone-weakening conditions such as osteoporosis are at the highest risk of suffering an injury that results in serious bone bruising.
A person who believes that he or she has suffered a bone contusion should visit a primary care physician or an emergency room. A doctor can physically inspect the tender bone or joint and ask about symptoms to determine if extensive damage may be present. He or she usually orders x-rays and magnetic resonance imaging scans to confirm the presence of a contusion and inspect surrounding ligament, cartilage, and muscle tissue.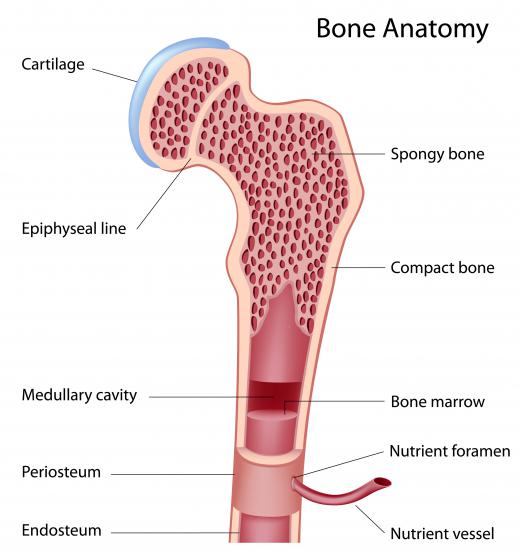 Patients with mild bone contusions are typically advised to rest, ice, and elevate the injured body part for several days to ease their symptoms. A doctor might recommend an over-the-counter anti-inflammatory drug such as ibuprofen or prescribe a high strength corticosteroid. If pain and swelling are severe, the patient may need to receive a corticosteroid injection directly into the joint. Mild bone contusions usually start feeling better in two to four weeks, at which point an individual can begin light activity to gradually rebuild strength and flexibility.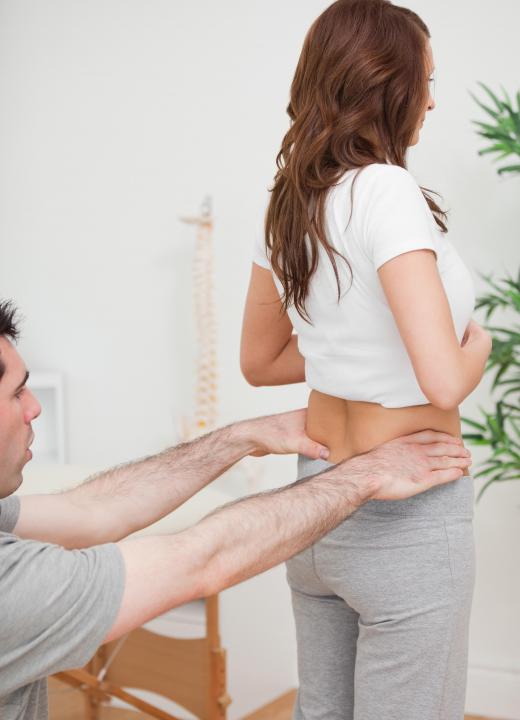 If extensive cartilage or ligament damage accompanies a bone contusion, additional treatment may be needed. Ligament tears often require surgery to repair tissue and remove dead or damaged cartilage from the joint. Follow-up home care and physical therapy usually help patients return to normal activity levels between two and eight months following surgical procedures.
AS FEATURED ON:
AS FEATURED ON:

By: Luis Santos

A man with a bone contusion.

By: Alila

A diagram of the anatomy of a bone.

By: WavebreakmediaMicro

Ligament tears that accompany bone contusions may require physical therapy.

By: Africa Studio

A bone contusion can be just as painful as a fracture, and may occur at a wrist joint.

By: eAlisa

A person who believes that she or he has suffered a bone contusion should visit an emergency room.

By: Geo Martinez

Pain and inflammation can be treated with an NSAID, such as ibuprofen.

By: Monkey Business

A person who believes that she has suffered a bone contusion should visit a primary care physician.