What is a Common Bone Bruise Treatment?
A bone bruise is an injury that occurs when one bone compresses against another. The result is a painful bruise on the exterior of the bone that can hamper a person's lifestyle. One common bone bruise treatment consists of an ice massage, rest, and the administration of pain medication. As with many other bruises, a bone bruise will heal if given enough time. Certain exercises may also be required as part of treating a bone bruise in order to return the patient to his normal activities.
Bone bruises can occur when a person experiences trauma. Sometimes, two bones will push against one another, resulting in damage to the outer covering of the bone. That damage can allow fluid to seep into the surrounding area and can result in a bone bruise. Many times, bone bruises are accompanied by pain, swelling, and discoloration of the skin. The bones that are often involved in this phenomenon are the tibia and the femur, and it is usually the femur that acquires the bruise
One of the first steps to a common bone bruise treatment is to massage the area with ice. It is usually recommended that an ice massage is administered about five minutes a day for several times during that day. The cold treatment serves to constrict blood flow and helps to reduce swelling and pain. In addition, it also helps to promote healing in the area. Though an ice massage is recommended to be administered several times a day, it should not be used for more than five minutes at a time.
The second step in a common bone bruise treatment is simply to rest. Working the damaged bone may cause more damage and slow the healing process. This may be particularly true when speaking about a bone bruise that has occurred in the knee joint. Resting the body can help a person to heal faster and get back to his activities sooner. Pain medication can also be used to help reduce pain.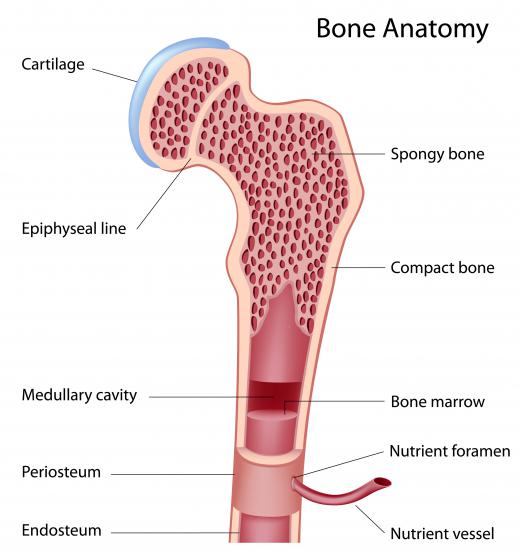 It is recommended that a person visit the doctor even if he thinks he has a bone bruise. Some injuries may have the same symptoms as a bone bruise but may be completely different. A doctor may recommend magnetic resonance imaging (MRI) to diagnose the injury correctly before recommending further treatment. It may also be necessary for a person to undergo special exercises as a part of his bone bruise treatment in order to regain the body's original range of motion. That way, he can return to his activities with more normality.
AS FEATURED ON:
AS FEATURED ON:

By: svetavo

Pain mediation may help relieve pain associated with a bone bruise.

By: WavebreakmediaMicro

A bone bruise may develop as a result of an injury.

By: Alila

A diagram of the anatomy of a bone.

By: frenta

Many times bone bruises are accompanied by pain, swelling and discoloration of the skin.

By: maya2008

The femur is somewhat susceptible to bone bruises.

By: michelaubryphoto

Ice packs are often used in the treatment of bruises.