A cough test, sometimes called a cough and drop test, is a manual method of detecting hernias and sometimes other testicular problems. The test is usually performed by a medical professional who feels the patient's testicles while he coughs, often while turning the head to the side. Blowing on the back of the hand may also be used to trigger the reflex. The additional pressure caused by coughing can help the examiner to identify a hernia.
In most cases, the medical professional will use this opportunity to also check for testicular cancer and proper development. While the cough itself does not usually assist in these assessments, the tests are often done during the same exam, which often makes patients believe they are part of the same test. The cough test itself does cause movement in the testicles, but its primary purpose is to help identify a bulge that might indicate a hernia.
Males often first experience this test in their early teens during a yearly physical. In some cases, it is performed with only a finger on the groin, which may seem less invasive. Later in life, it is often described as having one's testicles cupped in a hand. The exact manual method by which the healthcare professional performs the test may vary slightly, but the goal is always to look for bulges. Hernia detection may be available through other methods, but this inexpensive and quick test is most common.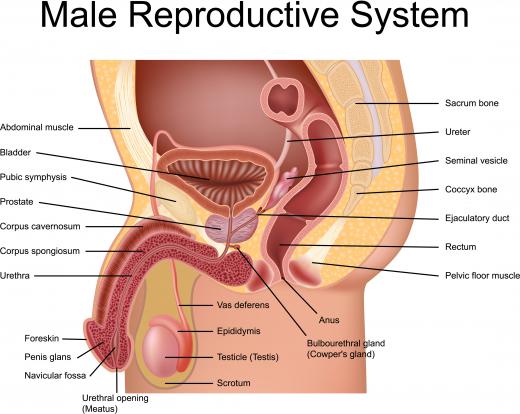 It is possible for a man to perform a testicular exam on himself, but it is more difficult to perform a cough test alone. At home, it may be better to look for symptoms and warning signs of a hernia rather than attempt to feel a bulge using this method. If a man's partner has been trained and knows what to look for, he or she may be able to perform this test effectively without a medical license. Even so, these examinations should not be considered adequate replacements for medical care.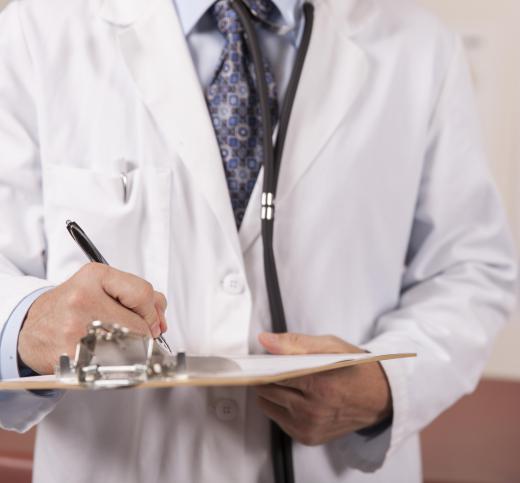 The test is often a subject of anxiety about medical exams among men. Unwanted erections can occur, which can be a source of embarrassment. Most sources giving advice about preparing for the experience note that, while it may seem invasive or embarrassing, particularly the first time, medical professionals perform this test all the time and are used to all the possible reactions. While women are clearly capable of performing the exam, it is always acceptable to request a male healthcare professional for an intimate procedure to minimize the patient's discomfort.
Why Do Doctors Make You Cough When Holding Your Balls?
Young men are sometimes required to take physical exams before playing sports or getting a new job that requires physical labor. Insurance companies for employers will sometimes require new hires to have a physical exam performed. So why do men need to have their balls checked while coughing?
What the doctor is doing in this physical exam is checking primarily for hernias that would show up in a bulge in the area around the man's groin. Coughing forces the bulge out, making it easier for the doctor to find. While performing this hernia observation, the doctor may check the testicles for cancerous lumps, discoloration and proper development especially if the patient is younger and in a growth phase.
The doctor will feel the area to the left and right of the groin, between the genitals and the thigh. While coughing, this area is where doctors are checking for the hernia to show up if one is present. Finding a hernia might prevent the person from being able to participate in a physically demanding job or play on a sports team, but the doctor is protecting the patient from potentially causing tremendous harm to themselves.
When observing the testicles for cancer and other possible abnormalities, the doctor may gently grasp each testicle with his or her fingers and roll the skin back and forth. Hardness in the skin, discoloration or abnormal pain could mean a problem exists. If the doctor finds anything unusual, they will help figure out the next best thing to do.
How Often Do You Need a Cough Test?
Unless an employer or something is demanding a physical exam for their records, men should plan to have a physical exam that includes checking for hernias every three to five years before the age of 35. After 35, men should be checked every two years at least until they are in their 50s, upon which time they should get checked yearly.
This doesn't mean that a person shouldn't be checking themselves at home regularly as often as they can. There's really no such thing as checking for cancer too often. If a person thinks they have a lump or some other abnormal condition, they can schedule a doctor visit and get checked as soon as possible.
Is There an Alternative to the Cough Test for Men?
The short answer is, no, there isn't really another simple way for doctors to check for hernias in men. There's no need to feel embarrassed or worry about having an exam that all men are required to have done. The doctor is accustomed to this sort of thing and he or she is just doing work as usual. It's normal to feel anxious or nervous about the procedure, but there's certainly no need to be scared. It will feel amazing after the exam to know it's finally out of the way, especially if there are no problems found during the exam.
The patient is ultimately in control and can cancel an appointment if he or she feels too overwhelmed to go through with it. Maybe trying again at a later date while bringing a friend or family member for support could work. Also, it is fine to request a male or female examiner if it will make the patient feel more comfortable, but there could be an issue with another examiner not being available. 
Is There a Procedure I Can Do at Home Instead?
The doctor will normally show each patient how to check for abnormalities in the groin area so they can perform the exam on themselves. However, doing the exam at home is not going to work in place of an actual exam performed by a doctor.
Doing routine self-checks around the testicles for hardness, swelling, discomfort, or any other issues is a good habit to get into. Men have a much better chance at fighting against cancer, or whatever other ailment could be lurking if they can detect it early and fight it as soon as possible.
Are Hernias More Common for Men?
Yes, inguinal hernias are a fairly common occurrence in the general male population with upwards of 25% of men experiencing this at least once in their life. It's been found to occur quite rarely in women, with only a 2% rate.
Inguinal hernias are caused by a piece of tissue bulging through a weak spot in a patient's abdominal wall. The abdominal muscles could be weak from birth, or they could become weakened due to some accident or ailment. The hernia will typically not go away on its own.
AS FEATURED ON:
AS FEATURED ON:

By: dandaman

A cough test helps detect testicular issues.

By: peterjunaidy

A cough test is used to detect hernias and other testicular problems.

By: jeffreyjcoleman

A medical professional may tell a man to "turn your head and cough" when performing a testicular assessment.

By: jovannig

A hernia may be detected using an ultrasound.

By: Ljupco Smokovski

Overweight individuals may be more susceptible to developing hernias.