Why Do Doctors Say "Turn Your Head and Cough"?
Doctors generally say "turn your head and cough" during a hernia exam. They are generally required to put their fingers near the top of the testicles on a male patient and instruct him to cough because if a hernia is present it can be felt bulging from the lower abdomen. Men may be asked to turn their heads so that the cough is directed away from the doctor, especially if they are sick with a communicable disease.
Hernia tests may be done as part of a routine physical or if a man believes he may have a hernia due to severe pain or other symptoms. A hernia is a condition in which part of the intestines begin bulging out of the abdominal cavity through susceptible areas. These areas include the belly button in men and women, and the area where the testicles meet the body in men. When a man is told to "turn your head and cough" it is generally so that the action of coughing will make any potential hernia easier to detect.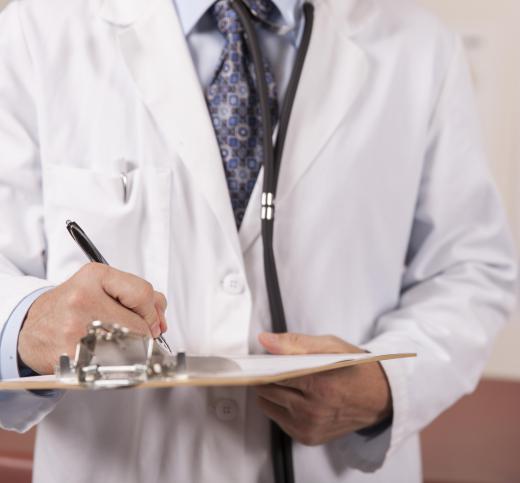 Some doctors may not use this phrase and instead instruct patients to cover their mouths or simply to cough. Covering the mouth is often a safer alternative because germs may still become airborne and infect other individuals, even if the patient's head is turned away from any other people in the room. Patients who have a known illness, such as the common cold or influenza, should always cover their mouths while coughing.
It also been said that doctors instruct patients to "turn your head and cough" in order to put the spine in a better position for checking for hernia or to somehow make a hernia easier to feel. Most physicians do not support this theory, although turning one's head does not do any harm if it makes either the patient or doctor feel better to do so. In the majority of cases, the act of coughing itself is enough to indicate a hernia.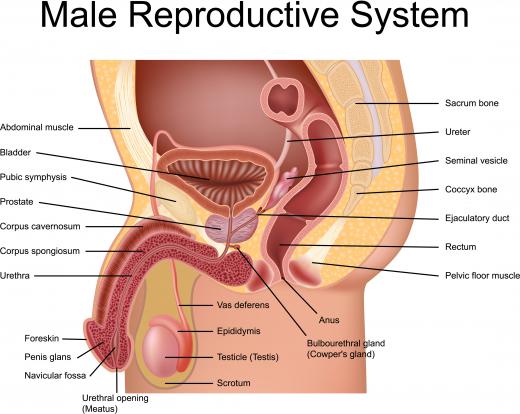 The phrase "turn your head and cough" is well known, even among those who have never heard it spoken by their own doctors. It has been used in a variety of comedy sketches, stories, and other media outlets to illustrate the discomfort associated with becoming unclothed in a doctor's office during the exam. It has also been used in movies during comic scenes.
What Causes a Hernia?
When you get a femoral or inguinal hernia, it's because you have weakened abdominal wall muscles since you were born or you have over-strained the groin and abdomen repeatedly. 
Hernias generally occur because of pregnancy, obesity, overexerting yourself physically, a consistent hard cough, and straining. These are the most typical reasons for a hernia appearing in your adult years, though a traumatic injury to the stomach may also be a factor. 
What Happens If A Hernia Goes Untreated?
Your primary care physician might decide it's best to get an operation if your hernia is consistently painful or more prominent. Sometimes hernias can also cause another hole in the abdominal wall, which has to be sewn closed to repair during the operation. Doctors will likely use a surgical mesh to address the problem. 
An untreated hernia can also be the culprit for passageways throughout the body being wider than they should be. An example would be the area where your esophagus is supposed to go through your diaphragm. In this case, the surgeon can make the opening tighter during surgery. 
How Do Doctors Repair A Hernia?
Your surgeon can repair a hernia using laparoscopic or open surgery. For open surgery, they will cut the hernia, push the protruding tissue back into your abdomen, and then sew everything closed. With laparoscopic surgery, you'll be under general anesthesia, the doctor will use a breathing tube, and they'll make a few minor cuts around the lower abdomen. 
A laparoscope, a small camera, goes through your abdomen and guides the doctor as they can see the hernia on the screen. They'll remove the hernia sac from your abdominal wall and cover the area with surgical mesh. They're careful to avoid blood vessels, the vas deferens, and any nerves that could cause chronic pain if struck.
Can I Test Myself For A Hernia?
If you suspect that you have a hernia, there are ways that you can test yourself. 
Start pressing gently near your pubic bone for a lump or unusual swelling. 
If you feel a lump, keep track of where it is and lie down on your back. 
Is the lump the same size or smaller? You might have a hernia. You likely have a hernia if it causes pain and discomfort when you lift heavy things or cough. 
Are Hernias Serious?
Hernias usually aren't a severe health condition, but there is cause for concern when a small section of your intestines gets stuck in your scrotum. It can stop blood flow and lead to other serious health ailments if you don't correct it quickly enough. 
What Type Of Hernia Is the Doctor Checking For?
Inguinal hernia: When you have an inguinal hernia, it means that your bladder or intestines are pushing through your inguinal canal into your groin or abdominal wall. Nearly 97 percent of hernias are inguinal, mostly occurring in men that already have a weakness since birth in this area. 
Incisional hernia: For those that are overweight or elderly, an incisional hernia may occur after you have surgery on the abdominal wall. This type of hernia pushes through where the doctor makes the initial incision.
Femoral hernia: Most often, obese or pregnant women get femoral hernias. It happens when the intestines enter the canal that carries the femoral artery to the upper thigh. 
Umbilical hernia: Newborns and women that have had multiple children or are obese may struggle with an umbilical hernia by their naval. 
Hiatal hernia: Hiatal hernias result when your stomach squeezes past the hiatus, a natural opening in your diaphragm. 
When To See A Doctor?
You should see a doctor if you:
Think you have a hernia
You can't seem to guide the hernia back, and it starts feeling soft (which can be an indication of organ strangulation from an incarcerated hernia)
You know you have noticeable hernia symptoms, like a painful bulge near the pubic area.
Alternative Ways To Test For a Hernia
Many men find it embarrassing to undergo a cough test to check for a hernia. Unfortunately, it's a proven method that relies on your stomach muscles contracting and tightening to detect the bulge. 
Once your doctor does a physical exam to check, he might order an ultrasound to confirm. The ultrasound relies on sound waves to get images of your abdomen and pelvis. It can also help physicians to determine additional sources of pain. 
AS FEATURED ON:
AS FEATURED ON:

By: jeffreyjcoleman

The phrase "turn your head and cough" has been used in numerous comedy sketches to illustrate the discomfort of a patient undressing in a doctor's office.

By: WavebreakmediaMicro

Men are asked to "turn their head and cough" during an exam to check for hernias.

By: peterjunaidy

A cough test is used to detect hernias and other testicular problems.

By: AlienCat

A hernia occurs when part of the intestines begin bulging out of the abdominal cavity.