What Is a Disc Osteophyte Complex?
A disc osteophyte complex is a spinal abnormality that is most often caused by the normal aging process, though it may arise in a younger patient due to an autoimmune disorder or a major traumatic injury. When soft disc tissue in between vertebrae begins to break down, the area can calcify, harden, and put pressure on bones. The condition most often affects cervical vertebrae in the neck and can lead to frequent headaches, neck stiffness, and weakness in the shoulders. Treatment decisions are based on the severity of a patient's symptoms but may include medications, physical therapy, surgery, or all three.
People over the age of 55 are at the highest risk of developing this complex. As the body ages, cartilage tissue inside spinal joints naturally begins to degenerate. Disc degeneration can result in the development of bone spurs, or hard bony protrusions, in between vertebrae that rub against each other and cause further damage in the spine. Being obese and having a family history of osteoarthritis tend to increase the risk of spine problems later in life. Other conditions that may precede this condition include rheumatoid arthritis, blood disorders such as hemophilia, and severe head and neck injuries.
A disc osteophyte complex may not cause noticeable symptoms in the early stages of development. As bone spurs begin to grow and rub on vertebrae, a person's neck might feel stiff and sore. Pain can radiate from the neck to the shoulders and arms, causing weakness and fatigue. Headaches that seem to be centered in the back of the head are common. If the complex becomes large enough to press against the spinal cord or peripheral nerves, it can cause debilitating pain or even paralysis in the upper limbs.
It is important to receive a clinical evaluation whenever neck pain becomes a persistent nuisance. A doctor can check for signs of the condition by asking about symptoms and taking x-rays of the spine. In most cases, protruding bone spurs can be recognized on diagnostic imaging tests. After confirming the diagnosis, the doctor can explain different treatment options.
Degenerative disorders that are found early can often be treated with medications. Oral anti-inflammatory drugs help to ease soreness and increase flexibility in the neck. Massage, ice, and rest are often useful in relieving symptoms as well. If a disc is severely damaged, the patient may need to receive a corticosteroid injection directly into the neck to treat inflammation. Surgery to shear bone spurs, fuse vertebrae, and decompress the spine is a final option in the case of late-stage disc osteophyte complex.
Is Disc Osteophyte Complex Serious?
Some people compare disc osteophyte complex to arthritis. It has a similar impact on your joints by limiting movement and causing pain. However, disc osteophyte complex isn't only related to joint pain and movement hindrance.
Disc osteophyte complex can often be a sign of a more serious problem. Bone spurs are uncomfortable on their own but can lead to nerve pain and damage. Nerve damage can impact other body systems as well.
Symptoms of disc osteophyte complex present as stiffness and back or neck pain. If you feel pain in your lower back, it could also spread lower to your thighs. Neck pain can spread to your shoulders and arms, further restricting movement.
If your disc osteophyte complex gets more severe, it can cause numbness or a tingle in your extremities. You might feel a rush of pain when you sit down, bend over, or twist your body. When you try to push, pull, or lift things, you can experience pain radiating from your spine into your arms, legs, hands, and feet.
Does Disc Osteophyte Complex Require Surgery?
You don't have to have surgery to treat disc osteophyte complex pain, but it can help. There are different approaches to the process depending on the severity of your condition.
Laminectomy
A laminectomy removes most of the lamina, which is part of the vertebral arch. It's the back part of the spine that keeps the spinal cord and nerves protected. The surgeon will extract the lamina to alleviate pressure on your spinal cord or nerves.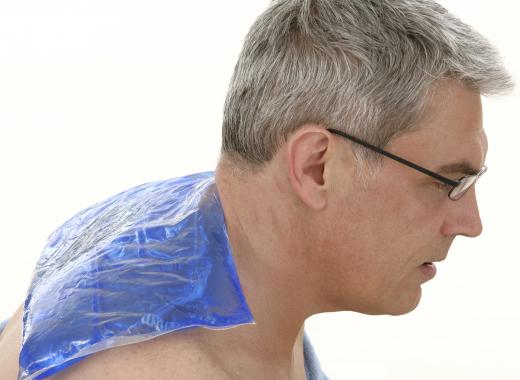 Though it might sound like a major surgery, a laminectomy is minimally invasive. You might need to stay in the hospital for a short time, but the relief you'll feel is worth it. A laminectomy can ease pain and prevent detrimental neurological conditions that result from spinal cord damage.
Laminotomy
A laminotomy is a way to eliminate pressure in your spine. The surgery aims to decompress your spinal column by removing a small portion of the lamina to reach the herniated disc. It differs from a laminectomy, which removes most or all of the lamina as the treatment. Your surgeon usually performs a laminotomy to access the affected discs.
Disc Replacement
Replacing a disc with bone spurs attached can alleviate your back and neck pain. Your surgeon will remove the affected disc and insert an artificial disc. You'll still have a range of motion, but the artificial disc can't grow bone spurs.
Lumbar Fusion
If you're a candidate for lumbar fusion, your surgeon will remove the damaged disc from the lumbar portion of your spine. The surgeon fuses together the two surrounding vertebrae to provide enough spinal support. 
How Can You Treat Disc Osteophyte Complex in the Spine?
Since disc osteophytes don't go away on their own, you'll always need some sort of treatment to manage the pain. It's also best to get regular checkups so your doctor can monitor your general health. In some cases, bone spurs can be a sign of a more severe issue. People with disc osteophyte complex have gone on to develop degenerated and herniated discs.
If you don't want to try surgery to alleviate the pain, you can use radiofrequency ablation (RFA). Commonly used to shrink benign tumors, RFA can also numb the affected nerve so you won't feel the sensation of pain.
You can also take treatment into your own control by modifying your activities. You can limit activities that require a lot of motion, twisting, lifting, and pulling. If you must complete such work, take frequent breaks and try to have a day of rest between each session.
Physical therapy can help you practice mobility and stretching. Constantly strengthening muscles around your affected neck and back bone spurs can alleviate the pain. Since you'll be working with neck muscles, you should carefully follow specific exercises given to you by a physical therapist to prevent further damage.
You can ease pain by using a heating pad or an ice pack. This solution is temporary but can make you feel better after a long day or a hard workout. If you want a similar treatment that's longer-lasting, you can try medical injections. Steroid shots can reduce joint inflammation and alleviate your pain.
AS FEATURED ON:
AS FEATURED ON:

By: nebari

Older people are more at risk of disc osteophyte complex, which typically begins with neck soreness.

By: mrivserg

A major traumatic injury can cause disc osteophyte complex in people of any age.

By: Kurhan

Obesity is a risk factor in the development of spine issues such as disc osteophyte complex.

By: peterjunaidy

A picture of a healthy spine and one with osteophytes.

By: JPC-PROD

A gel pack can be used to soothe neck soreness caused by disc osteophyte complex.

By: zimmytws

X-rays of the spine will be part of a clinical evaluation of neck pain.

By: vladimirfloyd

Frequent headaches are a common symptom of disc osteophyte complex.