A high enema is an enema that cleans out the entire length of colon between the rectum and the cecum, unlike a regular enema that only cleans out the lower part of the colon. A high enema may be performed to relieve constipation or to prepare someone for a photoscopic exam or other various medical procedures involving the bowel. The use of these enemas is a popular body-cleansing practice among natural and holistic health enthusiasts.
A high enema is a relatively simple and painless procedure. A clear enema bag is filled with a solution of two to three quarts of warm water that has been filtered and mixed with one tablespoon of salt, baking soda, Epsom salt or an herbal mixture. A mild soap can also be used at one teaspoon per quart of water. Attached to the enema bag is a rectal tube with a nozzle or tip.
The person receiving the enema lies down on her left side with her leg on that side extended and right leg bent. The enema nozzle is lubricated and injected into the anus. The enema solution is slowly administered to minimize discomfort. Massaging the abdomen in a counter-clockwise direction while the solution is being administered helps to move it higher into the colon and enable the recipient to take in as much of the solution as she comfortably can. A healthy adult colon can hold two to three quarts of solution—however, this may not be possible on the first attempt.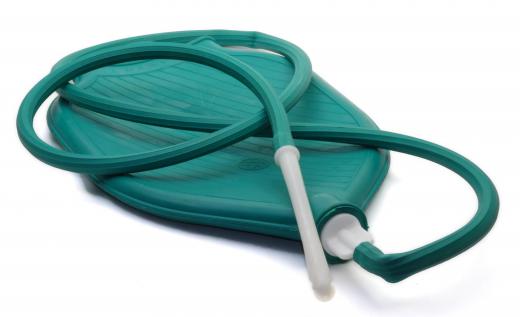 If an enema solution containing soap is used, it should be followed up with a warm-water enema to remove any soap residue from the colon. Subsequent enemas can be expelled immediately after administering. No enema of any kind should be done if the perosn is experiencing vomiting, nausea or abdominal pain. Any individual who bleeds from the rectum or does not produce a bowel movement after a high enema should seek medical attention.
Deep-breathing through the mouth will help minimize any mild discomfort such as cramping. Should cramping occur, stopping or slowing the solution can provide enough relief to allow the recipient to feel more at ease. The recipient will feel a strong urge to go to the bathroom after the procedure. The individual is advised to keep the solution inside for five to 10 minutes before expelling into the toilet—a retention nozzle or plug can help.
What Is the Difference Between a Cleansing Enema and a Retention Enema?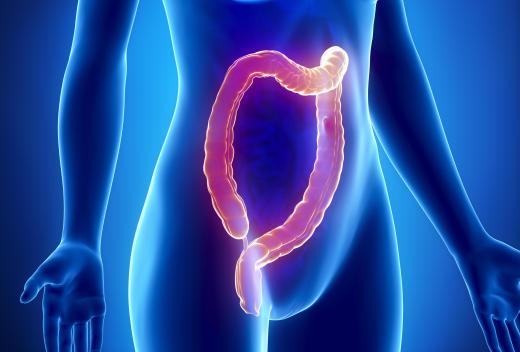 Cleansing enemas are water-based and only stay in the rectum for a short time. These enemas allow the colon to release and flush impacted stool within 5–10 minutes. Besides using Epsom salts or mild soap, there are several other options for a cleansing enema. 
A glycerin enema uses a liquid that contains 5% glycerin instead of only a water or saline solution. The glycerin performs like a laxative and causes the lining of the intestine to hold more water. That process softens the stool.
A phosphate enema may be the best choice if there needs to be a quicker release of the stool. The sodium phosphate in the enema works by attracting water to the colon and can quickly induce the discharge of the stool.
Many believe a lemon juice enema combined with filtered room temperature water cleans the colon and helps balance the body's pH. A lemon juice enema might also relieve some discomfort that stems from colitis. Since the lemon juice may irritate the lining of the intestines, it is not recommended to use a lemon juice enema more than once a week.
Conducting an apple cider vinegar enema is said to have many benefits beyond easing constipation. An apple cider vinegar enema may increase the levels of the healthy bacteria in the gut, reduce toxins in the body, and even aid with weight loss.
Retention enemas are used or prescribed by a doctor for someone who has hardened or impacted stool. With a retention enema, the solution lingers in the digestive tract for a minimum of 15 minutes. However, it may need to remain up to an hour for optimal absorption and results.
One enema that has grown in popularity is a coffee enema. Injected into the colon is a combination of brewed room temperature coffee and water during this type of enema. While many people use a coffee enema to remove the build-up of bile, holistic health enthusiasts also believe it will rid the body of toxins.
A mineral oil enema works by inserting the oil to coat and seal the stool in your colon. The stool is then covered in water to help expedite the release. A mineral oil enema might work well when the individual should avoid straining the rectum.
Many people use herbal enemas for their antiviral and anti-inflammatory properties, which come in various ingredients. Some common herbal enemas include garlic, chamomile, or raspberries. Depending on the ingredients in the enema, herbal enemas may help remove parasites from the digestive tract, reduce anxiety, or relieve minor pains and discomforts. 
Another very popular retention high enema is a probiotic enema. This enema cleanses your colon and helps colonize the healthy gut bacteria. The healthy bacteria stays and grows in the digestive tract instead of traveling out with the stool, promoting and stimulating the immune system.
What Are Other Times a Health Professional Might Order an Enema To Be Used?
Besides the occasional relief of constipation, there are other times that a doctor or health professional might recommend for someone to have an enema. 
If the patient is preparing for surgery or a colonoscopy, a doctor may prescribe an enema, so the bowels are empty before the surgery. Certain types of cancer screening often require an enema to be completed first. Enemas can be used to deliver some medications as well.
Are Enemas Safe?
Enemas, for the most part, are safe for occasional use. Enemas are highly effective, but there can be a risk of dangerous, life-threatening side effects if the directions on the package or from a physician are not followed. 
Be sure to read the instructions thoroughly and follow them precisely as written. Contact a medical professional if you have any additional questions or if an emergency occurs.
When To Seek Medical Attention
Although highly unlikely, be sure to watch for signs that the patient should seek medical attention after an enema has been given. 
In addition to rectal bleeding or lack of bowel movement, if there are any symptoms of dehydration such as uncontrollable diarrhea, unusual dry mouth, or dizziness, contact a medical professional immediately.
AS FEATURED ON:
AS FEATURED ON:

By: ekostsov

A recipient of a high enema may experience a strong urge to go to the bathroom after the procedure.

By: Roman A. Kozlov

A reusable enema kit.

By: Jacob Kearns

A healthcare professional holding rectal tubes, which are used with high enemas.

By: CLIPAREA.com

A high enema cleans the entire colon.

By: sframe

An enema should never be done while a person is experiencing abdominal pain.