What Is a Hypoechoic Mass?
A hypoechoic mass is a lump which appears relatively darker on an ultrasound scan, because it reflects fewer ultrasound waves. The significance of this finding varies depending on the context. Some tissues normally reflect more or less ultrasound waves than others. When part of an organ changes to reflect more or less ultrasound waves than usual, with the result that it appears brighter or darker than the surrounding tissue, this could indicate an area of disease. Sometimes an entire organ could appear more or less bright than it would normally in comparison with other organs, and this could also be a sign of illness.
Ultrasound works by sending out high frequency sound waves which bounce off tissues. A probe sends out the sound signals, and the reflected echoes are captured and transformed into a black and white image displayed on a screen. What are called hyperechoic areas tend to return more waves, while hypoechoic regions return relatively fewer waves. Where sound waves pass through water, there are usually no reflected waves and the area appears black, or anechoic.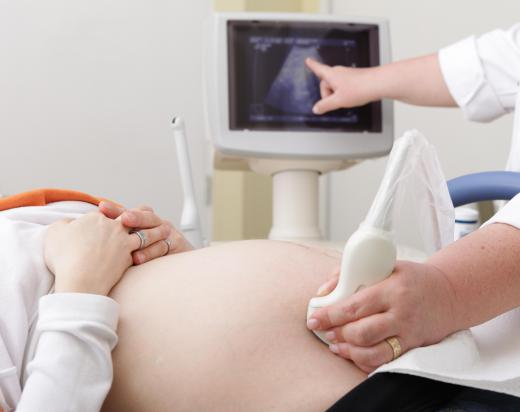 A hypoechoic breast mass may be benign, as in the case of a non-cancerous tumor called a fibroadenoma. This appears on an ultrasound scan as a hypoechoic mass with smooth edges. Fibroadenomas are common in young women and may sometimes disappear by themselves, so they are usually only removed if they are large or increasing in size. A breast lump could also be a simple cyst which, being fluid-filled, has an anechoic, rather than a hypoechoic, center surrounded by a well-defined wall. Again, this is a benign, or non-cancerous, mass and can be treated by draining the contents using a needle.
An ovarian mass which appears hypoechoic on ultrasound could be a tumor known as a fibroma. This is a benign, solid growth which can grow quite large, sometimes becoming bigger than a grapefruit. An ovarian fibroma is usually removed surgically and the ovary may be preserved if possible.
One example of a hypoechoic mass, seen in the thyroid gland, is a benign tumor called a follicular adenoma. Confusingly, follicular adenomas may also appear hyperechoic, where more sound waves are reflected back, giving a brighter appearance. In either case, follicular adenomas seen on ultrasound scans tend to be surrounded by a ring which is hypoechoic. They are the most common kind of thyroid tumor, and they are often removed as a precaution because it can sometimes be difficult to distinguish them from thyroid cancer.
In the liver, a hypoechoic mass may represent a growth of cancer cells which have traveled from an original tumor elsewhere in the body. This kind of malignant mass, which originates elsewhere, is known as a metastasis, plural metastases. In most cases where cancer has spread to the liver, the disease is not curable, but treatments such as chemotherapy may shrink tumors and increase life expectancy.
What Are the Types of Hypoechoic Mass?
There are different types of hypoechoic masses, including those found in: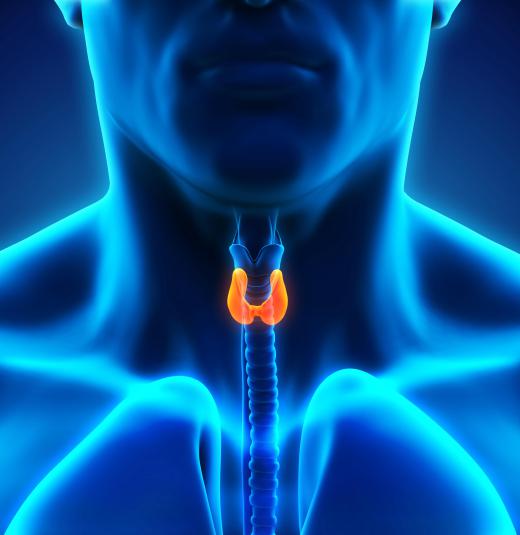 Many people who feel a mass in their breast worry that it's breast cancer since that's the second most common cancer in women (with skin cancer as the first). Thankfully, many masses found in breasts are benign. Though the mass may resemble cancer, it could be a fibrocystic change, granular cell tumor, spindle cell lesions, or other common medical issues.
It's easy to spot changes in kidney tissues, so your doctor will notice a hypoechoic mass on that organ quickly. Studies have found that 25% of hypoechoic kidney masses are benign. However, renal cell carcinoma can initially present as a hypoechoic mass, so you should check with your doctor for follow-up testing.
In the liver, a hypoechoic mass might appear as a single spot. Even if you have multiple spots, they can still be benign. Your liver is still healthy, and you might not experience any symptoms. Common benign hypoechoic masses in the liver include abscesses, hepatic angiomas, and hepatic adenomas.
If your doctor detects a hypoechoic mass on your uterus, it could be one of many things. Fibroids are common, found in about 70% of women. They're solid masses, and if your doctor finds one, you'll likely have several more. While they're not cancerous, they can prolong your period or cause pelvic pain, so your doctor may prescribe treatment if necessary.
In addition to the previously mentioned locations for hypoechoic masses, you might also find them in your stomach, pancreas, intestines, ovaries, or testicles.
How Do You Find a Hypoechoic Mass?
A hypoechoic thyroid nodule is a common occurrence that is often benign, but since there's a low risk of cancer, you should check with your doctor. Due to the location of the thyroid gland, you might experience discomfort because your neck is swelling.
Hypoechoic masses can form anywhere in the body and are often first detected by an ultrasound scan. The ultrasound acts like a flashlight illuminating your internal parts. The results will show shapes and shadows but nothing specific about the hypoechoic mass itself.
The scan will look shadowy or might show a halo around a specific part of your organ. The outline might look irregular, such as having an angular edge rather than rounded. Your doctor will be able to notice if the growths look abnormal compared to how the organ would typically appear.
If your doctor sees a hypoechoic mass on an ultrasound, they'll schedule further testing to verify the mass and learn more about what it could be. Depending on the location, your doctor might suggest follow-ups like:
Each test will give your doctor additional information about the hypoechoic mass. At that time, they'll decide on a treatment plan or send you to a specialist.
How To Treat a Hypoechoic Mass
Different ways to treat a hypoechoic mass depend on where it is, its size, and if it's making you experience adverse symptoms.
Sometimes your doctor won't want to treat the mass directly. If they found it due to an infection or inflammation, they might choose to treat that issue first. A hypoechoic mass can shrink on its own if the underlying cause is gone. Your doctor will monitor the mass to ensure it's not growing over time or creating more medical problems.
Radiofrequency ablation is a method that uses electrical currents to shrink masses and tumors without major surgery. The specialist will insert a probe into your body, sending out radio frequency waves to kill the mass's cells.
For large masses, your doctor might recommend surgery. Even if the mass is benign, its size can cause discomfort, obstructions, and other issues that prevent your body systems from functioning normally. If you have a mass blocking blood vessels, organs, or nerves, your doctor will most likely want to remove it altogether.
The type of surgery will vary depending on the mass's position. Endoscopic, laparoscopic, and keyhole surgeries require only small incisions to remove the mass. If it's too large for these methods, you'll have a more traditional open surgery so the doctor can safely remove it all.
AS FEATURED ON:
AS FEATURED ON:

By: Sven Bähren

Hypoechoic masses show as dark areas on ultrasound scans.

By: Zsolnai Gergely

A hypoechoic ovarian mass could be a tumor.

By: Convit

A breast fibroadenoma is a hypoechoic mass that's benign.

By: nerthuz

The thyroid gland may be the location of a hypoechoic mass called a follicular adenoma.

By: pankajstock123

A hypoechocoic mass in the liver may represent a growth of cancer cells.