What is a Respiratory Monitor?
A respiratory monitor is a device which is used to monitor respiration rate. These devices are better known as heart-respiratory monitors, because they are also used to monitor the heart. They are utilized on patients in the hospital who may be at risk of problems such as apnea, and in some cases they may be used at home as well. Manufacturers of respiratory monitors make a variety of these products, including specialty versions designed for use with infants.
The monitor uses several patches which are placed on the body. The patches are used to measure breathing rate and heart rate, responding to movement in the body and transmitting data along attached leads. With the use of an oximeter, a device clipped to the finger, the respiratory monitor can also track oxygen levels in the blood. A blood pressure cuff may also be attached to monitor blood pressure, if blood pressure is a subject of concern among the patient's care team.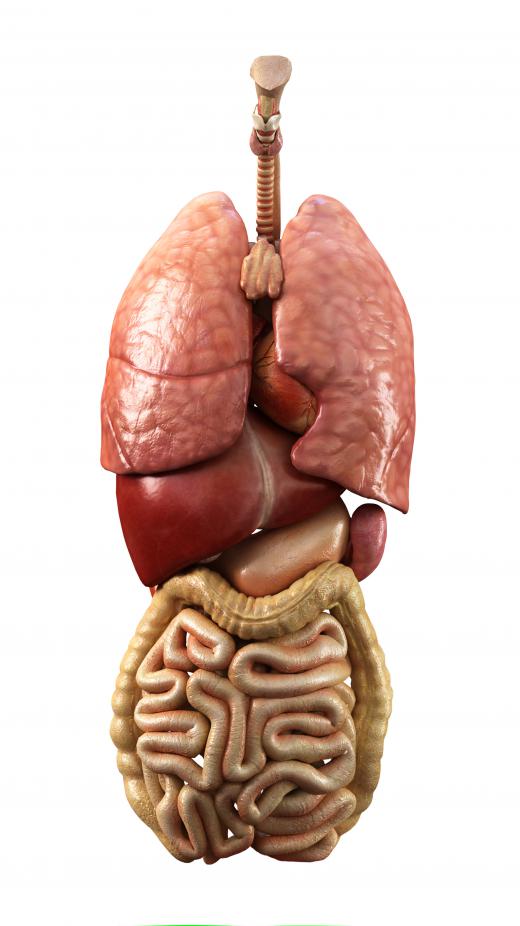 Wearing a respiratory monitor can be uncomfortable, especially if the device is worn for a long period of time. The patches can irritate the skin, causing skin to slough off, grow itchy, or become sore. It can also be difficult to move with the patches and oximeter on, and care providers have to take special care to avoid dislodging the patches, oximeter, and connecting wires. Special gel patches can be used to address the skin irritation issue in patients who will be monitored for a prolonged period of time.
The respiratory monitor is hooked up to a monitor which displays values in real time, and may log values so that the care team can look up the values for various points in time. People may be interested in tracking patterns, such as changes in respiration or heart rate which occur at particular times, or in finding the lowest and highest values which occur during a given period. The device can also be connected to a remote monitor at a location such as a nursing station, allowing people to intervene quickly if a problem develops. The respiratory monitor also alarms when values drop into a danger zone.
Home respiratory monitors are simpler, and are often used as apnea alarms. Several companies make respiratory monitors to use at home with babies, with the goal of reducing the risk of sudden infant death syndrome (SIDS) by alerting parents to apnea when it occurs. These devices mount under the mattress, not requiring patches or leads, which makes them easier and more comfortable to use.
AS FEATURED ON:
AS FEATURED ON:

By: adimas

The respiratory and abdominal organs.

By: arsdigital

Respiration involves breathing in oxygen and breathing out carbon dioxide.

By: juanrvelasco

An oximeter can measure oxygen levels in the blood.

By: Andres Rodriguez

Telemetry nurses are an important part of a patient's health care team, because they can alert doctors to potential issues noted by monitoring.

By: Francois du Plessis

Respiratory monitors may be used in homes with babies to attempt to reduce the risk of sudden infant death syndrome.

By: Photographee.eu

A blood pressure cuff may be applied to monitor a patient's blood pressure if blood pressure is a subject of concern.

By: sudok1

A number of devices are often used to continuously monitor the heart rate and respiration of a critically ill patient.

By: Konstantin Yuganov

A respiratory monitor may be used in the home of a patient who suffers from sleep apnea.

By: lenets_tan

Respiratory monitors can help in diagnosing a child's breathing issues.