What is a Retrolisthesis?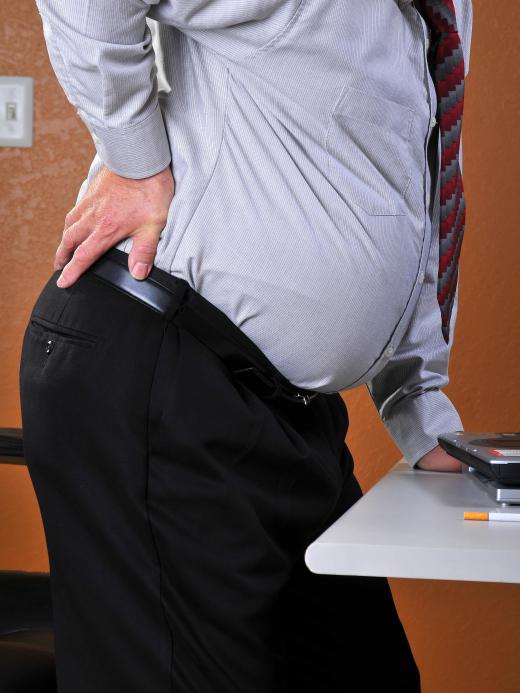 A retrolisthesis is an acute, degenerative, or congenital condition in which a vertebra in the spine becomes displaced and moves backward. In most cases, retrolisthesis occurs when a soft disc that separates and cushions vertebrae either deteriorates or ruptures. Without the support of the disc, the upper vertebra slips out of place and puts pressure on the bone below it. A person who experiences the condition may have a number of symptoms, including chronic back pain, stiffness, and numbness. Treatment depends on the severity of symptoms but usually includes a combination of pain medicines, physical therapy, and surgery.
Most instances of vertebral slippage involve a forward movement of an upper vertebra, in which it slips inward toward the chest. The backward displacement involved with retrolisthesis is less common, but still occurs in considerable frequency among people with degenerative disorders. Arthritis is a leading cause of retrolisthesis in older people, which leads to deterioration of disc tissue. Severe back injuries and congenital spine defects can also result in vertebral slippage.
Retrolisthesis is most likely to affect a bone in the uppermost section of the spine, called the cervical region. Cervical vertebrae in the neck are smaller and generally more susceptible to injury. Slippages are possible, but less common, in the middle and lower sections of the spine. The location of the displacement largely determines the types of symptoms a person might experience.
Cervical retrolisthesis can lead to chronic dull neck pain and tenderness. Slippages lower in the back can significantly limit mobility, causing stiffness and constant pain when walking, standing, or sitting. It is possible for a damaged vertebra to put pressure on important nerves in the back, leading to numbness or tingling sensations in the arms, legs, or torso. Symptoms tend to worsen over time without treatment, especially when degenerative disorders are responsible.
An individual who has significant back pain should visit his or her doctor for a thorough evaluation. A physician can physically examine the spine and take x-rays to check for retrolisthesis. If a slippage is found, the doctor may refer the patient to a specialist for a more thorough assessment. Additional diagnostic tests at the spine specialist's office help to determine the most appropriate course of treatment.
A slight displacement does not often require surgery. Instead, a patient is usually given medications to manage pain and swelling and instructed to get plenty of rest for several weeks. If arthritis is involved, he or she may need to take additional drugs and supplements to improve bone health. A case of severe retrolisthesis can usually be remedied through an invasive surgical procedure, during which a specialist manually adjusts the alignment of vertebrae and permanently fuses them together. Follow-up physical therapy, which can take years, is important to help a patient regain strength.


By: amasterimage

Individuals suffering from retrolisthesis may experience chronic back pain.

By: photoBeard

Retrolisthesis involves a backwards displacement of a vertebra in the spine.

By: zimmytws

An examination of the spine and X-rays will be done to check for retrolisthesis.

By: Lisa F. Young

Arthritis is a common cause of retrolisthesis among older adults.

By: JcJg Photography

Cervical retrolisthesis can lead to chronic dull neck pain.