What is a Riboflavin Deficiency?
A riboflavin deficiency is nutritional deficiency characterized by inadequate amounts of riboflavin, a B-vitamin that plays an important role in a number of physical and metabolic processes. Usually, when someone has a riboflavin deficiency, levels of other B-vitamins in the body are also low. This condition is treatable with riboflavin supplementation to restore levels of riboflavin and other B-vitamins, along with lifestyle changes to reduce the risk that the deficiency will recur.
Riboflavin is found in foods like dark leafy greens, almonds, kidney, cheese, milk, and liver. The vitamin is sensitive to light, and it is important to make sure that these foods are stored in light-safe areas so they do not lose nutritional value. Many people get sufficient riboflavin from their diets. People who eat imbalanced diets without enough riboflavin can develop a primary riboflavin deficiency. Vitamin deficiencies are especially common in people with alcoholism or eating disorders who eat limited diets.
In a secondary riboflavin deficiency, someone is consuming enough of the vitamin, but something in the body is interfering with absorption and uptake. The problem is most commonly located in the intestinal tract. These patients develop ariboflavinosis, the formal term for riboflavin deficiency, even though their diets are perfectly adequate. They may also have trouble absorbing and using other nutrients, in which case they can have multiple vitamin deficiencies despite eating a balanced and healthy diet.
Riboflavin deficiency symptoms include cracked, sore skin, fissures at the side of the mouth, sore throat, and gastrointestinal distress. Patients can be given a blood test to check on riboflavin levels in the blood and to look for other B-vitamins. A patient interview will be conducted to learn more about what the patient is eating. If the patient's diet appears to provide adequate sources of riboflavin, secondary ariboflavinosis will be suspected and additional diagnostic testing may be needed to find out why the person is not able to absorb riboflavin.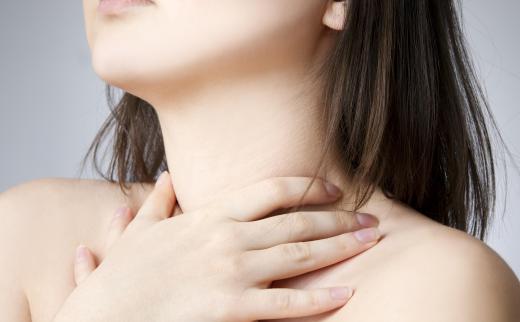 The immediate treatment for riboflavin deficiency is supplementation with riboflavin, usually in the form of oral vitamin pills. Periodic tests can be conducted to determine when levels of the vitamin have stabilized. The patient will also be advised to continue taking supplements and to consider making some dietary changes to reduce the risk of developing this condition again. In people with secondary riboflavin deficiency, additional treatment options may need to be explored to address the medical issue that is causing problems with vitamin absorption and utilization.
AS FEATURED ON:
AS FEATURED ON:

By: kmiragaya

Alcoholism might be the cause of a riboflavin deficiency.

By: mtphoto19

The treatment for riboflavin deficiency may involve taking vitamin pills.

By: staras

A sore throat is one possible symptom of a riboflavin deficiency.