A sacral dimple is a small indentation in the skin that is typically found just above the place on the lower back where the two buttocks meet. These dimples are also sometimes referred to as "pilonidal dimples." In most cases, they are a normal part of a healthy body, but there are some cases, however, in which a one is connected to a problem or abnormality with the spine. These problems and abnormalities are usually noted early in life by a pediatrician or even the obstetrician who delivers a child with an abnormal dimple.
In these cases, a sacral dimple may indicate spina bifida or a problem with the kidneys. These conditions can be ruled out with a few medical tests. In the instances in which the dimple does indicate a serious health problem, patients can proceed accordingly under the direction of a medical professional.
The name for this kind of dimple comes from the word "sacrum," which is a bone at the base of the spine that is shaped like a triangle. The sacral dimple is located quite close to the sacrum. Not all people have this kind of dimple, but it is believed about 2% of all people are born with one.
Parents of babies and children with this kind of dimple should consult a healthcare professional if the area around the dimple becomes red and swollen, or if the dimple is leaking fluid. Children with these kinds of dimples should be taught to keep the area very clean in order to avoid complications. Most of the complications that occur later in life have to do with the skin that surrounds the area, and sometimes, a cyst can form around this kind of dimple.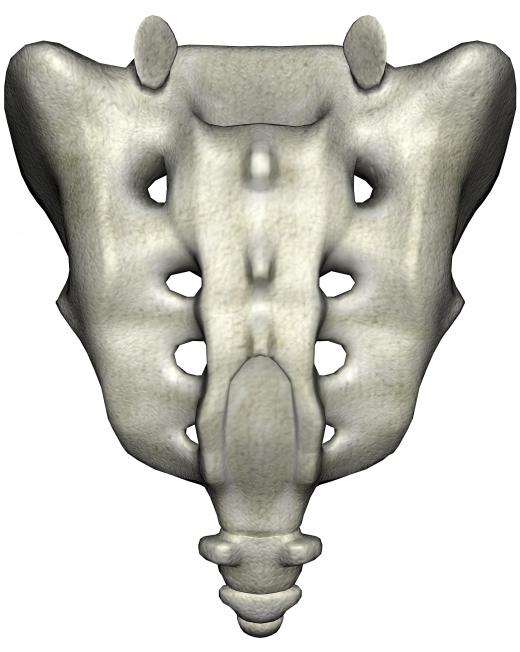 Such as cyst is called a "pilonidal cyst," which can be the result of oil building up in the area. Some people also have a large amount of hair growth in this area that can contribute to the formation of the cyst. The term "pilonida" actually means "nest of hair," which is appropriate, as a small mass of hair sometimes collects within this kind if cyst. Other contributing factors include friction, which can cause the formation of the cyst, and the presence of bacteria, which may come from fecal matter. In most cases, a pilonidal cyst must be surgically removed.
AS FEATURED ON:
AS FEATURED ON:

By: Monkey Business

It is possible for sacral dimples to be connected with abnormalities and babies with this condition should be checked out by a physician if the area becomes red or swollen.

By: Anatomical Design

The name "sacral dimple" comes from the word "sacrum", which is the triangular bone at the base of the spine.