A shower enema enables a person to flush his or her colon at home, without the need for a trained professional's assistance. Among the different types of enemas, a home enema is considered one of the most cost-efficient, especially for individuals who undergo regular treatments. This type is accomplished by attaching special enema supplies to one's bathroom shower, which allows for quick and convenient colon cleansing.
Unlike other types of home enema, a shower enema doesn't require the use of an enema bag to pump water into the colon. The only necessary supplies are nozzle tips to insert into the rectum and a pressure valve to control the flow of water. Most kits also include additional tubing for greater ease of use. Special adapters might be needed to attach the nozzles or tubing to shower heads that cannot be removed from the water source.
After it has been assembled, an enema set is relatively simple to use. The nozzle is inserted into the rectum, often with the aid of lubricant. The shower is turned on, and the pressure valve is adjusted until the water flow is at a comfortable level. As the water flows through the tubing, the colon is cleansed of any fecal matter and other residue. After the colon has been moderately filled, the individual then removes the nozzle and defecates into the toilet.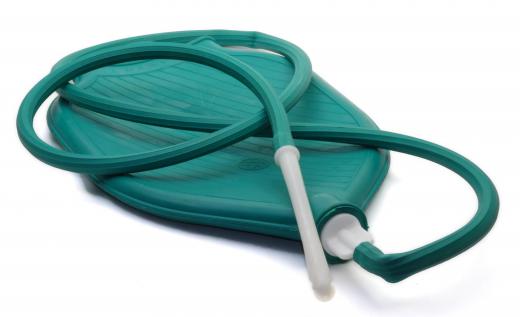 Enemas have several potential benefits. Periodic colon cleansing may help to detoxify the body and promote regular bowel movement, making enemas a source of relief for individuals who are suffering from severe constipation. Enemas may also prevent the formation of painful polyps in the colon and rectum. A shower enema is especially useful for individuals who need to undergo regular treatment, because in the long run, the one-time investment in a set will be much cheaper than medical fees.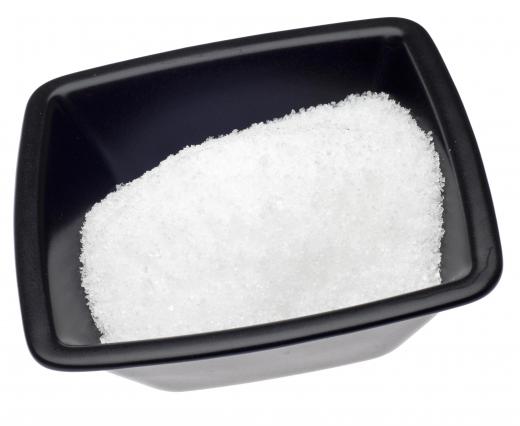 There are certain risk factors, however, that are associated with shower enemas. It does not regulate the amount of water entering the colon, unlike an enema bag. Overloading the colon with water can cause it to rupture, leading to severe medical problems. There also is no guarantee that the water pressure will be kept at safe levels, although the number of pressure-related injuries resulting from the use of these sets is quite few.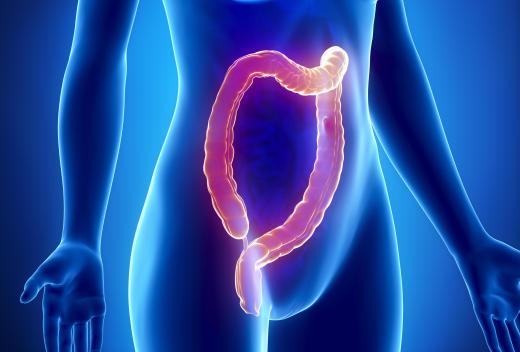 It is recommended, as with any self-performed medical procedures, that an individual who is considering a shower enema first consult a trained professional to determine if the procedure itself is safe for that person. In addition, all instructions accompanying the set should be followed precisely in order to avoid any possible medical issues.
What is the Purpose of an Enema?
There are a few reasons why one would need an enema. These can range from medical necessity to sexual hygiene. Some people enjoy the process, while others find it very uncomfortable.
Of the most reasons people choose to get an enema is for constipation. Rinsing the colon with liquid can help loosen the stool and stimulate the rectum, which will most times cause a bowel movement. An enema is usually a last resort if a high fiber diet and stool relaxers don't work.
Others will use an enema to cleanse the colon before a medical procedure or sexual activity. This type of enema will clear out any stool from the colon so that whatever is placed inside will be free of contamination. Doing so can allow a doctor a clear view during a colonoscopy or help prevent bacteria from passing to a sexual partner.
Enemas also have the potential to be very useful in treating IBD (Inflammatory Bowel Disease), including Crohn's Disease. A colon is often a place of inflammation with these diseases along with many others, and an enema can help treat it internally.
The Dangers of an Enema
We mentioned some risks when performing an enema at home, and it's time to elaborate. Water pressure can fluctuate without warning, and if the pressure is already high, this can be fatal. It's imperative that the water flow is very low while using a shower enema—we cannot stress this enough.
There are risks with any enema, but performing it yourself at home multiples those tremendously. Performing an enema on yourself can be extremely dangerous if you don't know what you are doing, and the risk increases with each one.
Dehydration is a common side effect of an enema, which can, in turn, cause low blood pressure, weakness, and little to no urine production. This is why enemas should not be done regularly, only as a last resort. Additionally, tap water from your home may not be as clean as you think, which can cause additional problems.
Many are misinformed that an enema can help with weight loss or "detox." This is not the case. The colon is filled with healthy bacteria, and stripping it away too often can cause an electrolyte imbalance, bloating, and cramping.
Our bodies need not be "detoxed" or "purged." We have built-in filters for that, and if they were not working, our bodies would let us know. The bacteria in our intestines have a purpose and do not need to be washed away, especially when doing so comes with many risks.
What Are Some Enema Alternatives?
Unless your doctor has specifically told you that you need an enema, you probably don't. There are many ways to get the same results without sticking anything inside your anus. All that is required is patience and self-control.
You will be sorely disappointed if you're considering an enema for weight loss or detox purposes. While you will certainly lose the weight of whatever was inside your colon at the time, it is nothing that won't come back the next time you eat a sandwich.
The best way to keep your intestines healthy and happy is to keep the rest of you happy and healthy. Drinking plenty of water and regular exercise will work wonders for your entire body. Staying consistent will have you noticing regular bowel movements and less bloating.
You are what you eat, and the same goes for your bowels. If you are consuming processed, greasy, or otherwise unhealthy junk food, you will feel it. An unhealthy diet can contribute to constipation, bloating, cramping, and feeling sluggish.
Drinking coffee is also commonly known to help empty your bowels, but remember to drink it in moderation. Any caffeinated or alcoholic beverage should be consumed in moderation, as well as high-fat foods. Shoot for plenty of fruits, vegetables, nuts, and seeds, especially those high in fiber.
By living a healthy lifestyle, you can eliminate the need for an enema, along with many other medical complications that come with obesity, high blood pressure, heart disease, and other diet-related issues. Always check with your doctor before making any big medical decisions, and let them guide you toward a healthier life.
AS FEATURED ON:
AS FEATURED ON:

By: silver-john

Enema supplies are connected to a shower for a shower enema.

By: Roman A. Kozlov

A reusable enema kit.

By: Brooke Becker

Epsom salt, which can be used to make an enema.

By: CLIPAREA.com

A shower enema is an at-home version of a colon flush.

By: Alexandr Mitiuc

A shower enema involves an insertion of a nozzle into the rectum.