What is a Synergist Muscle?
A synergist muscle is a muscle which works in concert with another muscle to generate movement. These muscles can work with the so-called agonists or prime movers which surround a joint, or the antagonistic muscles, which move in the opposite direction. For many common movements, from turning the head to pointing the toes, a synergist muscle or group of muscles is required.
Prime movers are designed to move a joint in a particular direction, but a single prime mover or group of prime movers requires a synergist muscle to control the movement. Synergist muscles stabilize muscle movements to keep them even, and they control the movement so that it falls within a range of motion which is safe and desired. One could think of these muscles as helping hands which focus the effort of the movement to create a high level of control. By working synergistically, muscles also reduce the amount of work they need to do, which can improve endurance.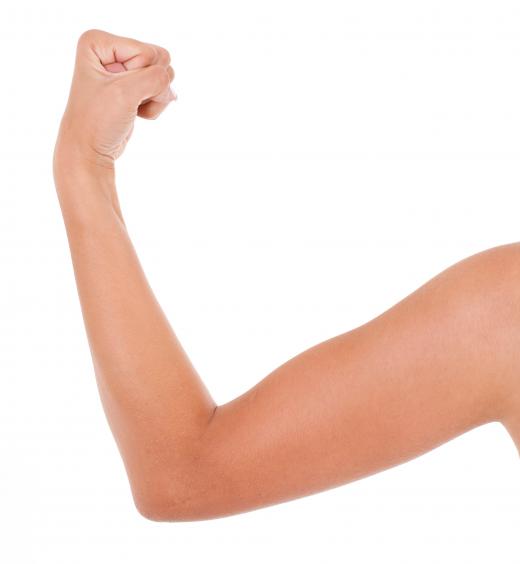 Sometimes, a synergist muscle can form part of what is known as a fixator group. Fixators are designed to "fix" or stabilize a joint. For example, when people stand up, fixator groups at the ankles keep the joints stable so that the ankles will not bend or wobble, causing difficulties with balancing. Fixator groups are also what allow people to isolate movements to a specific joint or area of the body, with the muscle group holding nearby joints in place.
A good example of a pair of synergist muscles can be found in the elbow, where the brachioradialis and biceps work together to extend or flex the arm by moving the elbow joint. Relationships between muscles can also change, depending on the actions involved, with muscles sometimes acting as a synergist muscle, and sometimes working alone or as an antagonist. The biceps and triceps muscles, for example, are considered antagonists because they move the elbow joint in opposite directions.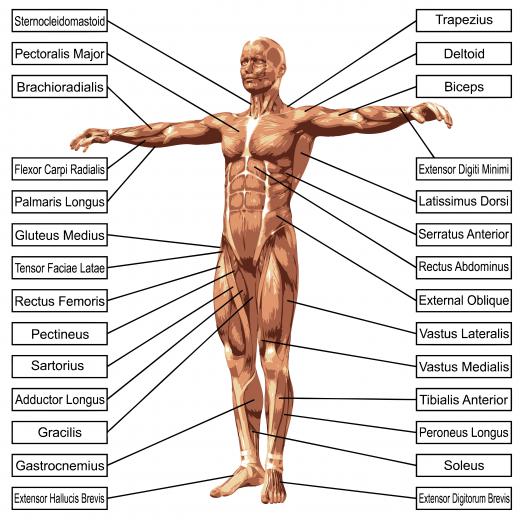 When people build and tone muscle for physical fitness, they often need to pay attention to working complete muscle groups by moving joints in different ways, to promote even development of muscle, including the synergist muscles which can help to stabilize joints and exert control over muscle movements. By ensuring that muscle groups are worked in a variety of ways, people can improve the strength of all of the muscles which surround a joint, improving range of motion and general fitness in all directions, rather than just one.
AS FEATURED ON:
AS FEATURED ON:

By: unpict

The brachioradialis and biceps work together in the elbow to flex and extend the arm.

By: Monika Olszewska

When people exercise, they should pay attention to synergist muscles that work together.

By: high_resolution

A synergist muscle is one that works in concert with another muscle to generate movement.