What Is a Transverse Colostomy?
A transverse colostomy is a surgical procedure in which a portion of the transverse part of the colon is brought through the abdominal wall. The portion of the colon that protrudes through the abdominal wall is known as a stoma. This procedure can be either temporary or permanent, depending on the reason for the transverse colostomy. Some of the most common medical conditions that may lead to the necessity of a transverse colostomy include diverticulitis, intestinal blockage, or certain forms of cancer.
The transverse colostomy is typically performed in the upper portion of the abdomen, in the middle or slightly to the right, as this is where the transverse portion of the colon is located. If there is a medical problem affecting the lower portion of the colon, a transverse colostomy can keep fecal material from entering the damaged area. Feces and mucus will leave the body through the stoma and are typically collected in a disposable pouch known as a colostomy bag.
A temporary transverse colostomy may be able to be surgically reversed after the damaged portion of the colon has healed. If part of the colon has been removed or if the patient's overall health prevents further surgical intervention, the the procedure may be permanent. Any questions or concerns about the benefits or risks of a transverse colostomy should be discussed with a doctor or other medical professional.
There are two basic types of procedures used when performing a colostomy on the transverse portion of the colon. A loop procedure creates what looks like one large stoma, although there are actually two separate openings, one for stool and one for mucus. In the double-barrel procedure, the colon is completely divided, resulting in either one or two distinct stomas. The type of procedure used depends largely on the patient's health, the reason for the colostomy, and the preferences of the surgeon.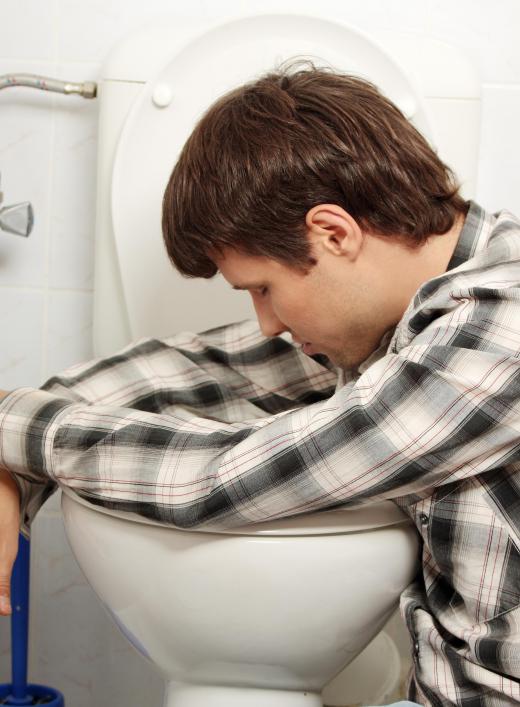 Proper stoma care is important following a transverse colostomy in order to prevent complications such as infection. The colostomy pouch should fit properly and needs to be changed several times per day or as directed by a doctor. Special creams or ointments are available to keep the surrounding skin properly moisturized. The medical staff will issue instructions on how to properly clean and care for the stoma before the patient is discharged from the hospital, but any questions that arise after the patient is home should be addressed with the patient's doctor.
AS FEATURED ON:
AS FEATURED ON:

By: Pavle

A colostomy bag is a removable and disposable bag used to collect waste from an individual who has undergone a colostomy.

By: stockshoppe

During a transverse colostomy part of the transverse colon is brought through the abdominal wall, often in order to attach it to a colostomy bag.

By: Piotr Marcinski

An infected abdominal stoma may cause a patient to experience nausea and vomiting.