What is an Enema Suppository?
An enema suppository is a combination treatment often used to treat constipation and to empty the lower bowels. In an enema, water or another liquid is pushed into the rectum to help flush out any materials. A suppository is a form of medication that is inserted rectally. These two methods may be used together to help loosen feces and flush them out.
A medical enema or suppository can have side effects, which often include itching, bleeding from the rectum, stomach pain, or the absence of bowel movements for two to three days. Pregnant or nursing mothers are often advised not to use an enema to relieve bowel movement troubles. Some treatments are safe for children to use, at lower dosage amounts, but a medical professional or pharmacist should be consulted first.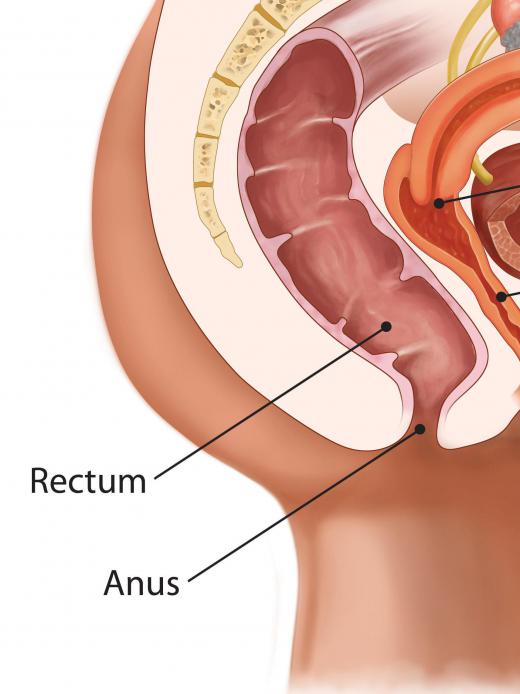 When administering an enema, the user should lie down on his side with his right knee up and left leg straight, in a place with a toilet nearby. The user should remove the cap from enema applicator tip; some individuals may want to apply a lubricating gel to the tip to make it easier to insert into the rectum. The tip is inserted, usually about 1 inch (2.54 cm) in, and the bottle squeezed to release the liquid through the nozzle. The liquid should be held for a few minutes to allow for absorption.
The enema portion of the treatment may be followed by the suppository treatment. One tip of the suppository is usually pointed, and lubricating the suppository itself is an option to make it easier to insert. The suppository should be inserted and held in for up to 15 minutes or as directed. Some users find it uncomfortable after a few minutes, but the suppository should be held in for the directed amount of time. After the appropriate time has passed, the user should go the bathroom.
When using an enema suppository on children, a few tips can help ensure their safety and comfort. Parents are often advised to lubricate the suppository itself, and to insert the blunt end rather than the pointed end. Washing the hands before, during, and after treatment will help prevent infection. If there is excessive diarrhea, vomiting, or other side effects, the parent should contact the child's pediatrician.
After using an enema or suppository, it is often necessary to go to the bathroom several times. The user will need to keep this in mind if there are planned activities outside the home the same day the treatment is used. Many supermarkets, pharmacies, drug stores, and other shops where over-the-counter medications are sold will carry an enema suppository combination treatment, and a prescription is not usually required to treat constipation. An enema and a suppository may be packaged together, but often they are available for purchase separately.
AS FEATURED ON:
AS FEATURED ON:

By: kocakayaali

Liquid and medication will be administered rectally during enema suppository treatment.

By: xalanx

Side effects of an enema suppository may include abdominal pain.

By: rad100

Pregnant women should not use an enema suppository to relieve bowel movement problems.

By: Lasse Kristensen

Wash hands thoroughly before and after use of a suppository.