Calcitonin is a hormone which plays a role in the metabolism of calcium and phosphorous. It is naturally present in the body to control levels of these minerals in the blood, and it may also be administered therapeutically to deal with bone loss and bone pain caused by certain conditions. People at increased risk of fractures may also be given calcitonin to reduce the possibility of a bone fracture, and to decrease the severity of fractures when they do occur.
This hormone is produced in the thyroid under normal conditions. It interacts with calcitonin receptors on the bone to inhibit the natural breakdown of bone, and control the overall amount of calcium in the bloodstream. It also works with the kidneys to help them metabolize and store calcium and phosphorous, and it appears to play a role in the regulation of appetite, although this link has not been proved.
When a doctor suspects that a patient has a thyroid disorder, particularly cancer, he or she may order a calcitonin test. In this test, a sample of blood is taken to determine how much of the hormone is in the blood. The patient may also be given injections of calcium to test the body's response. If levels of the hormone are abnormal, it can suggest the presence of a cancer in the thyroid which will need to be addressed. Normal levels vary, depending on the patient and the situation, and there is no standard reading which patients need to shoot for when they receive a calcitonin test.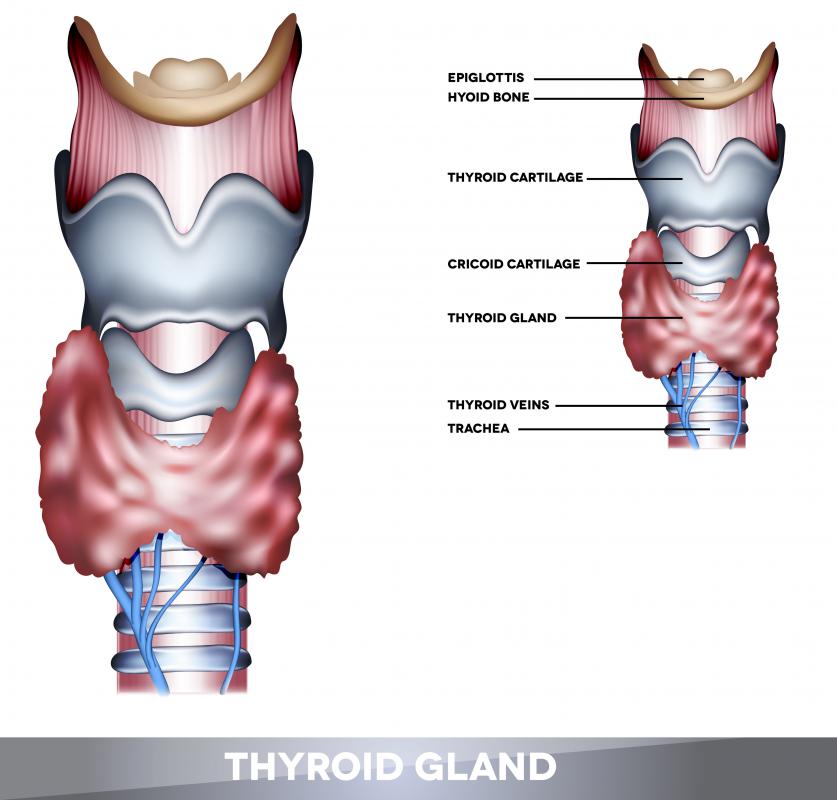 Therapeutically, calcitonin injections or nasal sprays are sometimes given to cancer patients to reduce the bone loss associated with cancer treatment, and to help patients cope with bone pain. The drug may also be given to people with osteoporosis and related conditions to prevent fractures, as calcitonin reduces bone loss, which keeps the bones stronger and less subject to breakage.
Most of the calcitonin administered to patients is derived from salmon. Some people experience allergic reactions to the drug, and others can suffer from nausea, hives, stomach pain, runny nose, loss of appetite, and vomiting. Patients must also learn to administer the drug properly, as it is not effective when taken orally, meaning that they need to learn about how to give injections safely, or how to use a nasal spray appropriately. If side effects are experienced, they should be reported to a doctor immediately.
By: SunnyS

Many patients are given calcitonin derived from salmon.

By: Rob Byron

Some individuals may experience hives as part of an allergic reaction to calcitonin.

By: peterjunaidy

Calcitonin may be given to people with osteoporosis to prevent fractures.

By: reineg

Calcitonin is a hormone produced in the thyroid under normal conditions.

By: rob3000

Abnormal calcitonin levels may indicate thyroid cancer.