Comfrey extract is a liquid solvent in which the principal medicinal properties of comfrey are soluble. Any part of the comfrey plant can be employed in the making of the extract, but it almost always is the fresh or dried root that is used. There also are a variety of liquids that can be used to make comfrey extract, but alcohol generally is the chosen solvent. Other solvents include oil, vinegar and even water. High pressure, evaporation by heat and cold percolation are means by which an extract is commercially made.
Percolation refers to the process of extracting properties of a substance by placing it into a liquid solvent. Herbal extracts are highly concentrated forms of natural medicines that often are chosen for convenience because they can be stored for much longer periods of time than can an infusion, commonly known as tea. They also are preferred when taking very bitter herbs, while traveling or whenever it might be inconvenient to get water to take medicine.
The anti-inflammatory properties of comfrey are included in a somewhat long list of medicinal properties of this perennial herb. Comfrey contains a substance called allantoin that is soothing to burns, gangrenous sores and external and internal ulcers. This does not mean, however, that an alcohol-based extract should be used on a fresh wound or ulcer. A poultice of the fresh leaves is a safer form for treating such ailments. Bronchitis, coughs, dysentery, diarrhea and bone fractures are some of the health problems that are alleviated by taking comfrey extract.
This herbal extract should not be taken for periods longer than two weeks, and some health care providers advise against ingesting it at all. Toxicity has been noted in some individuals who ingested comfrey extract regularly over a period longer than two weeks. Commercially manufactured comfrey extract, like most extracts, are so highly concentrated that the usual dosage is only five to eight drops typically taken in a few ounces of water. Comfrey extract can be homemade using the root and an all-natural liquid solvent such as vodka or any grain alcohol or olive oil. Technically, water can be used to make an extract, but the resulting product actually is a tea that, like the average homemade comfrey extract, is not nearly as potent; potency, however, does not mean ineffective.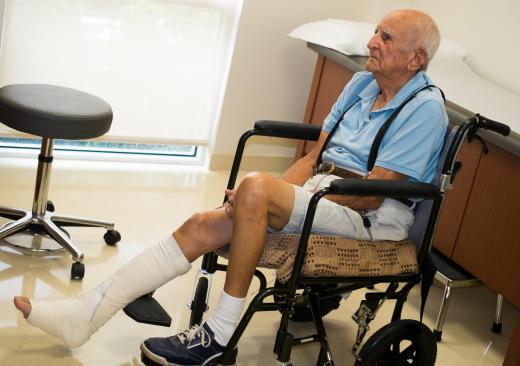 Vitamin A, calcium and potassium are some of the nutrients available in comfrey. Its calcium content is high enough to make the powdered herb very beneficial in preventing and greatly retarding tooth decay when used as a tooth powder. Hot fomentations wrung out of the strong tea can be applied relieve the discomfort of severe bruises, swellings, sprains and fractures. The botanical name for comfrey is symphytum officinale, and some of its common names are bruisewort, healing herb, blackwort and nipbone. Generally, a homemade comfrey extract is safer if they are made with all-natural solvents and the organically grown or wild crafted root.
AS FEATURED ON:
AS FEATURED ON:

By: rob3000

Taking comfrey extract can help treat many of the symptoms associated with bronchitis.

By: Lisa F. Young

Some people who have arthritis use comfrey extract to reduce swelling and inflammation.

By: Fotoluminate LLC

Some people believe comfrey extract can be used to speed the healing of fractured bones.

By: Piotr Marcinski

Comfrey extract may be helpful in treating bronchitis.

By: Sandor Kacso

The calcium in comfrey extract may help to prevent tooth decay.

By: auremar

Comfrey extract may be used to relieve pain and burning from internal ulcers.

By: Dusan Kostic

Hot formentations of comfrey may help relieve discomfort of severe bruises and sprains.