Bones make up the human skeletal system and are used to support the body and help provide movement. They are made up of two types of bone tissue: spongy and compact. These tissues differ in how dense the bone is, or how tightly the cells are packed together. Compact bone accounts for more than 75 percent of all bone matter in the body when measured by weight.
The cells of compact bone, which is also called cortical bone, appear to be tightly packed into a solid mass. Although the calls are close together, this type of bone is not completely solid. There are small canals that run through the bone, which allow blood vessels to penetrate it. Spongy bone, also called cancellous bone, appears to have large open spaces and resembles a sponge.
Compact bone is what is found on the outside of most bones. It is the hard outer layer that gives bones their smooth, white appearance. This type of bone has a much greater mass than the same amount of spongy bone, which is found in places such as joints and the ends of bones.
The bones of the human skeleton can be grouped into five types: long, short, flat, irregular and sesamoid. Different types of bone have differing amounts of compact and spongy bones. Long bones, such as those of the arms, legs, fingers and toes, are made up mostly of compact bone. These bones are longer than they are wide, so they need the added strength and support that the compact tissue can provide.
Short bones in comparison are roughly cuboidal in shape. They have only a thin layer of compact bone tissue. Examples of short bones include those of the wrist and ankle.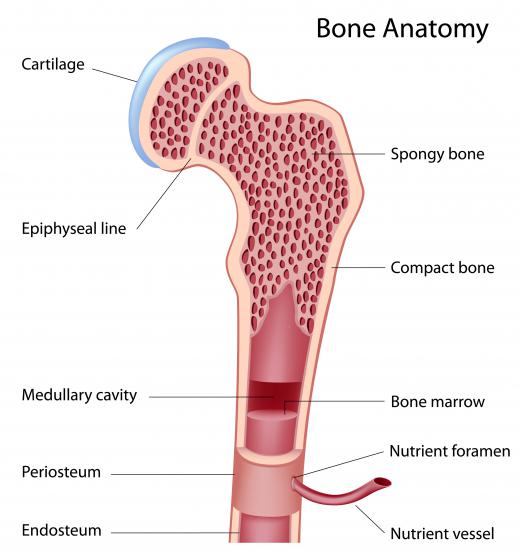 Flat bones often have two thin, parallel layers of compact bone, with spongy bone inside. These are often curved bones and include the bones of the skull. Irregular bones do not fit into any of the other shape categories, so they are grouped together. These bones, which include the vertebrae, have thin layers of compact bone around spongy interiors.
Sesamoid bones are those bones that are surrounded by tendons. They are often found at joints, such as the knees, and they serve to protect and aid in the action of the tendon. These bones have thick layers of compact bone to protect both the bones and the tendons. The patella bone in the knee is an example of this type of bone.
AS FEATURED ON:
AS FEATURED ON:

By: ingridat

Compact bone is found on the outside of most bones in the body.

By: Alila

A diagram of the anatomy of a bone, showing the compact bone.

By: andreaxt

Long bones, like the tibia and fibula, are those bones whose length exceeds their width.

By: Alexander Potapov

The bones of the human skeleton can be grouped into five types: long, short, flat, irregular, and sesamoid.