Hand tendinitis is an inflammation of the tendons in the hand. The tendons are used to control the movements of the fingers and wrist, using signals from muscles located in the arm. People with hand tendinitis can experience aching and burning sensations in the hand, as well as difficulty moving the hands. The treatment involves rest to allow the tendons to recover and lifestyle adjustments to prevent recurrence of the inflammation.
The most common cause of hand tendinitis is overuse. Overuse injuries are common in people working in the technology industry, as they engage in repetitive motions like typing regularly at work. Construction workers and other people with jobs involving heavy repetitive work can also develop tendinitis. People with a history of hand fractures and injuries are also at risk of developing inflammation.
In hand tendinitis, the tendons become inflamed and they swell inside the synovial sheath, the sheath that normally protects the tendons. The tendons can no longer move smoothly within the sheath as a result, causing the patient to feel like the hands are stiff and tender. Tendinitis can cause tightness, trouble gripping, aching, and burning, and tends to be worse early in the morning and late at night.
A doctor can conduct an examination to look for signs of tendinitis and rule out bruising and other potential causes of hand pain. The treatment relies on resting the hands to prevent further injury and allow the inflammation to reduce. Icing the hands may be recommended, as the cooling can reduce the swelling, and patients may be prescribed anti-inflammatory drugs if their hands are especially tender and swollen. Once the hands are fully recovered, the patient can return to normal activity levels.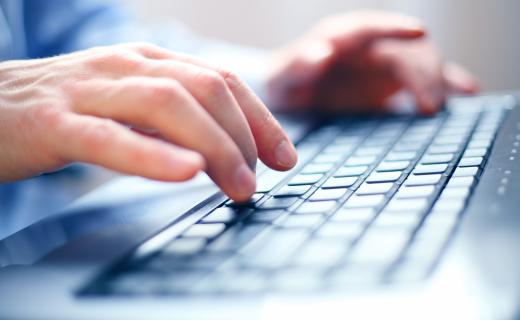 Because overuse is usually the cause, patients may be advised to adjust their work or recreation habits to reduce the risk of repetitive stress injuries. If patients do not change their habits, there is a risk the tendinitis could return and grow worse. Potentially, tendons could snap, requiring surgical repair. Using ergonomic tools and working positions can help, as can switching to voice control systems and other measures designed to limit the use of the hands. Many workplaces recognize the risk of repetitive stress injuries and may assist employees with making adjustments to limit such injuries, including supplying employees with assistive devices to reduce the amount of work people need to do with their hands.
AS FEATURED ON:
AS FEATURED ON:

By: Fotolia RAW

Construction workers may be susceptible to hand tendonitis.

By: Brian Jackson

Musicians may be susceptible to hand tendonitis.

By: strixcode

Typing can cause hand tendonitis.

By: Marc Dietrich

An ice pack, which can help with hand tendonitis.

By: nebari

Aching sensations in the hands may be a sign of hand tendonitis.

By: Shakzu

A doctor can conduct a physical exam and look for signs of hand tendonitis.