What Is Intravenous Infusion?
Intravenous infusion (IV infusion) is a medical term that describes the way certain kinds of medicines or other substances are delivered to the body. While many medicines or things like fluids can be taken orally, sometimes this is not an option due to time concerns or the need to bypass the gut and get medicines or other treatments directly into the veins. In these circumstances doctors or nurses can establish a small intravenous line that goes directly into a vein, and they use this line for drug or other substance delivery. A plethora of medications are delivered in this manner at hospital settings, at certain treatment centers, and sometimes at home.
IV creation usually involves inserting a tiny catheter or syringe directly into a vein, and veins chosen are frequently in the hands or arms. In very young patients using a vein site on the foot is fairly common. Sometimes medicine must enter near to the heart or the main circulatory system. In this case, doctors may create a central line that will feed into one of the two large veins the reach the heart, the superior or inferior vena cava. Depending on need, a catheter placed can be semi-permanent, and those who will require intravenous infusion regularly to treat illness may need a more stable IV site that can be reused regularly; insertion of one of these, like the Hickman catheter, may take slightly more time to perform.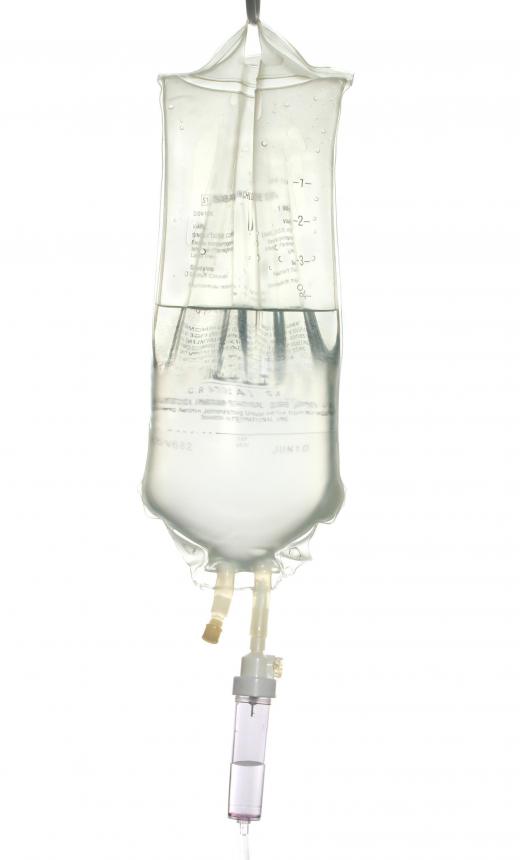 When the IV site is established, intravenous infusion can begin and what is infused can greatly vary. For someone coming into a hospital with dehydration, possibly the only medicine infused is a balanced electrolyte solution. If needed, medicine can be injected into the solution to accomplish other things. An anti-nausea medicine, for example, might be added to the electrolyte solution.
Often, the solution is administered in what is called a drip, which means the medicine of any sort drips into the IV site at planned intervals, through a tube. In many cases people have a continuous drip, where medication or fluids go in at regular times until the bag of medicine or fluids is empty. Depending on reason for intravenous infusion people might require several bags of medicine. Control of administration is via an IV pump, which is programmed by the medical practitioner to administer medication at a set rate compatible with a person's age, size and other factors.
There are many medicines that are given by intravenous infusion. These include many chemo medicines, antibiotics, steroids, and almost anything else. Sometimes certain therapies that boost immunities are also given in this manner. Any time a patient cannot take something orally or rectally, intravenous injection or infusion could be considered instead.
While IVs are used fairly frequently, they do run some risks, such as risk for infection or infiltration. Infiltration occurs when fluid infused escapes the vein and begins to swell the tissue around it. Since this can look dramatic quickly, the matter is usually noticed and resolved. Should people see swelling start to occur at or around the IV site, they should bring this to the attention of a nurse or doctor right away.
Many people wonder if an intravenous infusion is uncomfortable. While initial insertion of the IV may be uncomfortable to some, it isn't to others. Most people also don't notice fluid dripping into the IV site, though some people may notice this to a degree. Some people find IVs feel a little painful if they are kept in for long periods, but, again, experience with this may vary and could be a result of many factors such as sensitive skin, degree of sensitivity to tapes used to secure the IV and personal level of pain tolerance. Typically an IV shouldn't be too irritating, and if it is, people should alert their doctors or nurses.
What Are Intravenous Iron Infusions?
If your medical provider has told you that you are low on iron or have iron-deficiency anemia, he or she may schedule you for an intravenous iron infusion. This simply means that instead of taking iron pills or supplements, you will have iron delivered through an intravenous line or an IV. This is the fastest way to get iron into your blood where it is needed.
What Conditions Do Iron Infusions Treat?
IV iron infusions are used to treat iron-deficiency anemia. Anemia is a condition that is caused when your body is low on hemoglobin, which is a protein used by red blood cells to transport iron around your body. If you do not have enough hemoglobin, you may start feeling tired and sick and suffer from many other symptoms.
Should I Take Iron Supplements Every Day?
Everyone needs a certain amount of iron every day, but it is also important not to take too much. Women of childbearing age typically need more than men, and teenage girls need more than boys due to the fact that they lose blood when they have their periods every month. If you have been diagnosed with iron-deficiency anemia, it's important to take your supplements as directed. Do not take more than your doctor has prescribed as this can make you sick and at times be fatal.
IV infusions have the benefit of administering exactly the right amount of iron that you need and no more. For this reason, your doctor may recommend that you or your child treat your deficiency quickly with an infusion rather than taking supplements.
Why Would a Person Need an Infusion?
Iron stores can be low for a variety of reasons. Women who have very heavy periods may lose too much blood every month and struggle with maintaining normal iron levels. People who do not consume meat or adhere to a vegan or vegetarian diet may be at risk for deficiency as well. Others who have gastrointestinal bleeding or malabsorption issues may not be able to absorb iron efficiently. Finally, pregnant women need extra iron due to the growing fetus and the increased blood supply that supports the pregnancy.
What Are Common Symptoms of Anemia?
Anemia can cause a wide range of seemingly unrelated symptoms. Patients with mild deficiencies of iron may not notice any symptoms, but those who do will notice a similar pattern of symptoms including the following:
Pale skin with dark circles under the eyes
Fatigue
Hair loss
Swollen or puffy tongue
Shortness of breath
Are There Side Effects of Infusions?
Iron infusions are safe for most people. After an IV infusion of iron, you may notice a metallic taste in your mouth, a headache, or mild joint pain that lasts for one to two days. If you notice more severe symptoms such as chest pain, trouble breathing, or dizziness, you should call your doctor or go to the emergency room.
Are Intravenous Iron Infusions Safe During Pregnancy?
Yes. For most women who struggle with iron deficiency during pregnancy, IV iron can be a safe, effective way to restore the body's hemoglobin and replenish low iron stores. Be sure to talk to your doctor before taking iron if you are pregnant. Many pregnant patients need more iron during pregnancy, and a minority of pregnant women may need an intravenous infusion of iron to maintain a healthy pregnancy.
How Much Iron Do Pregnant Patients Need?
According to the Mayo Clinic, pregnant patients need 27 milligrams of iron every day. If you are already taking a prenatal vitamin, there's a good chance that it contains exactly this much iron. It's always a good idea to double-check your prenatal vitamin to ensure that you are getting the right amount of crucial vitamins and minerals during this time.
When Would a Doctor Recommend an Iron Infusion During Pregnancy?
You may wonder "are intravenous iron infusions safe during pregnancy"? If your hemoglobin was low according to a routine blood test, your doctor may recommend iron supplements while scheduling an appointment for a re-test. If your hemoglobin and iron stores do not rise sufficiently due to supplementation with iron pills, an IV infusion may be what you need to regenerate this essential protein.
How Long Does an Intravenous Infusion Take?
Depending on your medical history and how much iron you need, your infusion may last from one to four hours. Hospitalization is not necessary as most infusions are performed in an outpatient setting. Speak with your medical provider if you have questions, and know that with IV iron, you will likely feel better very quickly!
AS FEATURED ON:
AS FEATURED ON:

By: Judex

An IV bag.

By: michaeljung

Individuals suffering from dehydration are often given fluids intravenously.

By: jcsmilly

An intravenous drip may be administered via veins in the arm if veins in the hand are unsuitable.

By: WavebreakmediaMicro

The most common place for an intravenous line is in the hand.

By: Africa Studio

Antibiotics may be infused intravenously.

By: Monkey Business

In some cases, chemotherapy for cancer may be given via intravenous infusion.

By: NorGal

In most cases, a patient receives medication at regular times until the IV bag is empty.