Lithotripsy is a procedure in which kidney stones are broken up with shock waves so that a patient can pass them when he or she urinates. This procedure is an alternative to surgery for kidney stones, and it can be very effective, especially in cases where the stones are still in the kidneys. When a lithotripsy is ordered, a patient should plan to set aside a few hours for the procedure, and some special preparations are required on the part of the patient to ensure that it goes smoothly.
In extracorporeal shock wave lithotripsy (ESWL), the kidney stones are broken up from outside the body with the use of a targeted shock or sound wave. Laser lithotripsy requires the insertion of a device into the ureter for the purpose of aiming at and breaking up the kidney stones. Both techniques are not safe for use in pregnant patients, or patients with certain heart conditions or clotting disorders.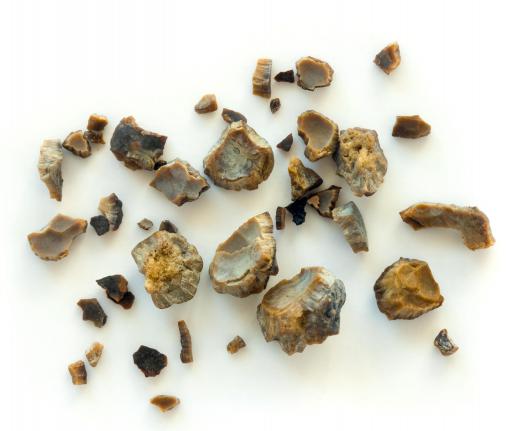 Before a lithotripsy can take place, the patient will be asked to refrain from eating or drinking for several hours before the procedure for safety. The patient's blood may also be tested to confirm that lithotripsy and the accompanying sedatives will be safe for the patient. At the time of the procedure, the patient will be sedated or anesthetized for comfort and carefully laid out on a table or bench with a water-filled cushion, or lowered into a tub of water. The water absorbs the shock from the wave energy, reducing reverberations.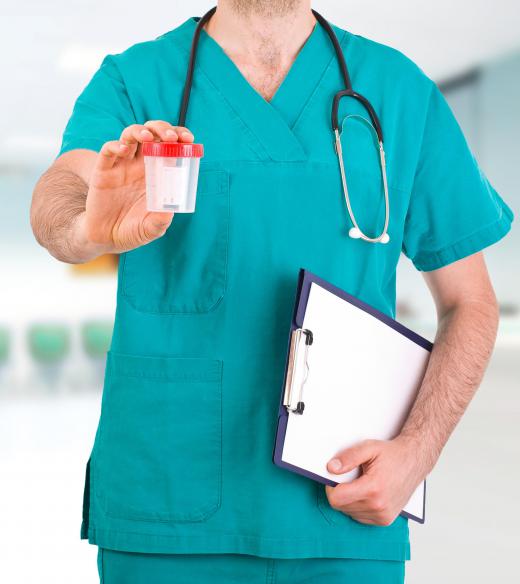 The kidney stones are identified with the use of a tracer dye which is injected and followed with a medical imaging device. The dye accumulates around the stones, highlighting them so that it is easy to aim the lithotriper in the right place. Starting with a low power setting, the doctor gradually increases the intensity of the shock until the stones break up. Within a few days, the patient should pass the stones.
There are some risks to lithotripsy. The procedure can cause damage to the internal organs, resulting in internal bleeding or blockage. Sometimes the stones do not break up, which means that the patient will need to undergo a more aggressive intervention to address the problem, and patients may also experience urinary blockages or infections as a result of the lithotripsy or as a complication from passing the kidney stones. Patients should definitely report severe abdominal pain, difficulty urinating, or bloody urine to their doctor if these symptoms emerge after a lithotripsy.
AS FEATURED ON:
AS FEATURED ON:

By: airborne77

Lithotripsy provides a non-surgical means of breaking up kidney stones.

By: Mi.Ti.

A urinalysis may be conducted to detect kidney stones.

By: oneblink1

Kidney stones can be very painful.

By: tomschoumakers

Bloody urine that occurs after a lithotripsy should be reported to a doctor immediately.

By: acherst

An ultrasound may be used to detect kidney stones.