What Is Opening Pressure?
Opening pressure is the initial cerebrospinal fluid (CSF) reading given during the administration of a lumbar puncture (LP). Several variables may influence an initial CSF reading, including the patient's position during testing. Lumbar puncture test values that fall below or above normal range can be indicative of infection or illness. It is important to note that results may vary depending on the laboratory used.
Frequently performed to evaluate pressure within the central nervous system, an LP may be used as a diagnostic tool to determine the presence of infection. The test may also be conducted to detect hemorrhaging, swelling, or arterial dysfunction. According to Web MD, the normal range of opening pressure should fall between 90 and 180 mm water for a healthy adult.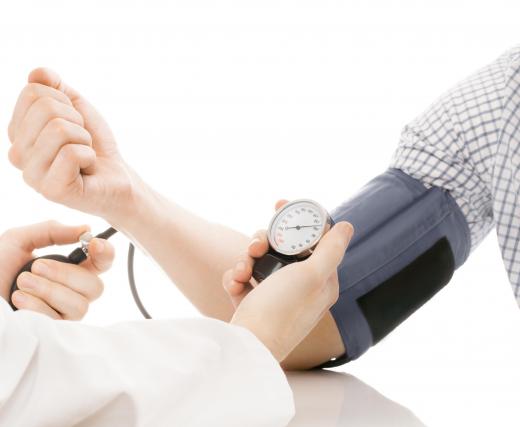 A lumbar puncture requires the individual to curl up into almost a fetal position. While lying on one's side with his or her legs tucked up next to his or her body, a targeted area in the lower back is sanitized and prepped for the lumbar puncture. The targeted puncture area is usually between the third and fourth vertebrae, located slightly above the tailbone. A hollowed needle is introduced to the lower spine to collect the CSF sample for analysis.
Several subtle elements can influence an opening pressure reading. The positioning of the patient, such as in an elevated posture, can cause an increase in CSF pressure. If the individual's respiration is fast or his or her blood pressure is slightly elevated, opening pressure results will be tainted. During a lumbar puncture, it is essential the individual is lying on his or her side without any incline or elevation of the head or legs whatsoever.
Once the needle is inserted, a device called a manometer is used to monitor and evaluate the rate at which the CSF collection occurs. The pressure of the initial CSF collection, or opening pressure, is recorded along with the presentation of the CSF fluid. For instance, if the sample is blood-tinged or cloudy, it could be indicative of bleeding within the spinal column or infection.
If opening pressure is recorded as above 180 mm, it may be indicative of infection, inflammation, or some other health issue. Several additional conditions may be detected with a lumbar puncture, including epilepsy, Reye syndrome, and encephalitis. An opening pressure reading that falls below normal can be indicative of a decrease in cerebrospinal fluid, which may be caused by an obstruction within the spinal column.
AS FEATURED ON:
AS FEATURED ON:

By: niyazz

Elevated blood pressure can throw off opening pressure results.

By: BlueSkyImages

A buildup of cerebrospinal fluid may cause pressure on the brain and severe headaches.

By: Laurin Rinder

Stiff neck and confusion are dangerous signs of infection in patients after spinal procedures.