What Is Peribronchial Cuffing?
Peribronchial cuffing is a term used to describe the thickening of the bronchial wall. Commonly associated with lung disorders, it is a serious condition that impairs lung function, making breathing difficult. Treatment is wholly dependent on the underlying condition that triggered the thickening. If left untreated, extensive cuffing can result in significant narrowing of the airways, making it difficult to breathe.
Cuffing is regarded as a common symptom of bronchial disorders. Initiated by an accumulation of mucus in the delicate bronchial passages, it can trigger a collapse of the affected wall. Once a passage collapses, the affected tissue appears thicker, or cuffs. To properly treat cuffing, it is essential to determine what caused the mucus buildup.
The minute passage collapses associated with cuffing are considered a radiographic sign, meaning that they are visible and easily identified with an X-ray. In addition, other diagnostic tools may be used to determine the underlying cause of peribronchial cuffing, including lung function tests and ultrasound. In some cases, a laboratory analysis of mucus and blood may also be performed to confirm a diagnosis.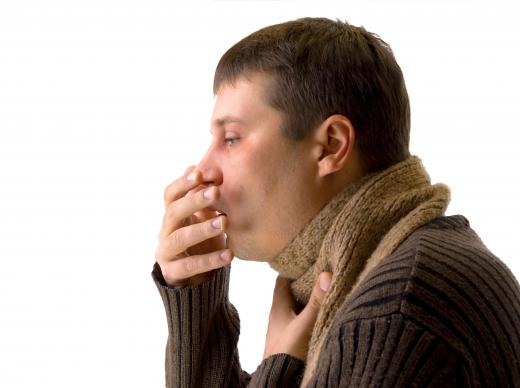 Conditions characterized by fluid and mucus accumulation in the lungs, such as bronchitis and pneumonia, are the most common illnesses associated with this problem. Triggered by bacterial infection, a hallmark sign of both conditions is the excessive production of mucus. With nowhere to go, the mucus fills the delicate bronchial passages, ultimately, placing them at risk for cuffing and collapse.
Pulmonary edema is another lung condition that may initiate cuffing. Triggered by the accumulation of fluid in the alveoli, or air sacs in the lungs, pulmonary edema inhibits blood oxygenation. As additional fluid accumulates in the lungs, the bronchial passages become inundated, placing them at risk for collapse.
Peribronchial cuffing may also occur with lung cancer. Tumor growth can impair the lung's ability to clear unnecessary fluid and mucus from its delicate tissues and passages. Individuals with lung cancer often experience shortness of breath and wheezing due to fluid collection. Cancer-related cuffing is generally addressed on an individualized basis and may include the use of medication in addition to anticancer therapies.
Treatment for this condition is centered on eliminating fluid and mucus buildup. Bronchitis-induced cuffing generally subsides independently without treatment but, in some cases, can require the use of an inhaler to open the bronchial passages. Antibiotic medication is given for bacterial-based conditions, such as pneumonia, which help clear the lungs of excess fluid.


By: Icons Jewelry

Peribronchial cuffing occurs when the bronchial passages of the lungs thicken with mucus.

By: creo77

Peribronchial cuffing can be identified by X-ray.

By: zebrik

Individuals suffering from peribronchial cuffing will experience difficulty breathing.

By: snaptitude

Physicians examinine chest radiographs to determine if a patient has peribronchial cuffing.

By: decade3d

Bronchitis and pneumonia are characterized by fluid accumulation in the lungs.