Senile purpura is a common sign of aging which appears in the form of dark blotches on the skin caused by bruising. Older adults tend to be more prone to bruising, for a variety of reasons, and they can develop dark patches with no apparent source of trauma. Another cause of purpura, a tendency to bruise darkly and apparently at random, can be excessive sun exposure, in which case it may be known as actinic purpura. People with a sudden onset of purpura may want to consider consulting a doctor, but in other cases, it is usually not a cause for concern.
There are a number of reasons why seniors tend to experience purpura. Their blood vessels are usually fragile and prone to rupturing to form subcutaneous hematomas, and their skin has also experienced decades of sun damage. The loss of subcutaneous fat also reduces the natural cushioning in the body which would normally prevent bruising, allowing even light contact to raise a bruise. In addition, many older adults take medications such as blood thinners which can further increase susceptibility to bruising and discoloration.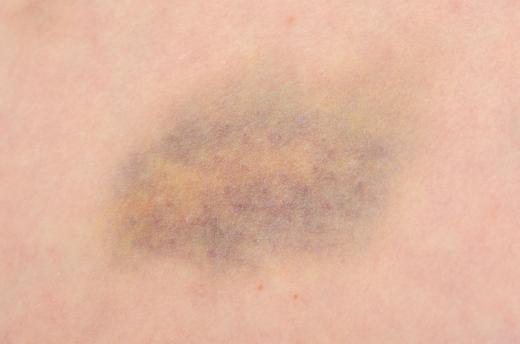 In people with senile purpura, dark purple blotches appear, most commonly on the arms and legs. Over a series of weeks, the blotches fade to brown discolorations and eventually resolve. In some cases, the brown discolorations never completely fade. This condition is not dangerous, and is not a sign of any underlying disease process which needs attention. It is primarily regarded as a cosmetic issue because people may experience social discomfort as a result of the bruising on their arms and legs.
Senile purpura is not treatable, as a general rule. However, if people are troubled by the appearance of bruises, they can ask their doctors to evaluate their medications. People on medication may be able to find alternative drugs to use which can reduce their risk of bruising, making the bruises less common and less dark. Others may opt to wear long sleeves and pants to cover up the senile purpura lesions.
While it will not necessarily reduce bruising, caring for the skin can make older adults feel more comfortable. Skin tends to become less elastic with age, and regular moisturization can help people avoid dry skin, tight skin, and similar types of skin-related discomfort. When applying moisturizers and other skin care products, individuals with senile purpura should be gentle because they may accidentally bruise themselves in the process. Using a swab or sponge for application, rather than the hand, can reduce the risk of bruising.


By: Mila Supynska

Excessive sun exposure may cause senile purpura.

By: sutulastock

People with senile purpura may wear long sleeves and pants to cover up lesions.

By: roblan

Older adults are more prone to bruising.

By: dambuster

Taking blood thinners can increase susceptibility to bruising and discoloration.