When a fungal infection affects the skin, it is called skin fungus. There are different types, and they may be hard to recognize because they resemble other types of infections and conditions. For example, a fungal infection can cause flaky, itchy, reddened skin. Since these symptoms can be present with skin allergies and other forms of irritation, a doctor's help is often needed to determine whether or not a person has skin fungus.
The organisms that lead to fungal infections are often found on a person's skin under normal conditions. Usually, they don't cause problems. Sometimes, however, certain conditions on the skin or a person's weakened immune system allows the fungus to thrive and grow out of control. When this happens, an infection occurs. Skin fungal infections can occur on any part of the body.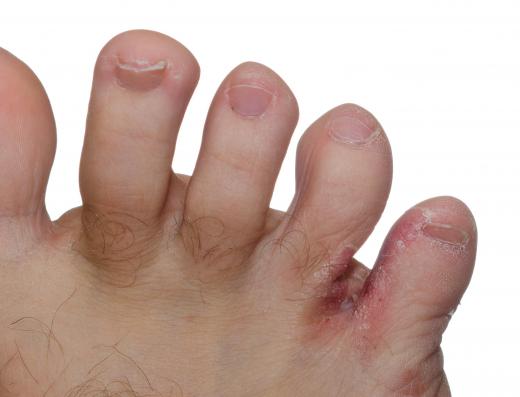 One of the most common types of skin fungal infections is called athlete's foot (tinea pedis). This infection often appears on the bottoms of the feet and between the toes. It can also affect the sides of a person's foot, causing itching, burning, redness and flaking. The skin between the toes becomes whitish and very moist as well; it can be rubbed off easily. Athlete's foot thrives in warm, damp conditions, such as inside shoes.
Jock itch (tinea cruris) is another common skin infection, and it leads to the same sort of symptoms found in athlete's foot. The skin itches, burns and appears red; it may also flake and peel. However, the difference is that jock itch occurs in the groin area; it can affect a person's testicles, pubic area and inner thighs. Like athlete's foot, this type of fungal infection thrives where it is warm and moist. For this reason, those who sweat a lot or exercise and do not change their workout clothes immediately may be more prone to it.
Ringworm (tinea corpora) is yet another type of skin fungus. Though its name makes it seems as if it is caused by a worm or some type of parasite, it's caused by a fungal infection. The fungus is microscopic and creates a ring of red, flaky skin. The ring is typically raised a bit off the skin's surface and is itchy. Ringworm can affect any part of the body and may actually form on several parts of the body at the same time; it may start out very small and grow as a gradually enlarging circle.
Another type of skin fungus is called candidiasis. It causes itchy, brownish discoloration on the underarms and beneath a woman's breasts. It may also affect the corners of a person's mouth and the area around the rectum. This skin fungus is caused by the same type of fungal infection that leads to vaginal yeast infections in women.
Tinea versicolor is another type of skin fungus. It causes a change in the color of the skin. For example, it may cause skin patches that are either lighter or darker than normal. The patches have scaly flakes around the edges. This infection does cause itching, but it is usually more mild than with other types of fungal infections.
AS FEATURED ON:
AS FEATURED ON:

By: roblan

Athlete's foot thrives in moist areas such a between the toes.

By: picsfive

A cream for treating skin fungus.

By: laboko

Fungal infections often cause the skin to itch.

By: schankz

Ringworm is a fungus that creates a ring of red, flaky skin.

By: Jürgen Fälchle

Walking barefoot in public places may cause foot fungus.