What is Statin Neuropathy?
Statin neuropathy is a potential side effect of statin drugs where the patient develops dysfunction in the peripheral nervous system in response to the medication. Studies have shown that the damage associated with statin neuropathy is reversible. This side effect can be seen in an estimated 10% of people on statins, in varying degrees of severity. It is important to report side effects to a doctor for discussion and evaluation so the doctor can determine if any changes need to be made to a patient's course of treatment.
The causes behind statin neuropathy are not understood, although researchers suspect it has something to do with interruptions to the process of cholesterol synthesis, a key part of how statins work. In numerous studies on populations taking these medications to control cholesterol, doctors have been able to eliminate other potential causes of neuropathy, confirming that statins are indeed the cause.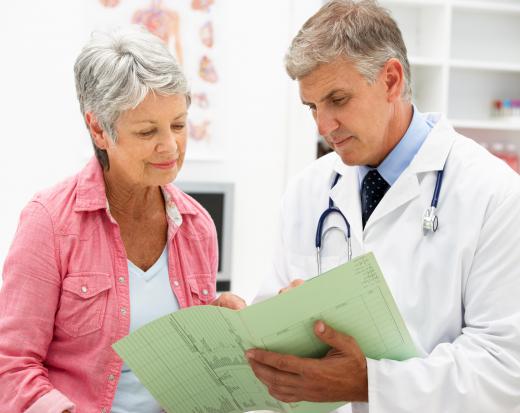 Statin neuropathy usually starts with muscle weakness. The patient might feel some numbness and tingling. If it is allowed to progress, problems like difficulty speaking or swallowing and an unsteady gait may develop as more of the nervous system is involved. It is important to be aware that muscle weakness is also an early warning sign of rhabdomyolysis, another potential side effect of statin use, where the body starts breaking down its own muscle tissue. This condition is very serious, and patients who experience muscle weakness and severe muscle pain while on statins should contact their doctors immediately.
When withdrawn from the statins, the patient should improve. Eventually, peripheral nervous function will return to normal and the symptoms will disappear. If a patient has severe statin neuropathy, a doctor may recommend that the patient stop taking the medications, at least for a short period of time. Doctors can also try changing drugs or dosages to see if the problem resolves.
Patients taken off statins may still have a cholesterol problem. Dietary controls can be used to try and keep cholesterol manageable, and the patient should also remain alert to the early warning signs of health conditions associated with high cholesterol, like cardiovascular disease. One consequence of not being able to take statins may be the need for medical intervention to address issues like blocked and clogged arteries around the heart. The risks and benefits of stopping statin therapy should be reviewed with a doctor when discussing this option for managing statin neuropathy.
AS FEATURED ON:
AS FEATURED ON:

By: Monkey Business

The doctor should explain all possible side effects of statin therapy to patients before treatment begins.

By: thepoo

Statin neuropathy may result in difficulty swallowing.

By: marilyn barbone

If it is allowed to progress, statin neuropathy may result in an unsteady gait.

By: hywards

Taking statins may help prevent clogging arteries with plaque and cholesterol.

By: nebari

Patients suffering from static neuropathy may notice numbness and tingling in the feet.

By: triocean

Statin neuropathy usually starts with muscle weakness.

By: Rob

Patients taken off statins may still have a cholesterol problem.

By: bertys30

Difficulty speaking may occur as a result of statin neuropathy.