What is Surgical Emphysema?
Surgical emphysema, sometimes called tissue emphysema, is a condition in which air becomes trapped in the subcutaneous area of the skin. The trapped air can cause discomfort along with some distinctive symptoms which usually make the condition easy to identify. In most cases, surgical emphysema is not dangerous and it will resolve on its own. In cases where it is a problem, there are some treatment options available which the patient can discuss with a physician.
The first case of this condition was documented in the 1800s. The term "surgical" refers to the fact that many people experience tissue emphysema in the wake of a surgical procedure. However, any sort of trauma which breaks through the skin such as a puncture wound, gunshot injury, or open fracture can lead to surgical emphysema. This condition is especially common in the upper torso and head after chest surgeries.
In patients with surgical emphysema, the skin makes a distinctive crackling noise when it is palpated because of the trapped air inside. The air pockets also have a noticeable texture which can be felt when the area is touched. Depending on the area involved, the patient may wheeze, have difficulty breathing, or experience discomfort. The pockets of air can create pressure which limits the function of the organs, causing pain.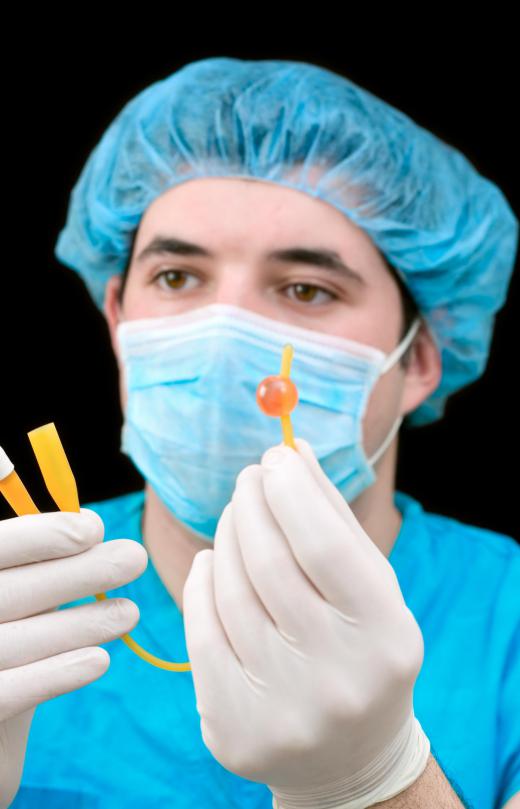 If a case is mild, the patient may be watched but otherwise not actively treated. Eventually the body will reabsorb the air and the air pockets will resolve. If the patient is in distress, the pockets can be ventilated with the use of cuts or the insertion of a catheter to allow the air to escape. Because such measures can increase the risk of infection, they are generally only recommended when it is evident that a patient is in need of intervention.
In the wave of an invasive medical procedure, a complication of trauma such as pneumothorax, a puncture wound, or similar injuries, a patient can be at risk for surgical emphysema. Such patients may be monitored for the early emergence of symptoms so that action can be taken promptly to provide the appropriate treatment. Patients with surgical emphysema commonly experience other medical problems, of which the trapped air under the skin may be among the least. Someone with an open fracture, for example, is at risk of infection, damage to the limb, and even limb loss unless treatment is provided.
AS FEATURED ON:
AS FEATURED ON:

By: Arkady Chubykin

Surgical emphysema most often occurs after chest surgery.

By: Ljupco Smokovski

A catheter might be needed to release trapped air in more serious cases of surgical emphysema.

By: Gennadiy Poznyakov

Many people experience tissue emphysema in the wake of a surgical procedure.

By: BortN66

Stabbings may lead to subcutaneous emphysema.