What Is the Treatment for a Compressed Disc?
A compressed disc is a fairly common condition, and it can be quite painful. This condition, often known as a herniated disc or bulging disc, occurs when excess pressure is placed on a spinal disc, which sits between two hard vertebrae in the spine. The excess pressure can lead to a bulge in the disc, which in turn will place pressure on the nerves that run in and around the spine. A compressed disc can lead to temporary pain or permanent issues such as reduced mobility or motor control, so prompt treatment is important. Many non-surgical treatment options exist, and these are usually attempted before surgery.
Some types of braces have been designed to completely immobilize the spine, thereby taking pressure off the disc. This can help promote healing and prevent further injury to the affected area. If the disc heals, the pressure on the nerves will be alleviated and pain should cease or at least abate somewhat. This can take a long time, and the brace may be necessary for extended periods of time as prescribed by a doctor or medical professional. Wearing such a brace can be quite uncomfortable and will limit daily activities.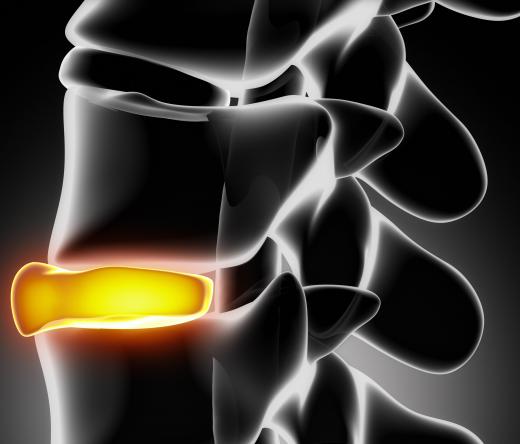 Certain medications, such as anti-inflammatory meds or even steroids, can be used to help alleviate the pressure resulting from the compressed disc as well. These should be taken only as directed, as they can cause other issues if taken in quantities that are too high. Not taking enough can prolong the recovery period. Painkillers are also sometimes prescribed in conjunction with anti-inflammatory medications or steroids to help alleviate pain and allow for normal functioning during daily activities. It will be necessary, however, to stop any activity that may have ultimately led to the compressed disc in the first place, as such motions can worsen the injury.
In the most severe cases, surgery may be necessary to treat a compressed disc. This surgery can be quite invasive, as the surgeon will need to access the affected area of the spine. This is usually only recommended in the most severe cases, as spinal surgery may not ultimately be effective and the healing time for such a procedure is likely to be quite extensive. Further, the surgery will not necessarily prevent the injury from recurring in the future, so the doctor and the patient will need to do a careful assessment to figure out if this is the best course of action.
AS FEATURED ON:
AS FEATURED ON:

By: CLIPAREA.com

Excessive pressure on a spinal disc located between two vertebrae results in a compressed disc.

By: Gennadiy Poznyakov

Compressed discs may be treated with a back brace that is designed to take pressure off the area.

By: JackF

To determine a treatment option, a doctor assesses the extent of a patient's compressed disc.

By: Alila

A healthy spine and a spine with a compressed disc.