What Is the Treatment for Lumbar Compression Fractures?
Lumbar compression fractures affect the small bones in the lower portion of the back and may occur due to traumatic events, like automobile accidents, or natural disease processes, such as osteoporosis. Treatment options for these fractures depend on the extent of the injury, the severity of the symptoms, and the overall health of the patient. The most common treatment methods include the use of over-the-counter or prescription medications, supportive devices such as back braces, or surgical intervention to repair the damaged vertebra. Physical and occupational therapy may also be beneficial treatment options.
For mild pain or discomfort caused by lumbar compression fractures, over-the-counter pain medications such as aspirin, ibuprofen, or acetaminophen may provide sufficient relief. Stronger pain medications may be prescribed, either alone or in combination with other drugs, in cases of severe pain. Muscle relaxants, antidepressants, and anti-convulsants are sometimes used to treat the pain.
Back braces are often used along with medications or other methods of treatment. These supportive devices help to immobilize the back so that the muscles and bones can rest and heal while still allowing the patient to perform daily tasks. Braces are usually worn for only a few weeks at a time because excessive use can actually lead to a weakening of the muscles.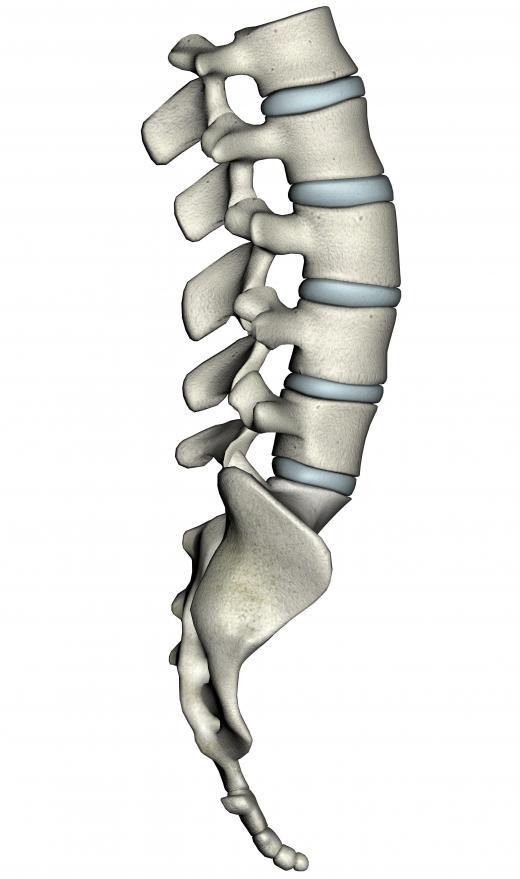 Surgical intervention is frequently necessary to treat compression fractures in the lower spine. The type of procedure used depends on the individual situation and is designed to repair damage to bone cartilage and surrounding tissues. In some cases, a hollow needle may be used to create a small opening in the damaged vertebrae so that a cement-type mixture can be used to repair the damage. This is among the more common treatment methods for fractures caused by osteoporosis.
Spinal fusion surgery may be used to lessen or eliminate joint pain caused by lumbar compression fractures. While there are several types of spinal fusion procedures, they are all designed to use bone grafts to separate areas of the affected joint in order to provide pain relief. This type of surgery is used to treat severe injuries to the spine or if the patient has not responded to more conservative treatment methods.
AS FEATURED ON:
AS FEATURED ON:

By: Gennadiy Poznyakov

Back braces may be worn to treat a compression fracture.

By: Anatomical Design

Lumbar compression fractures impact small bones in the lower back.

By: milan2099

Lumbar compression pain and related symptoms can greatly impact the life of the sufferer.

By: WavebreakmediaMicro

Surgical intervention and physical therapy may be used to treat lumbar compression fractures.

By: Burlingham

Pain medications like aspirin help ease the discomfort of a lumbar compression fracture.

By: ArTo

Serious falls may cause lumbar compression fractures.

By: joshya

Osteoporosis may be the cause of lumbar compression fractures.

By: CandyBox Images

Those with osteoporosis may need physical therapy to rebuild bone density and strengthen weakened muscles after a compression fracture.

By: Sherry Yates

Ibuprofen should help relieve mild discomfort from lumbar compression fractures.