What Is Therapeutic Bodywork?
Therapeutic bodywork is a term used to describe a large number of massage and body manipulation techniques. Relaxation and pain relief are two major applications of therapeutic bodywork. Various methods are use to assist with rehabilitation, help treat certain disorders, and enhance general overall well-being. This form of treatment is intended to realign the body to improve function as well as mental outlook.
Massage and its multitude of forms is the most well-known form of therapeutic bodywork. Simply put, massage is the manipulation of the soft tissue of the human body. There are hundreds of techniques of massage therapy, and some work better than others for different conditions. Methods range from gentle rubbing of the surface to incredibly deep tissue and muscle work.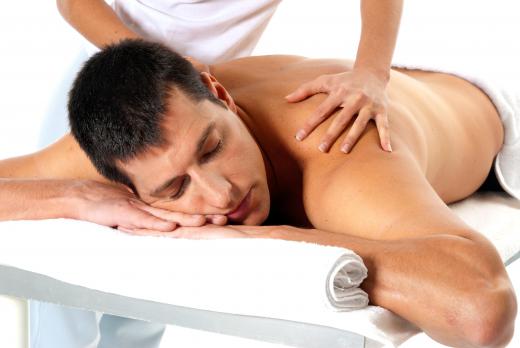 Shiatsu, also known as acupressure, stimulates pressure points throughout a client to release and re-balance the body's energy. Swedish massage is another commonly known methodology and is typically offered in most spas along with other well-known techniques, such as hot stone massage. Additional, lesser-known massage techniques include lymphatic massage, which is used to improve circulation and to detoxify the body, and craniosacral therapy, which is beneficial for headaches and neck pain.
Bodywork is another therapeutic method that generally includes physical manipulation of the body. When used in the sense of therapeutic bodywork, the means may be touch based, often referred to as manipulative, or non-touch based. Yoga, reiki, and other breathing techniques are examples of non-touch bodywork. Reflexology, rolfing, and acupuncture are examples of manipulative bodywork.
The Alexander technique, used by drama and music schools worldwide, employs a method of pattern observation to determine stress points caused by posture or movement followed by the gradual correction of these patterns. Many forms of bodywork rely on pressure point manipulation, including trigger point therapy. There are also a few water-based therapies, such as watsu, which is shiatsu performed in water.
Quite a few types of common maladies and ailments can be treated using therapeutic bodywork. Persons suffering from persistent migraines, back pain, and anxiety are just a sample of the common applications. Chiropractic care is one of the well-known forms of therapeutic bodywork that is beneficial in multiple treatments. Many people believe that some forms of therapeutic bodywork can help treat more serious medical issues. Examples of this would include using massage therapy to alleviate sleep disorders in people with autism and using acupuncture to alleviate the symptoms of some forms of cancer.
AS FEATURED ON:
AS FEATURED ON:

By: dgmata

Therapeutic bodywork often includes massage.

By: Laurent Hamels

Reflexology can be practiced on pressure points found in the hand.

By: WavebreakMediaMicro

Reiki therapy is a great example of non-touch bodywork.