What is Thoracic Back Pain?
Thoracic back pain is pain centered in the mid to upper area of the back, corresponding with the thoracic spine. This is a relatively unusual location for back pain, as this section of the spine is designed to provide reinforcement for the rib cage and is very strong and rigid, unlike the flexible cervical and lumbar spines. Since it is more rigid, it is less prone to injury, as it isn't designed to move and resists movements that might cause spinal injuries.
The two most common reasons for people to develop thoracic back pain are joint problems in the thoracic spine and soft tissue injury around this area of the spine. Joint problems can include compressed or ruptured discs, stenosis or narrowing of the spinal canal, and the development of bone spurs around the spine. Some are congenital and others may be caused by strain or disease. Medical imaging studies usually reveal changes to the joints, including hot spots indicative of inflammation in and around the bone.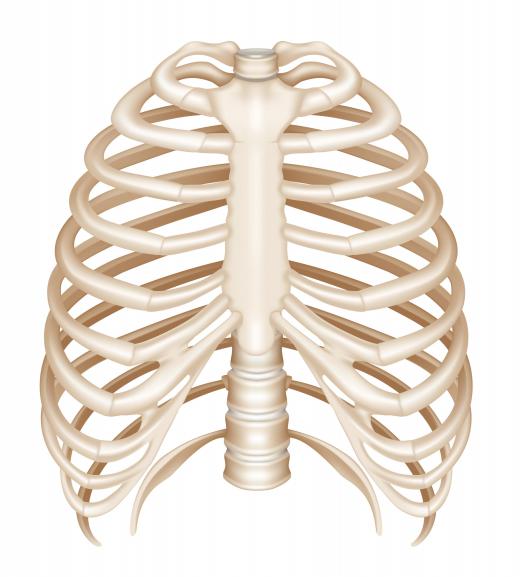 Soft tissue injuries involve inflammation in the muscles used to support and stabilize the spine. These injuries can be caused by strain, surgery, physical trauma, or disease. Patients may notice a radiating pain associated with damage throughout the length of a muscle. The onset of this kind of thoracic back pain can be very sudden in some cases, in contrast with joint problems, which tend to slowly increase in intensity over time.
Treatment options for thoracic back pain can include pain medications, massage, physical therapy, stimulation of the nerves with electrodes, and surgery. More conservative pain management techniques are usually tried first to limit risks to the patient. If these are not effective, a doctor may recommend pursuing more aggressive options. A spinal surgeon can be involved in evaluation of a patient with back pain and in the development of a treatment plan appropriate to the patient's condition and general health care needs.
Thoracic back pain should not be ignored. It can be a sign of an underlying medical problem and may get worse if it is not properly addressed. Patients concerned about the expense of evaluation and treatment may be able to access free medical services through a community clinic or teaching college. The longer people wait for treatment, the worse the problem can become, and patients may go from having a manageable spine issue to developing a serious problem that will need extensive treatment.
AS FEATURED ON:
AS FEATURED ON:

By: Jaeeho

The rib cage, with the lower part of the thoracic spine visible at the bottom.

By: 9nong

Thoracic back pain is somewhat uncommon.

By: Alila Medical Media

A herniated thoracic disc can cause serious health problems, like paralysis.