What is Thoracic Spondylosis?
Thoracic spondylosis is a degenerative condition that affects a person's spine. Also commonly referred to as disc degeneration, this condition is marked by a narrowed space between a person's vertebral bones. As the space between the spinal vertebrae narrows, the affected person's discs start to bulge out of place. This may occur in various parts of the spine, but the thoracic form of this disease affects the vertebrae in middle section of the back.
Unfortunately, thoracic spondylosis is accompanied by pain. As the space between the thoracic vertebrae narrows and the discs are herniated, the nerves in the area may be compressed. With this type of spondylosis, a person may experience pain in the mid and upper back region, chest, and upper abdomen. Sometimes patients even experience pain in their arms and legs or changes in sensation, such as numbness in some areas or a tingling feeling.
Aging is a primary cause of thoracic spondylosis, and most cases develop in people who are 40 years of age or older. As a person grows older, the discs of his spine become worn and aged as well. Changes in a person's body start to make the discs more brittle and less flexible. The discs may tear, weaken, and even leak some of the gel at their centers. The stiffening discs may actually become smaller, protrude from their place between the vertebrae, and cause the joints and tissues in the area to be strained.
Sometimes spondylosis is accompanied by the formation of bone spurs, which are abnormal protrusions of bone. The spurs can make the patient's condition worse, as they press on nerves and lead to pain and sensation loss. A person may have pain in one area and difficulty moving or feeling sensation in another. Often, bending over is met with stiffness and pain when a person has this condition.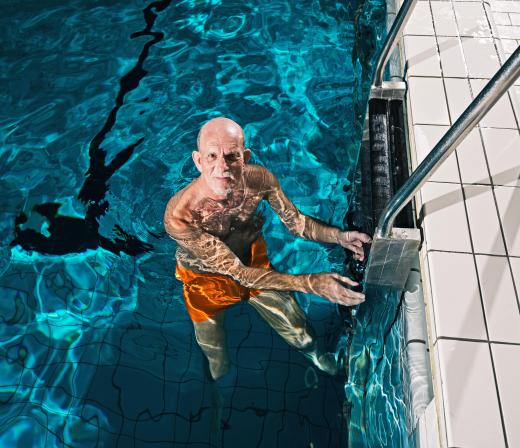 A person with a mild case of thoracic spondylosis may treat the condition at home with rest and gentle exercises. Painkillers may be used as well. Sometimes doctors recommend physical therapy for patients dealing with this condition. In fact, some doctors even recommend swimming and other types of water therapy for thoracic spondylosis patients.
People with this condition may find at least some symptom relief from massage or chiropractic treatments. Some turn to alternative medicine techniques, such as acupuncture, instead. In serious cases, surgery may be the most effective option.
AS FEATURED ON:
AS FEATURED ON:

By: milan2099

Patients suffering from thoracic spondylosis may experience mid or upper back pain.

By: Monkey Business

Thoracic spondylosis commonly affects people over the age of 40, and may cause arm and leg pain.

By: ysbrandcosijn

Doctors may recommend swimming and other water therapy activities to patients suffering from thoracic spondylosis.

By: photoBeard

Thoracic spondylosis is a degenerative condition affecting the spine.

By: Yanik Chauvin

Some with thoracic spondylosis can find relief from acupuncture treatments.