What is Thoracolumbar Scoliosis?
Thoracolumbar scoliosis refers to a type of scoliosis, a disorder that is characterized by the abnormal curvature of the spine, in which the curve resides in the thoracic and lumbar portions of the spine. The thoracic portion of the spine, sometimes referred to as the upper back, is the area of the spine between the neck and the lumbar spinal area, sometimes called the lower back. In general, cases of thoracolumbar scoliosis indicate a curvature of the spine where the highest point of the curve resides in the area between the thoracic and lumbar regions. This disorder has various causes and symptoms and treatment depends on both the causes and severity of the curve.
Cases of thoracolumbar scoliosis generally present with a curve towards the right side and occur more often in females than in males. There are several causes of this type of scoliosis. In many cases, a person suffering from thoracolumbar scoliosis inherited the condition from a parent. Other times, it occurs in women during pregnancy when physiological changes occur that can sometimes cause the bones of the ribcage to fuse together, ultimately pulling on the thoracolumbar region of the spine and resulting in a curve. Finally, poor muscle control and muscle weakness can also cause this type of scoliosis.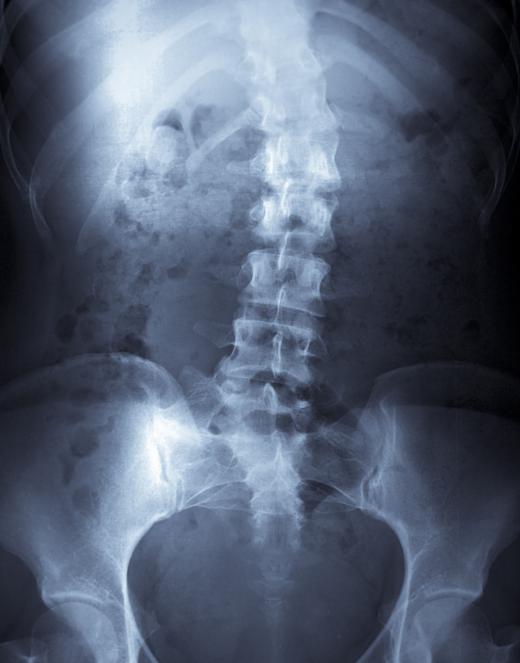 Treatment depends on both the cause and the severity of the curve. For instance, if doctors determine that the curve is caused by weak muscle control, than treatment will be centered on increasing the strength of certain vital muscles through activities such as exercise. Many times, bracing is a viable option that is utilized to slow the progression of the disorder and aids in straightening the curve. A patient may wear a brace while engaging in her routine physical activities. Bracing is not, however, a good choice to treat the disorder when it is caused by muscle weakness, because wearing it for a prolonged period of time can actually exacerbate muscle frailty.
A treatment option for more severe cases is surgery. During thoracolumbar scoliosis surgery, the bones that are curved are attached to straight metal rods. Over time, the bones will fuse together and the spine will become straight. Most of the time, the rods are left in place. In mild cases, treatment may not be needed and patients are just closely monitored for any indication that the curve is becoming more severe.


By: Jesse Barrow

Thoracolumbar scoliosis occurs more often in females than in males.

By: Dmitriy Melnikov

Thoracolumbar scoliosis may occur in women during pregnancy.

By: laurent dambies

Scoliosis is a disorder characterized by an abnormal curvature of the spine.

By: Syda Productions

Treatment for thoracolumbar scoliosis depends on both the cause and the severity of the curve.