What is Thyroid Calcification?
Thyroid calcification is the formation of a solid or semi-solid lump within the thyroid gland. In most cases, a calcified thyroid is a benign, meaning noncancerous, condition that may not present any symptoms. Treatment for thyroid calcification is dependent on the type of nodule and the overall health of the individual.
The thyroid itself is comprised of two lobes within the neck that absorb iodine from the foods an individual consumes. The thyroid uses the collected iodine to produce two hormones, known as triiodothyronine (T3) and thyroxine (T4). Hormones T3 and T4 are utilized to regulate several body processes, such as heart rate, body temperature, and protein production. Calcitonin, a hormone produced within the thyroid gland, works in combination with T3 and T4 to regulate calcium levels in the blood. A hormonal disruption within the gland results in the impaired circulation and accumulation of calcium salts within the thyroid, contributing to the formation of nodules, or fluid-filled sacs.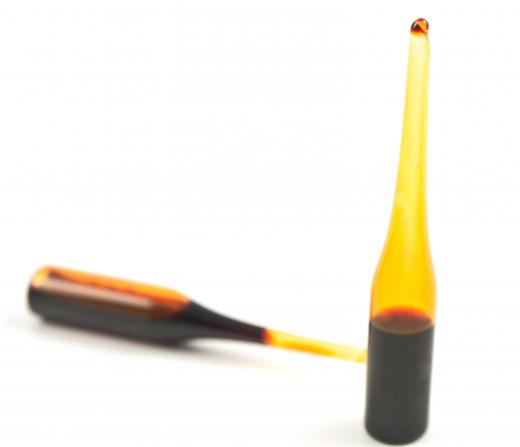 Individuals who consume a diet lacking in iodine may be at an increased risk for developing thyroid calcification. A genetic deficiency involving one's thyroid-stimulating hormone (TSH) receptors may increase his or her risk for developing thyroid nodule calcification. Additionally, certain autoimmune disorders, such as Hashimoto's disease, may increase an individual's chances of being diagnosed with a calcified thyroid.
Benign nodules include colloids, follicular adenomas, and some cysts that may grow to 1 inch (about 25 mm) in diameter. Noncancerous thyroid nodules are generally fluid-filled and comprised of thyroid tissue. Though they may multiply in number, benign calcifications usually remain confined to the thyroid gland. Thyroid calcifications comprised of both fluid and semi-solid material may be cancerous, or malignant, and should be evaluated. Nodules that are solid in composition, large in diameter, and cause discomfort in the neck area may also be malignant.
In some instances, when several nodules form within the thyroid, they may lead to the development of a multinodular goiter. Commonly known simply as a goiter, this condition can adversely affect one's ability to breathe and swallow. Hormone production and distribution may become impaired in the presence of multiple nodules, leading to the development of conditions such as Plummer's disease, toxic adenomas, and toxic multinodular goiters.
Individuals with thyroid calcification may be asymptomatic, meaning they exhibit no symptoms at all. Those who develop nodules that progress rapidly may notice that the base of their neck is swollen or they may be able to actually feel the nodule through the skin. Hormonal changes originating with thyroid calcification may cause the individual to experience symptoms that may include unintended or abrupt weight loss, heart arrhythmias, or feelings of anxiety and nervousness.
Most thyroid nodules are discovered during routine examinations or during testing procedures, such as a computerized tomography (CT) scan or magnetic resonance imaging (MRI), for an unrelated condition. Upon discovery, the nodule should be examined further to determine its composition and evaluate whether it is indicative of thyroid dysfunction. Tests utilized to evaluate a thyroid nodule calcification include thyroid function tests and a fine-needle aspiration (FNA) biopsy.
Thyroid function tests measure levels of T3 and T4 in an individual's blood and determine whether too much or too little is being produced. Individuals who produce too little may be diagnosed with hypothyroidism and those producing too much may be determined to have hyperthyroidism. An image guided fine-needle aspiration (FNA) biopsy is required to determine whether the nodule is malignant or benign. The biopsy involves the use of a small needle to collect a small sample of cells from within the nodule, which is sent to a laboratory for analysis. During a biopsy procedure, the needle is guided and monitored by ultrasound to ensure its correct placement and collection of sample cells.
Treatment for thyroid calcification is dependent on the type of nodule that develops and the overall health of the individual. Most calcified thyroids require regular monitoring and no immediate treatment. Individuals with a benign nodule may undergo thyroid hormone suppression therapy to shrink the nodule and prevent further growth and risk of complication. In some instances, radioactive iodine may be utilized to alleviate symptoms associated with multinodular goiters and certain adenomas. Surgery may be recommended to remove suspicious, benign, and malignant nodules, especially those that impair one's ability to swallow or breathe properly.
Complications associated with thyroid nodules can be serious and include the development of heart problems, including congestive heart failure and brittle bones, a condition known as osteoporosis. Individuals with a calcified thyroid may also develop a life-threatening condition known as thyrotoxic crisis that is characterized by a severe worsening of symptoms that require prompt medical attention. Individuals of advanced age and those with a pre-existing thyroid condition may be at an increased risk for developing a calcified thyroid.


By: Max Tactic

Medical tests can determine the type of nodule involved in thyroid calcification.

By: ksena32

Iodine deficiency can increase an individual's risk for developing thyroid calcification.

By: bilderzwerg

Thyroid calcification is a solid or semi-solid lump within the thyroid gland.

By: forestpath

Thyroid calcification may cause inintended weight loss.

By: lom123

Most thyroid nodules are discovered during routine examinations.

By: Photographee.eu

A calcified thyroid is usually benign.

By: p6m5

Only about 5 percent of diagnosed thyroid masses are cancerous.