What is Vascular Surgery?
Vascular surgery is the surgical treatment of a person's blood vessels. Often, this type of surgery is used to prevent heart attacks and strokes in people who have arteries that are blocked by built-up plaque. Sometimes vascular treatments also are used to prevent a person from losing his limbs to amputation when he has circulatory problems. A vascular surgeon may treat varicose veins and aneurysms using a variety of vascular surgical techniques as well.
Often, vascular surgery treatments are focused on improving blood flow in a patient who has atherosclerosis. Atherosclerosis is a condition in which plaque builds up in the patient's arteries. Over time, this causes them to become narrower and decreases blood flow. This is a serious problem, as it can cause coronary artery disease, a heart attack, carotid artery disease, or a stroke.
Vascular surgery may also be used to treat peripheral artery disease, which is marked by the narrowing of arteries in the limbs. When a person has this condition, he may be more prone to injury because he has less sensitivity to extremes in temperature. For example, a person with this condition may be more likely to suffer from burns due to decreased heat sensitivity. In severe cases, a patient may even develop gangrene and require an amputation because of this condition. Vascular surgeons work to increase blood flow to the limbs in order to prevent these problems.
Often, vascular surgeries are also used for the treatment of varicose veins. Varicose veins, which often affect a person's leg veins, are marked by vein swelling and pain. Vein stripping is one type of vascular procedure that may be used for varicose veins. This involves removing the damaged veins from the patient's body. While vein stripping can be an effective treatment, patients may also try non-surgical alternatives for this condition.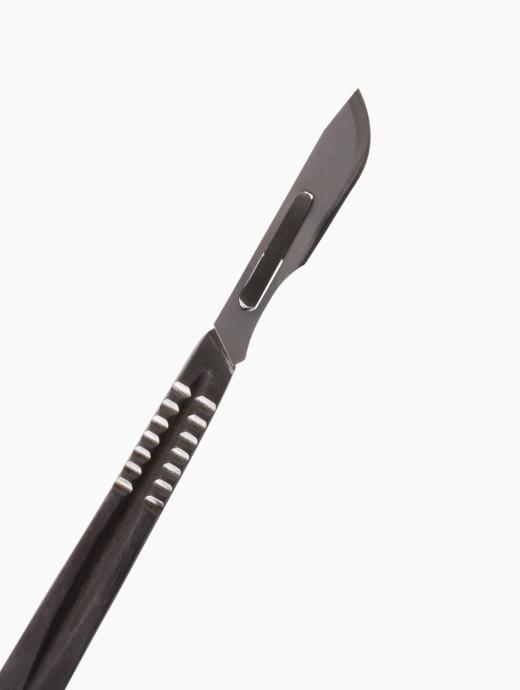 Surgeons may also recommend vascular surgery for the treatment of brain aneurysms, which are bulges in a blood vessel in a person's brain. Vascular surgery for a brain aneurysm typically involves stopping blood flow to it. To accomplish this, a surgeon may place a metal clip at the base of the aneurysm. Sometimes, however, surgeons use a less-invasive procedure called endovascular coiling to thread a thin tube called a catheter from the lower body into the bulge. Surgeons then thread platinum coils up through the catheter and into the bulge; the coils cause clotting, which blocks the flow of blood to the aneurysm.
AS FEATURED ON:
AS FEATURED ON:

By: Monkey Business

Vascular surgery repairs problems related to the blood vessels.

By: roblan

Vascular surgery can be used to treat varicose veins.

By: iofoto

A scalpel is a small, sharp knife that is used in surgeries to make incisions.

By: joshya

Vascular surgery for a brain aneurysm usually involves stopping blood flow to it.

By: WavebreakmediaMicro

In some instances, vascular surgery is needed to successfully treat a brain aneurysm.