What Should I Know About Excessive Yawning?
Excessive yawning is caused by a decrease of oxygen levels in the blood. It is often associated with boredom or a lack of sleep or fresh air. Yawning is considered excessive when it happens more than one time per minute. Although it is usually attributed to being sleepy or bored, it can also be caused by a medical condition such as epilepsy or a tumor.
When a person yawns, he opens his jaws wide and inhales deeply. This causes great pressure in the lungs. Yawning is believed to be a protective reflex that helps to maintain proper lung inflation and prevent collapsed alveoli.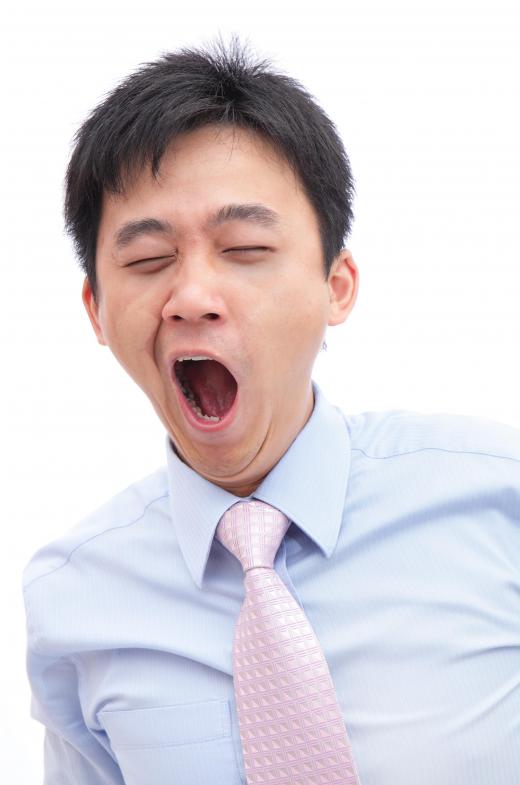 Medical causes of excessive yawning include epilepsy, a brain tumor, encephalitis, multiple sclerosis and progressive supra nuclear palsy. These medical conditions cause a vasovagal reaction. During a vasovagal reaction, the vagus nerve increases in activity, causing the heart rate and blood pressure to drop. This results in a person yawning.
Excessive yawning, caused by the above medical conditions, is usually associated with the occurrence of other symptoms. These include, but aren't limited to, nausea, dizziness, heart palpitation and fainting. If excessive yawning occurs with these symptoms, seek the advice of a medical professional.
Yawning associated with sleepiness, boredom and lack of oxygen can become a major annoyance. When a person yawns at the wrong time, it can be deemed rude or offensive. Luckily, a yawn can be temporarily suppressed.
Yawns can be caused by boredom. When watching an uninteresting performance, movie, or recital a person may have a bout of excessive yawning. To suppress the yawns, he can hold his mouth closed tightly and clench his jaws. When the yawn comes on he must keep the pressure in the rear of his jaws and swallow the yawn.
Excessive yawning, caused by sleepiness, can be counteracted by drinking lots of water. Dehydration is a big cause of fatigue. When a person drinks a lot of water, the yawning will cease. Every time the urge to yawn is strong, drink a big gulp of water and the yawn will pass.
If a person has been indoors all day, such as working in an office, she may start yawning excessively. This is caused by a lack of oxygen. It can be suppressed by going outside for a brief, but quick, walk. This will increase the oxygen flow to the brain and heart. When she returns indoors, the urge to yawn should have passed.
Yawning happens to everyone, even at the most embarrassing times. If an unexpected yawn should occur at an offensive time, one should cover his mouth. When the yawn is finished, he should apologize to anyone who appears offended and go on with his business.
AS FEATURED ON:
AS FEATURED ON:

By: ryanking999

Yawns can be caused by boredom or sleepiness.

By: Alila

A diagram showing the vagus nerve, which is connected to yawning.

By: dundanim

Yawning is believed to keep the brain alert during times of stress.

By: ChenPG

Some people believe yawning helps to prevent people from falling asleep.

By: designua

Excessive yawning could be a sign of multiple sclerosis or several other serious diseases.