How do I Treat a Perforated Bowel?
A perforated bowel is a serious medical condition that is typically treated as a medical emergency. It happens when a hole, rip, tear, or puncture occurs in the bowel. This unnatural opening then allows the contents of the bowel to spill into the abdominal cavity, resulting in a very dangerous blood infection. An infection of this type must be treated swiftly; even short delays can result in the death of the patient.
Since a perforated bowel is such a serious condition, it is not treatable at home, with over-the-counter drugs, or with natural remedies. Instead, this disease usually requires surgical treatment. In such a case, a surgeon opens the abdominal cavity to clean the patient out and then repairs the tear or puncture in the bowel.
In some cases, a bowel perforation also leads to medical issues that involve other sections of the patient's intestine. When this happens, the patient may need a temporary colostomy. This involves moving part of the patient's large intestine into his abdominal wall and directing intestinal waste into a bag that it positioned outside of the patient's body.
Treatment of a perforated bowel also requires management of the infection that occurs when bowel bacteria move into the abdomen. The patient may be given potent antibiotics while he is hospitalized, and he will usually need to continue an antibiotic course following successful treatment. This course of treatment is used to not only help fight the current infection, but also to prevent infection recurrence.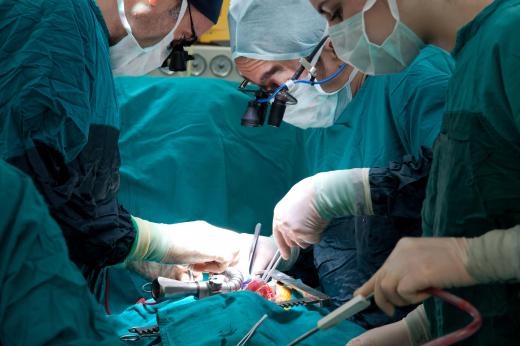 Following treatment of a bowel perforation, a patient will need to see his doctor and receive follow-up care on a regular basis. If doctors were able to pinpoint underlying conditions that led to the problem, these conditions will require treatment as well. For example, conditions like Crohn's disease and diverticulitis may place a person more at risk of developing a perforation. However, there are cases in which people develop the condition without any warning or obvious cause.
A perforated bowel can also occur as the result of an injury or trauma. For example, a serious blow to the abdomen could be at fault. A stabbing or deep gash in the area could put a person at risk as well.


By: evasilchenko

A patient will need to receive follow-up care on a regular basis after being treated for a perforated bowel.

By: Andy Dean

A patient may be given potent antibiotics while being treated for a perforated bowel.

By: pavelkriuchkov

A perforated bowel may occur as a result of a blow to the abdomen.

By: derege

A perforated bowel typically requires emergency surgery.

By: ciawitaly

A perforated bowel may require part of the patient's large intestine to be moved into the abdominal wall.

By: Pavel Losevsky

A computed tomography (CT) scan can be used to determine the extent of diverticulitis and any related complications.